Now Paying Bills Made Convenient With Freecharge Bill Reminders
Introduces bill reminders for Landline, Prepaid and Utility payments
Bengaluru, June 22, 2016:Freecharge, India's fastest growing digital payments platform has introduced Bill Reminders to enable consumers to pay their bills on time. Consumers will now get reminders for various bills two days in advance and pay in a swifter and secure way with Freecharge wallet in less than 10 seconds.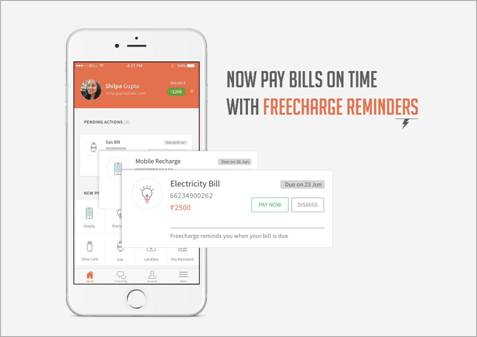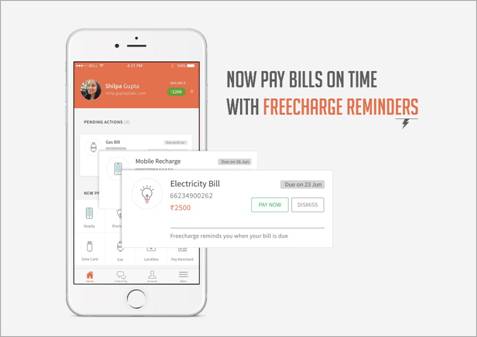 Bill Reminders have been introduced to facilitate a frictionless and on time bill payment process for consumers who usually tend to forget or find the whole process of paying bills tedious. Freecharge consumers can now rest easy as their wallet will keep track of the bills, remember the payment dates and enable the payment in two taps.
Commenting on the announcement, GovindRajan, CEO, Freecharge, said, "We are working towards making payments seamless, frictionless and reliable for both consumers and merchants. Most people find it quite taxing to remember all bill payment dates and often end up defaulting on payments because no one reminded them to pay on time. We are helping the customers to remember their bill payment dates and ensuring they can pay all bills on time. Consumers will be able to pay- on-the-go within 10 seconds and keep a track of all their bills with our auto-enroll feature."
Freecharge is now accepted at over 1, 00,000 merchants in both online and offline segment for the convenience of consumers and enable them to move from cash to digital payments. With various services on the platform like Auto-enroll, Chat-n-Pay and now bill reminders, Freecharge is fast becoming the mostpreferred digital payment platform in the country.