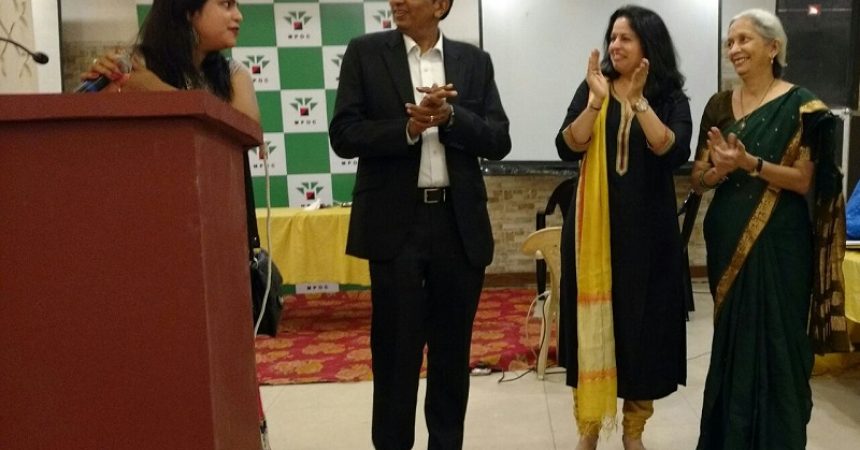 MPOC India's 'Oil is Well' Event Woos Varanasi's Foodies
In the latest of its efforts to reach out to Indian consumersand share the wonders of palm oil, the Malaysian Palm Oil Council packed in expert talks, quizzes and games
Varanasi, November 25, 2016:The Malaysian Palm Oil Council (MPOC), a global organisation headquartered in Kuala Lumpur, has had a growing presence in India through its India-specific office and on Friday, it took its efforts to spread awareness about the 'WONDER OIL' to Uttar Pradesh for the first time. At an upscale venue in Sigri, Varanasi, MPOC India welcomed a motley mix of students, homemakers and professionals.
Dr Meena Mehta, nutritionist and vice-president of the Indian Dietetic Association, opened the afternoon with a talk that raised the right alarm about urban India's unhealthy eating habits and the prevalence of life-threatening disorders among the young. Dr Mehta even followed up her talk with a food-tasting and recommended a simple switch to palm oil as one of the many lifestyle corrections.
Next up, cardiologist, practicing diabetologist and a key figure at Mumbai's renowned hospitals such as Asian Heart Institute and Fortis, Dr Ketan Mehta took to the podium and in his unique style, enlightened many about 'small changes' in diets and behaviours that could lead to a healthy India. He too seconded that palm oil, thanks to its richness in Vitamin E and lack of trans fatty-acids, is an ideal cooking option for the Indian kitchen.
The attendees were dished out palm oil insights but in ways that were both fun and entertaining. Many walked away with prizes after a quiz while various others earned their goodies after playing darts, pyramid games and a balloon-blowing contest.
Ms Bhavna Shah, Country Representative, India and Sri Lanka,who is the key figure in spreading awareness about palm oil among Indian households since the past twelve years, was happy after this outreach event. "Palm oil has several nutritional benefits and beats alternatives such as soybean and sunflower oils in pricing too, but it is still catching up in our kitchens as the awareness about it is low. With interactive sessions such as these across cities, we want to reach out to as many Indians as possible and suggest to them to make a simple switch in their cooking oil and reap the benefits," she said, adding that MPOC India has recently also done a bloggers meet, a cooking competition and a food hunt, all of which were hits with attendees.
With its latest foray in Varanasi,which attracted a packed turnout, the Malaysian Palm Oil Council (MPOC) has made further inroads into the Indian households and the cooking oil market.
10 Facts on Palm Oil
| | |
| --- | --- |
| | |
| 1 | The oil palm fruit produces two types of oils; palm oil from the flesh and palm kernel oil from the seed. |
| 2 | Palm oil is a type of vegetable oil, making it cholesterol free. It helps raise beneficial HDL-cholesterol level and has a neutral effect on blood cholesterol in the body. |
| 3 | Palm oil has a balanced ratio of unsaturated and saturated fatty acids. |
| 4 | Palm oil is rich in antioxidants Vitamin E tocotrienols. |
| 5 | Palm oil is easily digested, absorbed and utilised as a source of energy. It also promotes the absorption of fat-soluble vitamins A, D, E and K. |
| 6 | Palm oil is free of harmful trans-fat. It is semi-solid at room temperature; eliminating the need for hydrogenation, a process which results in the formation of trans fatty acids. |
| 7 | Red palm oil is an excellent source of pro-Vitamin A carotenoids. It has 15 times more carotenoids than carrots and 50 times more than tomatoes. |
| 8 | Palm oil is stable at high temperature, making it ideal for deep frying. It imparts a much desired taste neutrality in fried food. |
| 9 | Palm oil is versatile. It is used as cooking oil either directly or in blended form, and in the manufacture of ice-cream, creamer, shortening, margarine, vegetable ghee and specialty fats. |
| 10 | Palm oil is able to prolong shelf life of manufactured products as it is oxidative resistant. |