Milagrow Launches BlackCat 3.0 Floor Cleaning Robot – A Power-Horse To Clean Large Homes, Silently
Cleans upto 3500 Sq Ft on a single charge at just 53db ambient noise
New Delhi, December 22, 2015- Milagrow today announced the launch of BlackCat3.0 which has India's longest lasting battery of upto 130 minutes and a cleaning capacity of 3500 Sq Ft or 300 Sqm in a single charge. It is also the most silent of all Milagrow Robots at just 53db, and does not offend you at all.
With Milagrow BlackCat 3.0 gone are the hassles of losing the scheduled time settings of cleaning if electricity goes. The BlackCat 3.0 has a Robotic Pre-Scheduled Cleaning which operates even if the robot is not getting the electricity from the mains. With the help of an Elliptical Full Function remote control with LCD screen it operates from a distance of upto 15 m and works on radio frequency. The BlackCat3.0 can be pre-scheduled to clean at a special time everyday or specified day of the week so that you can be at peace even when out of your home.
Milagrow presents technology that makes life simpler, easier & allows you more time with minimum effort. Milagrow's range of Domestic Robots is Intelligent, obedient and created for the sole purpose of serving humans. These robots can help you perform a wide array of domestic chores, without the tension of any supervision.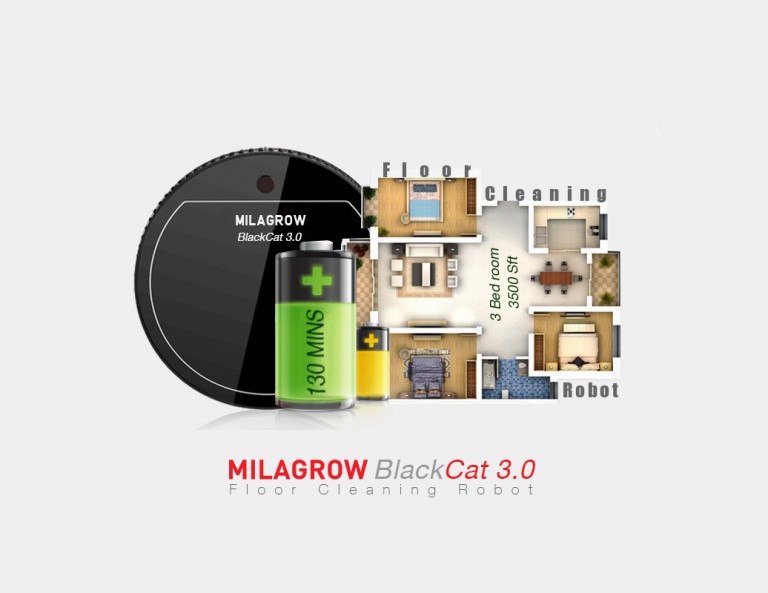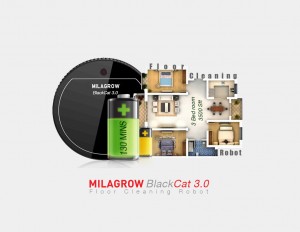 A robot is supposed to work without human intervention to deliver most of its tasks. All Milagrow floor cleaning robots possess 'Robotic 6th Sense' for minimal interaction between humans and technology providing huge benefits in time and effort.
Milagrow BlackCat3.0 is also equipped with Ultraviolet (UV) light to sanitize floor surface while cleaning that maintains a healthy living environment. The purpose of ultraviolet lights is to kill organic matter, such as bacteria, mold, and viruses. Thus the Environmental Protection Agency refers to them as Ultraviolet Germicidal Irradiation Cleaners.
Milagrow BlackCat 2.0 comes with High-Efficiency Particulate Air or HEPA air filters. HEPA filters were originally developed by the US Atomic Energy Commission to capture radioactive dust pollen. HEPA filtration is important for medical patients or for whomsoever very pure air is sought as they trap most particulate matter and bacteria, viruses etc. To qualify as HEPA an air filter must remove 99.97% of all particulate matter greater than 0.3 micrometer from the air that passes through.
The BlackCat3.0 can also do wet mopping with a wet mop attachment which has a size of 200 x 54 mm.
Other features include Robotic Stair and Fall Sensing, Patented Robotic Obstacle or Collision Sensing, Robotic Virtual Wall Detection, Patented Robotic Effective-Auto-Self Recharge, Robotic Gyro Sensors, Robotic Accelerometer Sensors, Robotic Disentanglement, Cleans All Floors & Most Carpets, Pet Hair Removal, Cleaning Under Heavy Beds and Furniture due to its Compact and Slim Design, Doorsill crossing & Carpet Climbing Ability, Self Diagnosis, Automatic Speed Adjuster.
Speaking at the launch of the new BlackCat 3.0, Mr Rajeev Karwal, Founder Milagrow Robots said that "At Milagrow Floor Robots we are focused only on consumer robots space. We are continuously raising the bar with our deep consumer insights. Last month we launched the AguaBot – Amongst World's 1st Full Wet Cleaning Floor Cleaning Robots and the RedHawk3.0 with World's largest Dustbin and World's Largest Cleaning Brush. Today we are launching the BlackCat 3.0 which is the slimmest , quietest, most intelligent and has the longest lasting battery. We are committed to spreading this Robotic Revolution in India."
It comes with Upto 11 accessories and a comprehensive 2 year warranty. A prospective customer can book a home demo in Delhi NCR, Mumbai, Pune, Chennai and Bangalore or a skype demo anywhere in India.
Priced at Rs 26,990/- Milagrow BlackCat3.0 is available at www.milagrowhumantech.com with easy EMIs, replacement warranty and also COD.