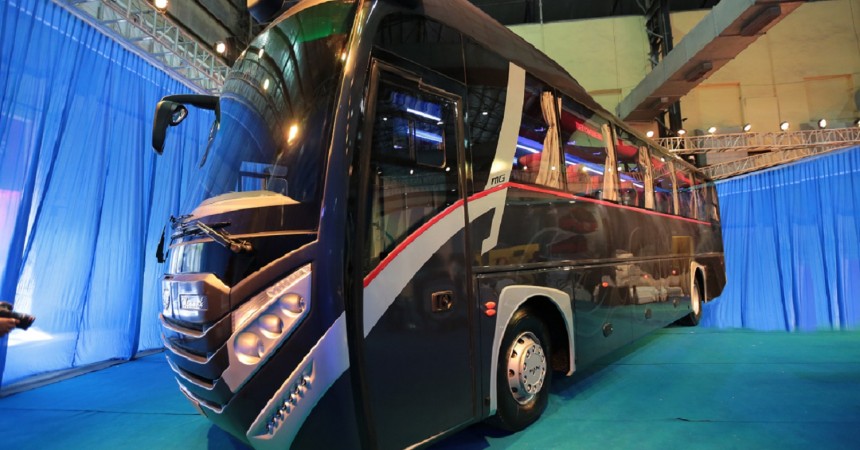 MG Group And MAN Trucks India Unveil The Luxury Coach 'MAMMOTH'
Alma Motors Pvt. Ltd., an MG Group Company today unveiled the Company's first luxury coach 'MAMMOTH'. The coach was showcased at Busworld 2015 in Mumbai at the hands of Mr. Mohan V. Kamat, Founder & Chairman – MG Group, Mr. Vijay R. Kamat, Managing Director – Alma Motors and Mr. Anil M. Kamat, Executive Director –MG Group.
The MAMMOTH has been developed and conceptualized by MG Group, in a strategic partnership between Alma Motors and MAN Trucks India. The partnership will ensure an optimum delivery on sales and services that the two Companies will closely work on.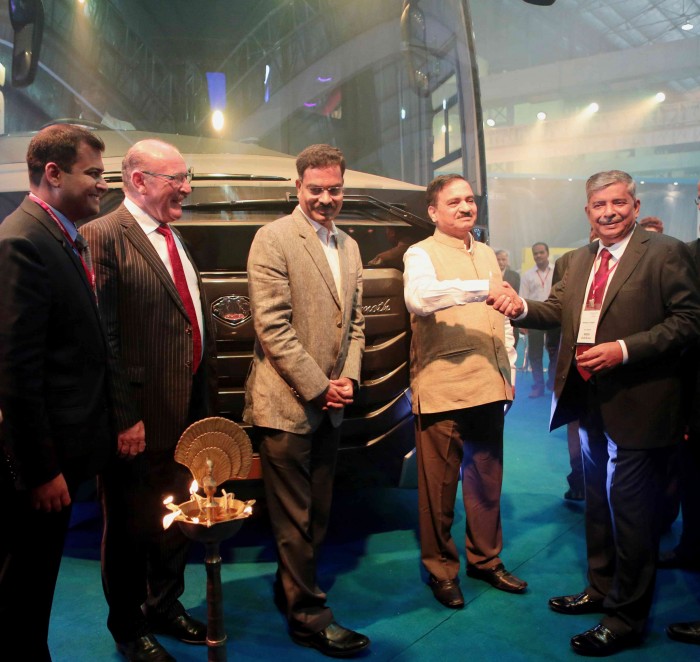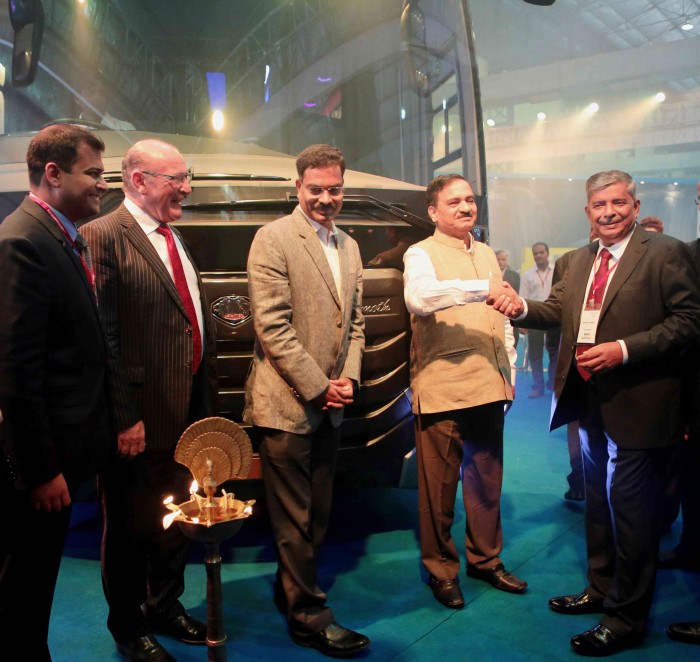 Built on the state-of-the-art MAN chassis, the customers are assured of one of the finest coaches suitable for Indian roads. To enhance the riding experience, the chassis is made of rugged high strength steel, which caters to the Indian operating conditions with increased driving safety, while significantly reducing body movements for best ride comforts.
At Busworld 2015, Mr. Anil Kamat, Executive Director, MG Group said, "'MAMMOTH' is a landmark achievement for MG Group in India. The introduction of this luxury coach is even more special as it is designed and developed in India and has global technology. The coach has been developed keeping in mind the evolving customer, passenger and driver needs in India. Mammoth offers a range of features to help improve fuel efficiency, drive comfort and overall passenger experience."
MAN is globally acclaimed for its safe products and it configures the chassis with maximum safety features. The fuel tank is safely positioned in the center and mounted on the chassis. The central position of the fuel tank improves passenger safety during a crash while also providing additional luggage space. The coach also addresses the problem of uneven load distribution by adjusting the air pressure in the bellows, thereby achieving uniform load distribution, which leads to better handling, good road stability & increased tyre life.
Chassis offers one of the safest and most effective braking systems on the road, consisting of service brakes with ABS, MAN patented Engine Exhaust Valve Brake coupled with Hydrodynamic Retarder for smooth & safer braking, increased tyre life, fuel saving, long brake liner life, low heat generation and a fatigue free journey.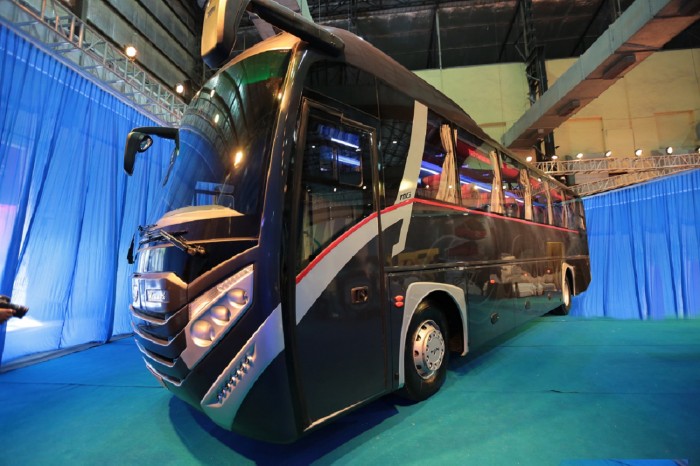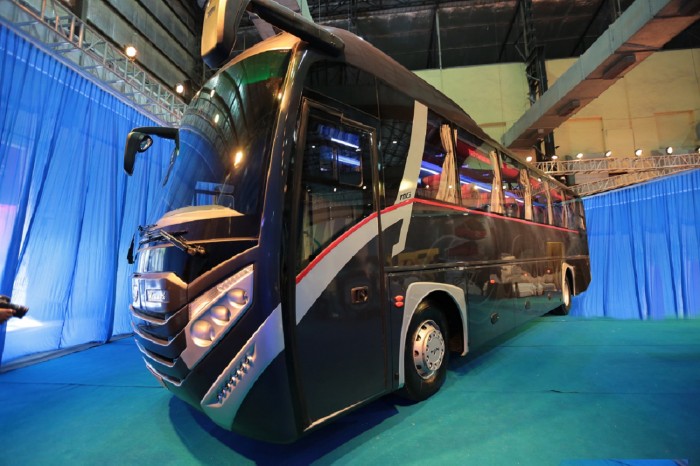 Keeping in mind the road conditions in India, a 2nd Ride Height System has been installed, which raises the chassis height by 50 mm for increased ground clearance. In addition to the regular Cruise Control, the coach is equipped with Downhill Cruise Control that maintains constant speed while driving downhill, without using service breaks or downshifting gears, which ultimately minimizes driver fatigue and increases passenger safety.
Furthermore, the vehicles are powered by robust, quiet, efficient, reliable, state of the art, time tested and renowned electronic controlled 6 cylinder MAN diesel engine, with optimized Power and flat Torque Curve over a wide engine rpm. The well configured driveline allows the driver to cruise at higher speeds at lower engine revs for high efficiency. It has significantly low noise levels inside the cabin, and the wider radial tubeless 295/80R22.5 tyre offer better standards of road stability and fuel efficiency and increased tyre life.
The product offers fully air-suspended rugged and torsionally rigid chassis, designed for highly stable driving and excellent ride comfort.
With an aerodynamic exterior design and a body that is fully engineered for serviceability and maintenance, the 'MAMMOTH' promises to take driving to the next level. Its full driver partition gives passengers a private, saloon like experience blessing them with two essentials while travelling – peace and quiet. With opulent push back seats and cushiony padding alongside the window rail providing a comfortable armrest for passengers. Every one of the lavish seats comes attached with personalized reading lamps, as well as mobile and USB charging ports. A centre head rack console provides an equal and well distributed flow of cool air for all passengers, while a pillar less head rack allows easy access to the spacious head luggage compartment above.
The 'MAMMOTH' has been built with the focus of being one of the safest luxury coaches in India. The coach is fully bus code compliant and comes equipped with an on-board safety instruction card for each passenger. A total of eight emergency exits including EM-Secure (Emergency Management – Secure) makes evacuation safe and panic free, in case of an emergency situation. Other safety measures include no sharp corners, seat belts for every passenger, and the full driver partition acts as an additional barricade in case of any frontal impact.
Equipped with EM-Secure, the coach is revolutionalising road safety and setting new benchmarks as far as the wellbeing of its occupants is concerned. Traditionally, the emergency exit is always on the right hand side wall glass panel towards the rear end blocked by a row of two seats in front of it, making it time consuming and hazardous to use in the unfortunate event of an emergency. EM-Secure provides a clear and well-marked emergency exit located at the rear end of the mammoth, which is easily approachable and unhindered by any obstructions. A manually ejected stairway built with assist handles to provide support while descending, allows passengers of all age groups to evacuate the coach unharmed as the height between the last step and the pavement is less than two feet.
MAN has plans of expanding the product range with a 280 HP front engine and also Rear Engine in the near future.
Mr. Kamat added, "The product will be supported by geographically well spread MAN network of more than 60 Service Centers across the country and 24×7 call centers that will assure best after-sales services to our customers."