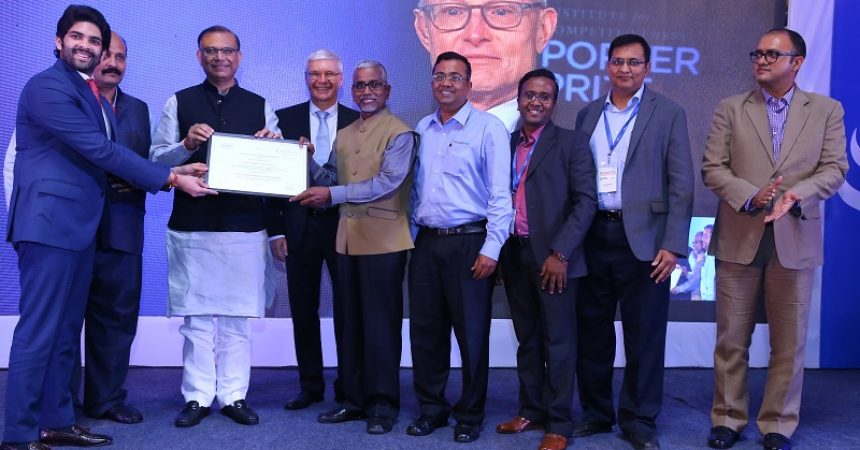 Manipal Global Wins Porter Prize For Industry Architecture Shift
Bangalore, 03 October, 2016: Manipal Global Education Services has won the Porter Prize for Industry Architecture Shift in recognition for redefining the industry structure by challenging the very basis of competition, creating new business models, challenging the status quo and exploiting change.
Manipal Global has been a pioneer in education and training industry over the last decade. It pioneered the first-day, first-hour model in Indian banking industry and has trained over 50,000 bankers for over 30 leading banks in the country. It has integrated technology with education delivery in all of its corporate academies and retail learning programs through online learning, blended learning, and flipped classrooms. It is also quick to address new skill requirements in the market – product management, architecture leadership, data science and analytics. The company has many leading international corporates and industry bodies as partners for multiple offerings in skill & knowledge products and services.
Accepting the award, S. Vaitheeswaran, CEO & MD – Manipal Global, said "It is an inspiration and honor to receive this award. As an education company, we believe our ability to change the industry has a greater impact on the country than anyone else. We have always strived to be ahead of the curve in using technology, have global partners who are best in their fields and deploy innovative training methods. This award reiterates the fact that we are on the right track."
Manipal Global won the award after a three-stage evaluation process. The jury consisted of eminent leaders from industry and academia. The award was presented by Mr. Jayant Sinha, Minister of State for Civil Aviation and Dr. Michael Porter who joined over internet.