LeEco Brings One Of The Biggest Online Shopping Extravaganzas – EPIC 919 SuperFans Festival – To India
Offers worth Rs 495 million+ up for grabs
September 16, 2016: Ever since its launch, global internet and technology conglomerate, LeEco is known to bring industry-first innovations to India. The biggest testimonial of this is the Superphones and SuperTVs that have been introduced in India with breakthrough technology at a truly disruptive prices. It is the only company in the world to have an innovative ecosystem-based business model. Continuing its tradition of innovating in India, LeEco is now bringing its EPIC 919 SuperFans Festival to India.
The EPIC 919 SuperFans festival has been phenomenally successful in China. Last year, EPIC 919 emerged as the third largest B2C online shopping festival and resulted in record-breaking 500,000 Le Superphones being sold in a single day! LeEco is known to offer innovative products and services in order to win customers and it is the first brand to bring a festival of this magnitude and scale in India. Indian consumers love to purchase technology devices and gizmos for their personal use and loved ones. The uptake of these devices is especially high during the festive season and LeEco through its EPIC 919 SuperFans festival is providing a perfect platform for consumers to shop till they drop.
The EPIC 919 offers will be available for 24 hours starting midnight of September 19, 2016 on LeMall.com and Flipkart. During this festival,LeEco will be extending fabulous offers worth Rs 495 million.
Commenting on the Epic 919 SuperFans Festival in India, Atul Jain, COO, Smart Devices, LeEco India, said, "We have always strived to offer unparalleled innovative offering to our customers and brining in the EPIC 919 SuperFans Festival is a step in the same direction. We continue to create new benchmarks of customer satisfaction. We hope this one of its kind Shopping Festival will enable our consumers to experience our Superphones, SuperTVs and accessories at never- before prices".
"We also aspire to make new industry sales records on our EPIC 919 SuperFans Festival Day," Mr. Jain added.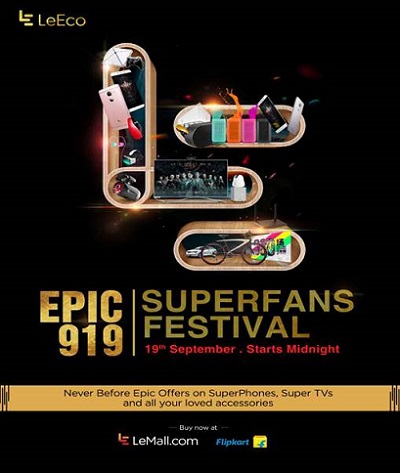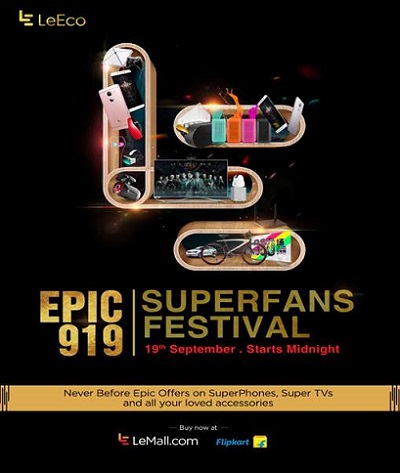 EPIC offers on Superphones
· As a part of the EPIC 919 SuperFans Festival, the best-in-class LeEco Superphones will be offered at a great price on Lemall.com as well as Flipkart. Offers worth a whopping Rs 453 million will be up for grabs and it will go beyond all customer expectations.
· LeEco has also tied up with Make My Trip as a special gift partner for the EPIC 919 festival and will be extending exciting offers on purchase of every Le 1s Eco, Le 2 and Le Max2.
EPIC offers on SuperTVs
· Users can take home the Super3 X55 at cost free six months EMI on LeMall.com and Flipkart. On buying this TV through LeMall.com, users will get a 2.1 Ch SoundBar with Wireless Subwoofer worth Rs 19,999 free, while on Flipkart users can avail PREXO (Product Exchange Offer) up to Rs 25000.
· On the Super3 Max65 or Super3 X65, users will get cost free six months EMI on both LeMall.com and Flipkart. Additionally, Flipkart will be offering exchange offer, where in users can get PREXO (Product Exchange Offer) up to Rs 25000.
As a countdown to the mega day, LeEco is partnered with Uber and giving users a chance to win gift vouchers and second generation flagship Superphone – LeEco Le Max2. To avail this offer, all the user has to do is take two uberPOOL rides between Saturday, 10th September to Friday, 16th September and use the promo code 'EPIC919'. All users stand to win a LeEco voucher worth Rs 500 that can be redeemed on LeMall.com. This offer is only valid for rides taken in Hyderabad, Kolkata, and Chennai.
This is just a teaser and LeEco will be coming out with more irresistible deals to excite the users and enable them to buy the next-generation LeEco Superphones and SuperTVs at a great price through its EPIC 919 SuperFans festival day.