KFC India And Mountain Dew Co-create The Country's First Gamer's Box!
Limited-edition 'KFC Mountain Dew Gamer's Box 2.0' with built in gaming controls
Passionate gamers will vouch for how it's impossible to tear away from the immersive experience that is gaming! The urgency of your fingers on the controller, that rush of your score rising on the board – nothing should interrupt that – not even meal breaks! Well, Mountain Dew and the big-daddy of finger lickin' food, KFC,have the perfect gaming set up that will let you refuel and get into show-down mode – without worrying about grubby screens and long breaks!
Presenting the KFC Mountain Dew 'Gamer's Box 2.0' – a convenient, no-mess meal box with built in gaming controls.We would say a gamer's ultimate fantasy! The snazzy new limited-edition twist to the KFC meal box features inbuilt gaming controls and a slot for your phone. Consumers can pair their phone with the controllers on the meal box through Bluetooth, for a non-stop gaming session, while they enjoy a finger lickin' good meal and sip on some refreshing Mountain Dew. Because neither gaming nor the Colonel's chicken should ever stop!
Commenting on the limited-edition Gamer's Box 2.0, Lluís Ruiz Ribot, Chief Marketing Officer, KFC India said, "We are excited to partner with Mountain Dew to co-create the Gamer's Box 2.0 as it brings the best of both worlds – gaming and finger lickin' good chicken – to consumers! It gives gaming enthusiasts a chance to not just indulge in their favorite KFC 5-in-1 Meal box but also enjoy uninterrupted gaming, without worrying about messy food or grimy screens."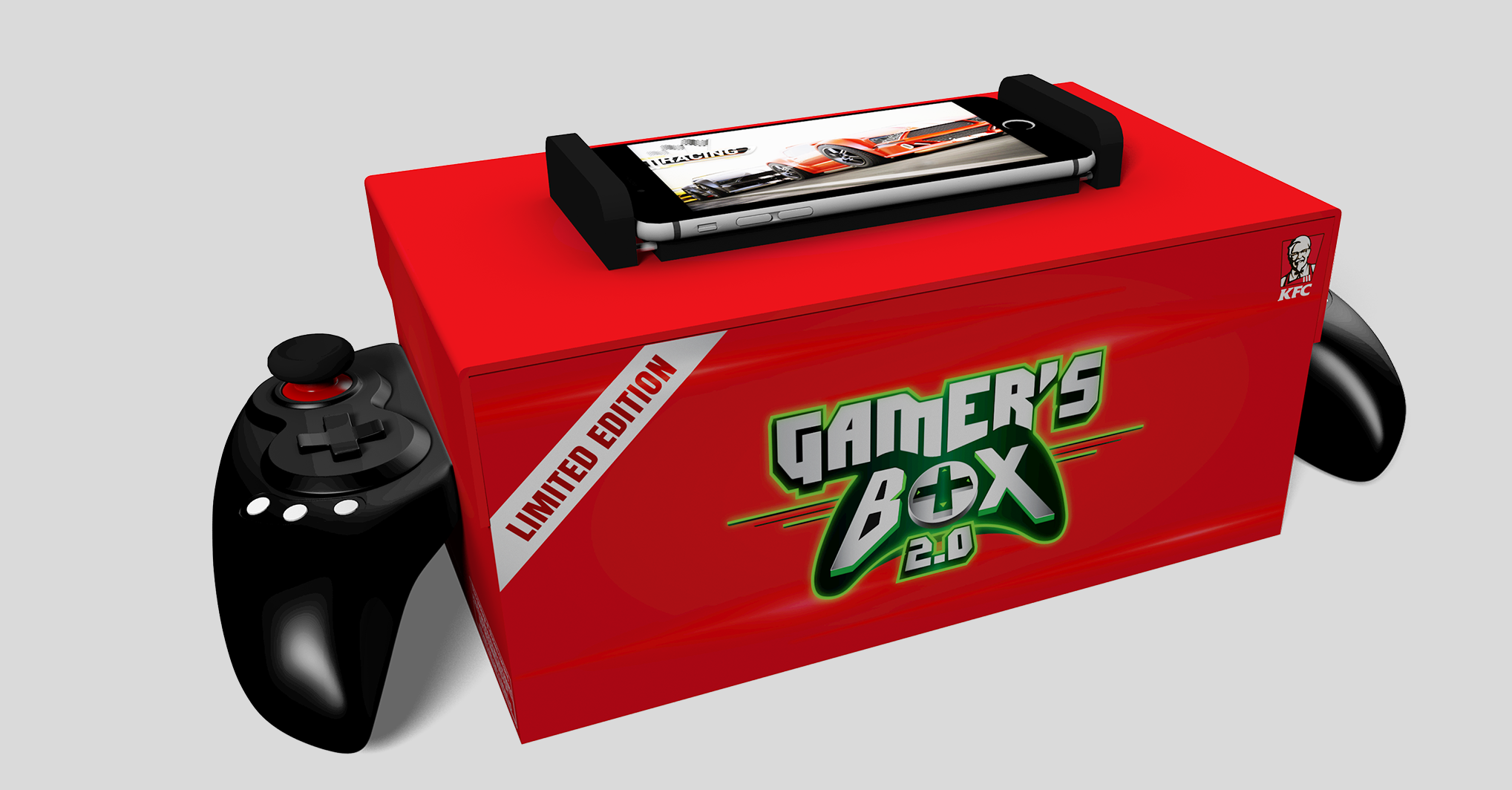 Talking about their commitment to gaming and the partnership with KFC, Naseeb Puri, Associate Director, Mountain Dew, PepsiCo India said, "Gaming in India is gaining exponential popularity across platforms. As a brand, Mountain Dew has always been at the forefront of bringing in consumer experiences that have celebrated emerging trends. Last year we created Dew Arena that went on to become India's largest ever gaming championship and is into its 2nd edition this year. The partnership with KFC is a reiteration of our commitment to gaming and e-sports in India. We are excited to partner with KFC in a bid to create the perfect accompaniment for gamers."
To get your hands on the limited-edition Gamer's Box 2.0 log on to KFC India or Mountain Dew Facebook, Twitter (KFC India, Mountain Dew) or Instagram page (KFC India, Mountain Dew) – and tag your gaming-obsessed friend who you feel deserves to win the box. 10 lucky consumers will get a chance to win this limited-edition box.
If you are unable to get your hands on the limited-edition Gamer's Box 2.0, don't fret! The brands have also come together to launch the KFC Mountain Dew Gamer's meal box, a snazzy new twist to the KFC meal box, that has been curated by gamers to be fuss-free and perfect for a quick refuel – the KFC Zinger, Chicken Popcorn, Fries, Yumfills and Mountain Dew. You can get your hands on it at your nearest KFC or order online at https://online.kfc.co.in/
The limited-edition KFC and Mountain Dew Gamer's Box 2.0 is just the first step of their partnership. So, stay tuned! You don't want to miss out on any of the gaming fun!
---
Terms & conditions below –
Contest open only for participants between July 25 –

July 31, 2017

. Thereafter, Yum Restaurant India Pvt. Ltd. will not be legally obligated to honor the entries for their participation in the contest.
The winners will be decided by Yum! Restaurants India Pvt. Ltd. and their decision will be final. By participating in the contest, it is deemed that the participant(s) have agreed to all the terms & conditions mentioned herein.
The contest is open only for Indian citizens who are residing in India.
Yum! Restaurants Pvt. Ltd. shall, under no circumstance, redeem the prize won through the website for cash or exchange it with any other product.
This contest cannot be clubbed with any other offer or promotion being run by Yum Restaurant India Pvt. Ltd.
Yum! Restaurants Pvt. Ltd. employees and relatives of the employees not eligible to participate in this contest.
In case the participant wins a KFC gift card through the above participation in the contest/ promotion on the website, then each such gift card can be redeemed only once. Once presented, the voucher shall expire & cannot be reused.
It is mandatory to present the gift card before placing the order by producing it for its redemption.
Mountain Dew is a registered trademark of PepsiCo Inc.
PepsiCo Inc. and its affiliates shall not be responsible for failure of KFC to provide the prize to the participant(s) caused due to technical or other factors attributable at the end of KFC that may occur for reasons including but not limited to failure of hardware equipment, configuration issue, decisions, change in marketing plans and / or changes in regulations that are carried out by any judicial or quasi-judicial or regulatory body.
Yum! Restaurants India Pvt. Ltd./ KFC reserves its right to alter / withdraw / extend this contest at any time without giving any prior notice & without assigning any reason whatsoever.
Contest subject to Force Majeure conditions.
All disputes related to this offer/ promotion will be subject to the exclusive jurisdiction of courts of New Delhi only.