Intel India Collaborates With The Karnataka Government To Launch Unnati Kendras At Common Service Centers Across The State
Intel India opens 68 digital learning centers across 7 states
Bangalore, August 17th, 2016: Reaffirming its commitment to the government's Digital India vision, Intel India has today launched 68 digital learning centers across India, with the inauguration of seven Unnati Kendras (UKs) at Common Service Centers (CSCs) in Karnataka. A part of the company's 'Ek Kadam Unnati Ki Aur' initiative, a nationwide plan to create a blueprint for the digitization of non-urban India, these 'UKs at CSCs' will drive the relevance of computing at the grassroots level. Intel India, in collaboration with CSC e-Governance Services India Ltd., has set up seven such facilities in the districts of Bijapur (2 centers), Hassan, Davanagere, Haveri, Tumkur, and Chitradurga.
Adding to a network of 61 centers already live across 6 states, Intel India has now rolled out its program in Karnataka, achieving the completion of 68 Unnati Kendras in the country. With strong support from the state government, the facilities will serve as common access digital learning centers for local citizens, with a focus on education, skill development and innovation. Announced in April 'Ek Kadam Unnati Ki Aur' is delivering access to Intel-powered devices, local language content, and relevant training modules for citizens who visit these centers, creating opportunities for their skill development and digital knowledge. The public-private collaboration has already has already touched the lives of 80,000 local citizens with the provision of last mile digital services since the launch of the first center in Telangana three months ago.
Sandeep Aurora, Director, Marketing & Market Development, Intel South Asia said, "We would like to extend our gratitude to the Karnataka government for its support to our initiative to make technology mainstream in the state. According to the Internet and Mobile Association of India (IAMAI), Karnataka is the second most internet-ready state in India, which implies that its e-Infrastructure, e-Participation, IT-services and e-Governance components are ahead of most other states in the country. Intel India is adding further value by creating relevance of technology and computing in the daily lives of local citizens in the state."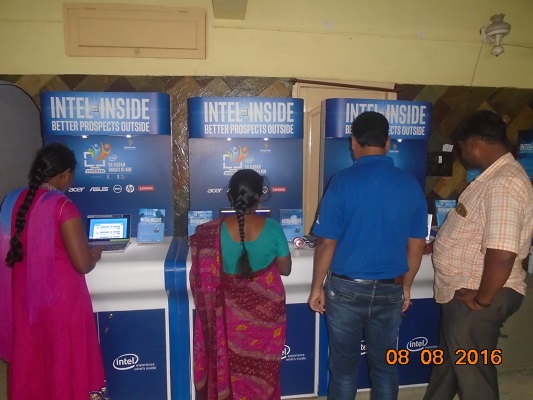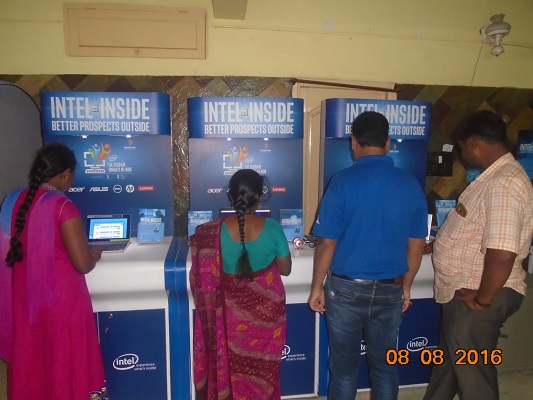 Trained personnel at these centers will conduct in-depth sessions on digital literacy, computer skills and internet facilities, along with dedicated guidance sessions in entrepreneurship, language and vocational training to improve citizen education and employability. By providing this hands-on PC experience, Intel India aims to encourage first-time users and empower them with digital knowledge to improve their livelihood. The centers will also be used as platforms for delivering government related content to the citizens – Digital Literacy, Financial Inclusion, and Healthcare, providing users with comprehensive access to improve their lives.
Intel India has also set-up the Digital Seva Skills website, in collaboration with the CSC e-Governance Services India Ltd, and accessible only to the Village Level Entrepreneurs (VLEs). It will enable them to learn how to assemble a PC online and upskill their technology know-how.
Intel India is also actively involved in digital literacy programs, policy advocacy and facilitating technology-driven inclusive growth. Through programs such as the "National Digital Literacy Mission", and the "Disha Digital Literacy Programme", among others, Intel India has upskilled80 lakh citizens in India till date, providing further impetus to the Digital India charter, as well to the "Pradhan Mantri Kausal Vikas Yojna", which is focused on skill development in the country.