Be Inspired With The High Performance Zebronics, 5.1 Dhol Speakers With Impressive Bass, Priced At Rs. 7171/-
Front Firing Woofer – Rainbow LED Display – Full function remote Control
Riding the success of being no. 1 in audio category, Zebronics, a brand known for its diversified technological innovations to create enriching experiences, announces its latest Monster Sound 5.1 Dhol Speakers, which shall bring in the heart thumping bass and clear sound, to let your home reverberate with the punch of powerful movie soundtracks and the bass beats of your favorite songs, with the complete virtual surround sound. It's the heavy duty Power of Sound, definitely not for the faint-hearted!
Whether it's action sequences, concerts or football matches, you'll feel like you're at the heart of the action with this 80w RMS, Dhol Sound – Loud and punchy!
Sporting the stylish design & exquisite looks along with outstanding sound, Dhol lets you experience the magic with Rainbow LED Display, that shall treat you with not only amazing sound effects but visual effects too.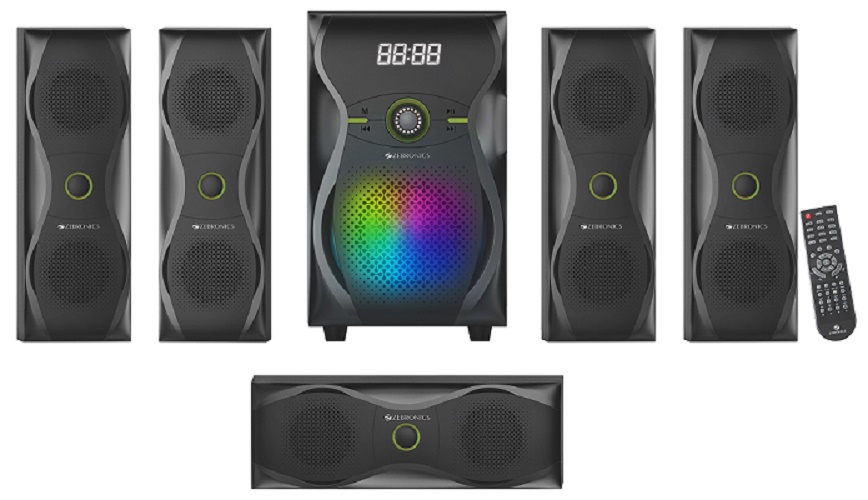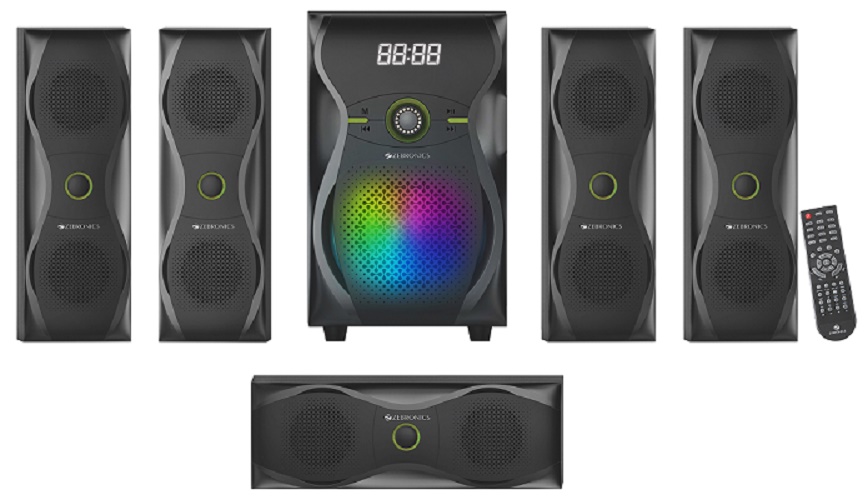 The heavy duty/Monster Sound Dhol promises crisp, powerful sound, filling the room with theater-quality sound, in minimal effort – immersing you in the ultimate listening experience. The speaker has a total RMS sound output of 80watts & the power output of the speakers is 10watts RMS each. This evaluation ensures that you always experience prodigious sound reproduction regardless of the medium used. Designed with brilliant acoustic performance is the high-tech front firing woofer that adjusts itself dynamically to deliver distortion-free bass, with its 30watts RMS output and and 16.5cms driver, it dispenses heart thumping bass, tuned with the full equalizer, assuring loud and booming sound quality without any distortion.
For the discerning audio enthusiast, compromise is not an option. You stream music wirelessly through bluetooth or simply plug and play from any Media device you want – USB/SD Card, TV, DVD/MP3 Player, PC or any of your multimedia stuff. Your all in one companion also comes with FM radio, and fully function remote control to switch as per your moods.
The latest at Zebronics Dhol Speakers is hands down, the very best-sounding surround speaker one could here in its price class. The product is available with leading retail stores in India.