Inside Real Virtuality – An Immersive Showcase In Mumbai
Swissnex India and Artanim present 'Inside Real Virtuality', a multi-user immersive platform combining a 3D environment which can be experienced through a Virtual Reality (VR) headset with a real-life stage setup.
The technology behind 'Inside Real Virtuality'
This ground-breaking technology was developed from the extensive research undertaken in the last four years by Artanim in Geneva, Switzerland. This is currently the only solution available offering a "matrix-like" degree of immersion over a large area, up to hundreds of square meters. Users are tracked by a motion capture system allowing them to see their own bodies and move physically in the virtual environment.
A once in a lifetime experience, Real Virtuality allows users to become immersed in a VR scene by walking, running, interacting with physical objects and meeting other people, unlike other static position VR systems. Because the movements of users and their corresponding avatars exactly match in the 3D environment and are streamed to the users with very low latency, there is no discomfort experienced or interface required. The bodies of the visitors work as the interface.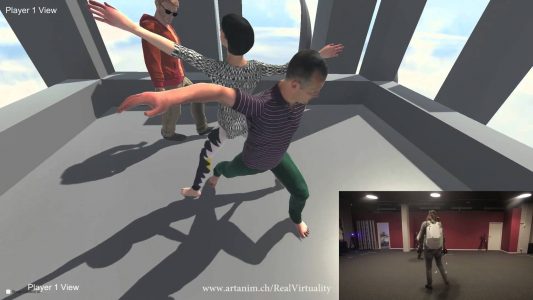 Accolades for Real Virtuality, across the globe…
This project was shortlisted among the three finalists of the Immersive Realities (AR/VR) contest at SIGGRAPH Los Angeles 2015, awarding the best augmented/virtual reality experience possible using today's technologies. It was showcased at the Sundance Film Festival and Cannes Festival in 2016, going on to win the Laval Virtual 2016 Award in the category '3D Games and Entertainment'.
And here's what people had to say…
'Inside Real Virtuality' brings together a day of virtual reality demos offering each participant a uniquely breathtaking experience, that has been enthralling audiences worldwide.
"What's cooler than VR? Not much except maybe Real Virtuality by Artanim." – James Finn, 20th Century Fox
"The mother lode of Sundance. The most daringly original VR presentation I've seen, "Real Virtuality" shows how big the medium can be." – Steven Zeitchik, Los Angeles Times