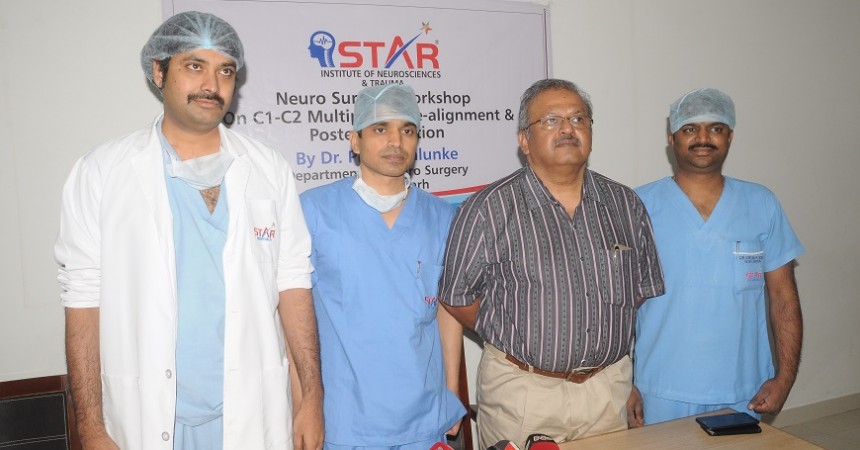 Innovative Technique Of C1-C2 Multi Planar Re-alignment & Posterior Fixation
Hyderabad 06 March 2016: Cranio vertebral junction is one of the most important areas in the human being. The anatomy and the embryological development of the region is very complex. The region is the junction between the brain and the spinal cord. The area can be affected by a variety of disorders and all these disorders will have an impact on the brain and spinal cord.
Children and young adults are affected by these problems. They have difficulty in walking and many of these unfortunate victims become wheel chair or bed bound. As the condition worsens they also manifest difficulty in breathing and ultimately succumb. Most commonly the C.V.Junction problems arise due to congenital birth defects. Infections like tuberculosis and road traffic accidents can also affect this region. Many children with these problems succumb due to lack of awareness and lack of technology.
There have been a variety of surgical options to treat these problems. Continuous innovations and refinements in the surgical management have evolved in the last two decades. The state of art technology in the treatment of these abnormalities will be highlighted in this workshop.
The aim of this continuing medical education programme is to discuss in detail about the cranio vertebral junction problems and also the surgical treatment. A live surgery is being done by eminent neurosurgeon from Chandigarh, Dr.Pravin Salunke. He is a senior faculty at the prestigious PGIMER Chandigarh. He has special interest in this complex field and has done extensive research in cranio vertebral junction anomalies. Around 100 neurosurgeons and spine surgeons from across the country are expected to participate in this workshop.
Star institute of neurosciences has state of art facilities in dealing with this sort of complex conditions.