The Hive Brings The World's Start-Up Ecosystem To Bengaluru With 'STARup 2017'
The conference witnessed a gathering of over 2000 start enablers
Bengaluru, 7th May 2017: The Hive – Collaborative Workspaces at VR Bengaluru, today concluded 'STARup2017', a gathering of over 2,000 entrepreneurs, investors, corporate representatives, government officials and influencers from across the world's leading start-up ecosystems. The conference was presented by Ah! Ventures and was focussed on the theme of Emerging Technology Trends. It welcomed an array of distinguished personalities from the start-up ecosystem; Praveen Sinha (Jabong), Sauvik Banerjee (TATA Cliq), Archana Priyadarshini (Unicorn India Ventures), Shalini Prakash (500 Startups), Dr. A. Velumani (Thyrocare) and Sandeep Agarwal (ShopClues) among others.
The two-day conference witnessed a host of panel discussions and sessions with eminent speakers across FinTech, HealthTech, EduTech, EmeringTech, CleanTech, FoodTech & Logistics, Platforms & Aggregators, Robotics & AI and Co-working segments.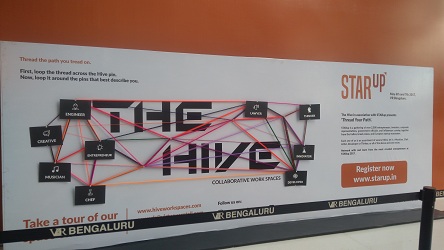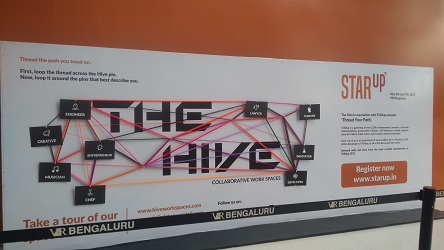 Mr. Ankit Samdariya, the spokesperson for The Hive, said," STARup is one of the largest networking and knowledge sharing events in the country. In-line with our vision of connecting communities, we partnered with STARup2017 to provide a platform for the start-up ecosystem to connect and engage in a colloquial environment at VR Bengaluru."
The conference created an opportunity for like-minded people across start-up ecosystems to network and learn from each other. It also provided a platform where start-ups could pitch and procure funding for their ventures. In a drastic departure from the conventional conference venues, STARup2017 was held across different venues including a pub, a fitness studio, a rooftop bar and poolside and co-working spaces.
Mr. Harshad Lahoti, Founder, Ah! Ventures said, "For the first edition STARup in Bangalore, The Hive was an ideal choice as it offered 1 million sq.ft of unique co-working and networking spaces at VR Bengaluru. The Hive's culture of collaboration resonates with the essence of STARup which is all about bringing communities together."
The event was not all work and no play; it had five breakout sessions such as Money on the Table, Tu Bhi Beer Hai, Jam with T-Man, 18-of-a-Kind and Wallet Bureau to enliven the atmosphere.