Funstay Partners With Flexiroam To Facilitate Connectivity For International Travellers
The collaboration will enable travellers to utilise an affordable alternative against expensive call roaming charges to stay connected with their loved ones during an overseas journey
New Delhi- December 08, 2016, Funstay.in, the disruptive online platform offering one of a kind stay experience to travellers across the country has joined hands with Flexiroam, one of the leading mobile virtual network operators across the globe offering international travellers with outbound voice and data roaming in around 200 countries at an affordable pricing.
The strategic tie-up will come as a boon for international travellers of Funstay as they will now be able to get 500MB of complimentary data on Flexiroam X and will be able to stay connected with their loved ones while have an experience of lifetime with Funstay's unique accommodations and packages. This tie-up will also enable Flexiroam X customers to get special discounts on bookings through Funstay.in.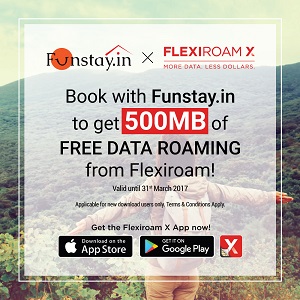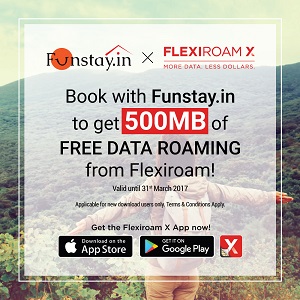 Flexiroam was incepted by Jefrey Ong, the serving CEO of the company in the year 2011 with the goal of a 'connected world.' The company at present boasts of an access to 580 network operators globally and is one among the most preferred roaming alternatives among global travellers.
Sharing his delight on the new partnership Nitin Agrawal, Co-founder and CEO of Funstay.in commented, "We are excited to partner with Flexiroam which has proven its unprecedented credentials in the international voice and data roaming space. This collaboration will not only benefit international travellers in accessing 24*7 connectivity, but will also help augment the growth of overseas tourism industry. We will continue to announce more partnerships in the coming times to further cement our commitment of offering a lifetime travel experience to our esteemed consumers."
Further commenting on the details of the partnership, Jefrey Ong, CEO, Felxiroam said, "We are delighted to collaborate with Funstay by providing a comprehensive value added communication services. This partnership will serve as a win-win proposition for both the organizations as well for frequent international flyers."
Funstay also recently tied up with Pixean, an online community platform for photography enthusiasts who wish to experience unique travel experiences to capture priceless moments.