Dell Intros Dell Buzz Room – New App to Bring Top News in Facebook
Dell has offered "Dell Buzz Room", a RSS alternative Facebook application to built around specific topics to customers. The Dell Buzz Room is developed to incorporate the most popular industry and social content for Dell customers in Facebook.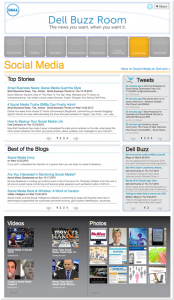 Through Dell Buzz Room Facebook app user can see top news, tweets, videos and photos from around the web. Dell Buzz Room use the technology of a Companay "OneSpot" to show the news and other data.
Dell Buzz Room shows the Dell and industry news many categories, some of the categories are: Environment, Education, Healthcare, Entrepreneurship, Cloud Computing, Social Media, Product News and Mobility.
Steps to follow to use Dell Buzz Room:
Enter the Buzz Room through our Home tab on both our main Dell Facebook page and Dell for Business Facebook page
Click on the color-coded boxes on the top panel of the application to choose your category and your content below will automatically update.