Mad Over Poker, an Online Poker Platform, Launches with India's Biggest Free Entry Tournament – LOOT
Incorporated in April this year, Mad Over Poker (MOP), is an early stage poker startup that will be launched in India on August 3rd with a big bang inaugural tournament LOOT.
Poker Industry in India, pegged at INR 1000 crores is a buzzing industry associated with glamour and fun. It has international appeal especially among the youth who have had global exposure and work or live in large metros. Poker is a mind sport and skill based game more like chess.
Madoverpoker.com (MOP) is one of the few corporatized online poker playing platforms, in a largely unorganized segment in India. Their current focus is to ride the wave of a $50 billion global online gaming industry and to grab the imagination of poker crazy players in India.
The LOOT is Rs 5 Lakh guaranteed tournament on Mad Over Poker website which is scheduled on August 3, 2017 at 9:00 pm. They have further scaled up the online poker playing industry by announcing the largest free entry tournament with a prize pool never offered before. Poker enthusiasts will get once in a lifetime chance to enter the competition without investing a single rupee. Registration will be open till midnight of August 2, 2017.
Elaborating on their launch offer, Amit Kanodia, Chief Executive Officer at Mad Over Poker said, "We are an early stage poker startup that believes in the highest conduct of business and sportsmanship. MOP is the first-of- its kind online prize money driven product in India. The company plans to become a market leader in the coming years. MOP's plans will first focus on India and later spread their wings into other markets."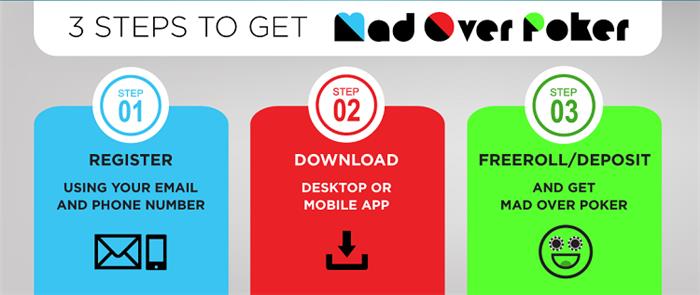 The No Limit Texas Hold'em tournament is an exciting one for all poker players as it combines a massive prize pool with an exciting structure. The re-entry tournament has a nominal entry fee of Rs 850, but one can enter for free in just a few steps.
To register for the tournament, players first need to create an account on madoverpoker.com. Then the next step is to like the Mad Over Poker page on Facebook https://www.facebook.com/madoverpoker/ and comment on the tournament post by mentioning Mad Over Poker username and tag 3 friends along with #madoverpoker.
This will entitle players a free ticket which will be credited to their account before the start of the tournament. Entries are valid on "Pinned Facebook Loot Post" only.
Amit further added that, "With our launch offer Loot, we hope to delight our players. We plan to keep introducing exciting promotions and tournaments in the future on Mad Over Poker for poker aficionados."
Players also get to participate in a daily 20k FREEROLL beginning from August 4, 2017 at 8pm.
About Mad Over Poker
Madoverpoker.com (MOP) is an early stage startup which is in one of the few corporatized online poker playing platforms, largely an unorganized segment in India.
As the name suggests, Mad Over Poker is an online poker platform run by a group of experienced and passionate poker players from India. Their aim is to give the other poker enthusiasts their best playing experience trimmed from the best of the best online game plays.
MAD OVER POKER is the reaction to the industry trends in recent years of favouring a more recreational model, jaw-dropping promotional offers, mind-boggling actions & high stakes cash games.
Social Media handles:
Facebook: https://www.facebook.com/madoverpoker
Instagram: https://www.instagram.com/mad.over.poker/
Twitter: https://twitter.com/madoverpoker