KPMG Press Release On Global Manufacturing Outlook 2015
While 64 percent of the 386 senior executives participating in KPMG's 2015 Global Manufacturing Outlook (GMO) survey say sales growth is one of their top strategic priorities in the short-term, many also see innovation as a critical path to growth. Indeed, the KPMG GMO survey shows that manufacturers know that investing into breakthrough technologies is a "must do" long-term strategy with more than two-thirds of respondents confirming they are focused on long-term innovation strategies.
Forty-four percent of KPMG GMO survey respondents say they will allocate more than 20 percent of their total technology spend on systems to improve the pace and value of innovation (engineering, manufacturing and supply chain) in the next year. Furthermore, 32 percent cite the development of new products and R&D as a top strategic priority.
"Innovation waits for no one. Those who fail to embrace the new reality of the accelerating innovation cycle will quickly be left behind," says Jeff Dobbs, KPMG's Global Head of Industrial Manufacturing. "Investing more in R&D is certainly helpful, but manufacturers need to also focus on continuously enhancing and adapting their innovation models if they hope to survive."
In order to improve speed-to-market and lower innovation costs, the KPMG GMO survey found that manufacturers are increasingly looking to, and collaborating with, suppliers, customers and third party research organizations. Indeed, 81 percent of respondents are adopting more collaborative business models with suppliers and customers to improve the value of their innovation investments.
Dobbs comments, "The focus on new product development, collaborative innovation and speed-to-market all require new strategies and business models. If manufacturers hope to grow by driving new innovations to market, they need to focus on improving the agility and integration of their supply chain models."
Looking into supply chains, almost half of all KPMG GMO survey respondents cite lowering costs and working capital levels as one of their top three strategic supply chain priorities. And, when asked to rate their top supply chain challenges, respondents say that a lack of flexibility and responsiveness to changes in demand or product mix is the most frequent issue; this is followed by concerns relating to supplier performance (in terms of risk, reliability and quality) and ensuring sufficient supplier capacity to meet demand and best support new product launches.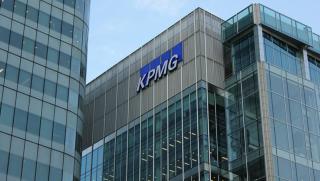 "Our survey respondents report they are addressing the challenges and investing in new supply chain technologies that offer lower costs, better planning and improved enterprise collaboration," says Dobbs "More than a third of our GMO survey respondents say they will place significant investment into improving their procurement systems and 31 percent say they will allocate significant supply chain technology spend on Integrated Business Planning (IBP) systems."
Dobbs continues, "Sensing and truly understanding unmet needs faster than the competition will be key to winning the battle as the pace of connected-product innovation continues to accelerate."
Focus on India
36 respondents were from India. The fact that manufacturers in India are highly focused on innovation is not surprising. As domestic competition increases and prices start to come under pressure, many in India recognize that they will need to innovate in order to protect their margins and attract premium prices for their products. This, in turn, is driving India's manufacturers to quickly start embracing high-tech and advanced manufacturing technologies.
However, it is clear that – in India and in the rest of the world – manufacturers could be gaining much more value from data and analytics (D&A), particularly on the supply chain side. Indeed, we believe that those manufacturers able to leverage their customer-facing D&A experience and capabilities to improve their supply chain operations will ultimately win in the marketplace.
India is clearly changing. And new consumer pressures, new market reforms, new competitors and new innovations are starting to help elevate the market from being a 'low-cost' manufacturing destination into a 'high-value' and 'high-quality' destination instead. While this will clearly provide significant dividends for India's manufacturing ecosystem, it will also mean that manufacturers will need to keep a close eye on their costs if they hope to remain competitive in one of the world's fastest-growing marketplaces.
"Manufacturers will need to start focusing their data and analytics capabilities towards analyzing, understanding and improving their supply chain operations," says S.V. Sukumar, Head of Strategy & Operations and Industrial Manufacturing, KPMG in India. "Along with improved analytics, we believe that greater collaboration across the supply chain, improved visibility and enhanced integration can help manufacturers overcome some of these challenges."
About the Global Manufacturing Outlook
The Global Manufacturing Outlook (GMO) 2015 is based on a survey of 386 senior executives, conducted by Forbes on behalf of KPMG International, and was completed in early 2015. Respondents represented six industries: Aerospace & Defense, Automotive, Conglomerates, Medical Devices, Engineering and Industrial Products, and Metals.
All respondents included in our survey held Director-level or C-Suite roles within their organization and 63 percent represented organizations with more than USD5 billion in annual revenue. Respondents were distributed fairly evenly between the Americas, Europe and Asia.
The full GMO can be downloaded at www.kpmg.com/gmo