Breakout® – India's First Internet of Things (IoT) enabled, Premium Escape Game Facility Launches in Bangalore
Breakout® announces the launch of India's first, IoT enabled, premium escape room gaming facility in Bangalore. The center houses three real-life, immersive adventure games, catering to diverse age groups from 6 to 60+ years.
Breakout® has secured five franchise partners in the last one year. In a move set to disrupt the existing market, Breakout® has partnered with Francorp, Asia's largest franchise and retail solutions company, to scale up to 25 franchisees by end of 2018. The partnership will uniquely position Breakout® as India's fastest growing franchise network of escape games across India.
Breakout® will offer 17 unique character and theme based escape game concepts through its vast franchise network. These games will be set up in at least 70 rooms across India by end of 2018.
Breakout® will replicate state-of-the-art experience through its two franchise partners in Bangalore and one each in Ahmedabad, Chennai and Kolkata by end of 2017. The remaining franchisees will be spread across the key metropolitan cities and upcoming satellite towns in India by end of 2018.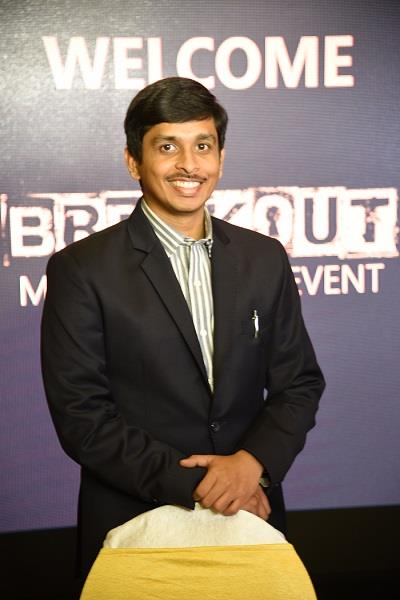 Hareesh Mothi, Founder of Breakout®
"We have tied up with Breakout® as our exclusive escape game partner as we see tremendous potential in its ability to transform the premium, real-life gaming experience in India. Francorp, part of Franchise India, as Asia's largest franchise and retail solutions company is committed in helping Breakout's vision of securing 25 franchise partnerships by the end of 2018, that will see them emerge as a formidable player in this space," says Deepak Yadav – CEO, Francorp.
"We aim to re-define, real-life, escape room games through unique story based concepts developed globally and powered by IoT technology at our centers across India. The games developed over three years of rigorous research will aim to deliver wholesome adventure experience to players. We hope to take this to international shores in the next two to three years," says Hareesh Mothi, founder of Breakout®.
Breakout® since its inception in March 2015 has seen a surge of consumers across diverse age groups and nationalities. It has emerged as a preferred destination for community engagement and business networking alike amongst corporate trainers, artists, families and like-minded singles. Many consumers perceive escape rooms as a great place to breakdown stereotypes and foster collaboration, connection and communication amongst genders.
About Breakout®
Breakout® is India's first IoT enabled, premium escape room experience for diverse age groups (6 to 60+ years). Breakout® currently has three functional escape game facilities offering 17 unique story and character-based games across four cities in India. It will expand to 70 rooms through 25 franchisees by the end of 2018. Breakout® has been rated as No. 1 real-life, escape room experience by consumers on Trip Advisor.
About Francorp
Francorp, the franchise consulting arm of the Asia's largest integrated franchise and retail solutions company Franchise India, provides end-to-end franchise solutions to new and existing enterprises, willing to expand their footprint in India.