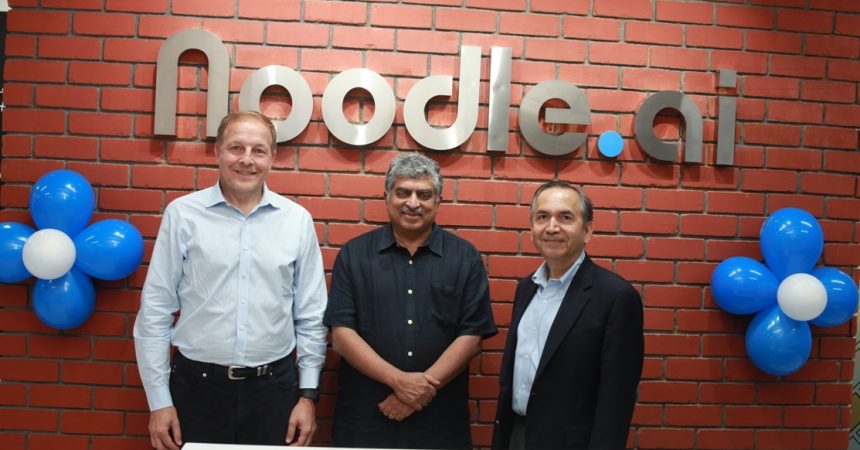 Artificial Intelligence Leaders From Silicon Valley And Bangalore Launch Noodle.ai In India.
Former Infosys Executives launch Indian subsidiary of Noodle.ai, offering Enterprise Artificial Intelligence Solutions
19th August, Bangalore: Former co-founders (CEO and COO) of Infosys Consulting announced today the launch of Noodle Analytics Private Limited, the Bangalore headquartered subsidiary of Silicon Valley Based Noodle.ai. The launch was welcomed by Mr. Nandan Nilekani, Former Chairman UIDAI, who cut the ribbon at the inauguration ceremony at the company's headquarters and said "I congratulate Noodle.ai on their launch in India and wish them much success."
Noodle.ai is a leading provider of Enterprise Artificial Intelligence solutions. The venture is funded by TPG, a leading private equity firm, and the founders of the company.
Noodle.ai's Enterprise AI solutions combine world-class expertise in applied artificial intelligence technologies including machine learning, predictive data analytics, and data science, with human-centered design, business process engineering, and big data.
Speaking on this occasion Mr. Stephen Pratt,CEO Noodle.ai, said
"Over the next three to five years, artificial intelligence technologies fueled by big data will be the most significant competitive differentiator in business. We are excited to be a pioneer in Enterprise Artificial Intelligence, offering high value, rapid, and affordable solutions to clients. We have the right team, an optimized business model, and the right partners to create extraordinary value for our clients' customers and shareholders,"
On the launch of its Bangalore office, Mr. Raj Joshi, COO, Noodle.ai said, "We are one of the few start-ups from Silicon Valley to launch operations in India's start-up capital. There are many synergies between Silicon Valley in the USA and India, as they both encourage and support a high level of entrepreneurial spirit. We are building a high performance team in Bangalore and the US ofhighly qualified professionals in AI, data science, and machine learning who are capable of delivering on the complex requirements of our clients."
Noodle.aiplans to hire approximately 500 people in the next 5 years and expects that 70% of their talent will hold Ph.D. and post-graduate qualifications in different disciplines such as data science, mathematics, software engineering, electronic engineering, and data visualization.