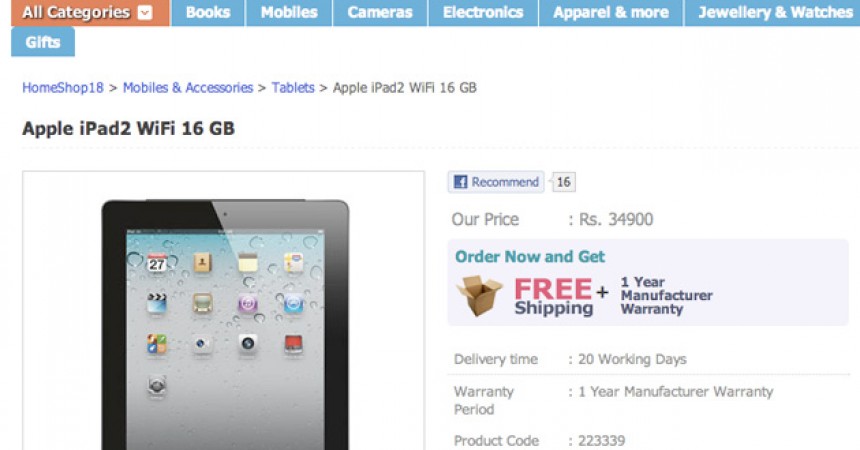 Apple iPad 2 in India Available – Price and Specification
Everyone was waiting for the Launch of all new updated iPad 2.
Later around a month ago it was launched in many countries of the world.
But India Still have to wait for it.
This wait for the iPad 2 in India is now over as it available online for Indian Customer @ Home Shop 18.
The Price of different models of iPad 2 at Home Shop 18 for Indian Customers is as follows :
• Wi-Fi 16 GB – Rs. 34,900
• Wi-Fi 32 GB – Rs. 41,499
• Wi-Fi 64 GB – Rs. 47,999
• Wi-Fi + 3G 16 GB – Rs. 43,499
• Wi-Fi + 3G 32 GB – Rs. 49,999
• Wi-Fi + 3G 64 GB – Rs. 56,499
General Specification of iPad 2 are as follows :
5 MP rear and front VGA Camera.
1 GHz Dual Core Apple A5 Processor.
HD Recording supporting 720p.
9.7″ LED Backlit display having resolution 1024*768.
Li-Polymer Battery having upto 10 Hours of battery Backup.
Two different models one having Wi-Fi and other one having Wi-Fi with 3G, both having 2.1 EDR Bluetooth.
Comes in 3 Different Capacities : 16GB, 32GB and 64 GB.
Have Digital Compass and GPS.
Have many environmental friendly components.
Have iOS 4 version in it.
Also, it have many other things like mail attachment support, ebook support, games support, Apple App Store, HD Output, many language support, etc.
For detailed Apple iPad 2 India Specs visit here.