Amkette's New Smart Speakers 'S-50' All Set To Give You A Unified Acoustic Experience
The new multi-connected speakers add the quotient of elegance with features like FM Radio, Alarm clock, USB/SD Card Player and Imperial design
New Delhi, 6 December 2016: Ever wondered how easy life would be when gadgets would have become as smart as you? Or when all you had to do was tap your smartphone to control everything around you? This isn't a dream anymore.
Amkette is all set to redefine the era of audio technology with the launch of their new speakers S-50, which houses every modern feature that one could desire in a Bluetooth speaker, like NFC connectivity, USB charging and conference calling. Adding uber cool features in this speaker, Amkette has taken a step forward in the world of Wireless Speakers technology.
Adding the art of modernity with a tweak of technology, the innovative speaker S-50, is a multi-connected device that can also be controlled with smartphones by downloading the app from Google Play store. Android App helps control the speaker functions such as FM Radio, USB/SD Card playback and Alarm Clock.
Loaded with almost all the possible features like Aux, USB, Micro SD, USB DC and On/Off button, this speaker definitely tops the list of 'must-have gadgets'. With an exceptionally long marathon playback time of 12 hours, Amkette has broken its own record in the segment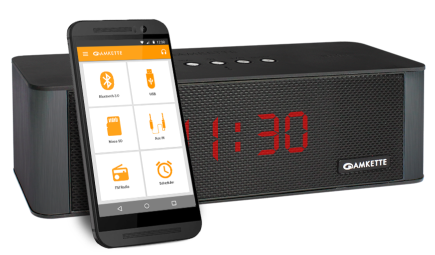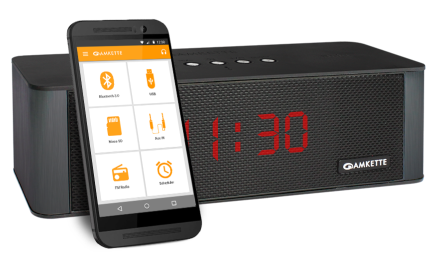 MAKING YOUR HOME 'SMART'
Interest in smart homes appears to be rising as more people become enamored with their smartphones. Developed to give an ultimate home entertainment experience, the impressive 10W reflective bass speaker have an imperial design to them with clock display, making the speakers an item of home décor and at the same time, your favorite audio gadget.
With simple and easy functions to use, the speakers have built-in FM Radio and USB charger with 1.5A output for fast charging. S-50 is a perfect gadget for your home. With a smart mp3 player, a smart radio system and a smart alarm clock it aims to give you a hassle-free experience to enjoy music.
Now forget getting up to the same old built in alarm tunes in your phone. With Amkette's S-50 smart speakers, one can set his favorite wake up music.
REDIFINING ACOUSTIC TECHNOLOGY IN INDIA
In the history of audio, few product categories have expanded as quickly or dramatically as wireless speakers. In the past few years, the evolution of wireless audio technology has helped the category blossom from novelty to near-ubiquitous. With the launch of S-50 smart speakers, Amkette is the first to use the app based dual channel technology in a gadget that lets you control your music from your armchair.
Speaking on the launch, Mr. Rajiv Bapna, Director, Amkette, said, "Deep understanding of consumer needs & being in forefront of technology has been a passion at Amkette. By presenting the first of its kind smart speaker using latest technologies, Amkette has broken the frontiers in wireless audio. Ideal for bedroom and your living room, the speaker has all the conceivable features and yet can be easily controlled using the integrated android app. "
Priced at Rs. 4499, Amkette S-50 speaker is being exclusively launched with Amazon and is available at an attractive launch price of Rs. 3499 for a limited period.
Specifications of Amkette S-50 Speakers
Bluetooth: V3.0
Input: NFC, Aux, USB Micro SD Card (WMV,WAV,MP3)
Output: 10 W
Drivers: 52 mm Neodymium Magnetically Shielded Drivers
SNR: ?80dB
Speaker Charging: Micro USB, 5V 1A
USB In: USB Flash Drives, up to 32GB, FAT32, NTFS
USB Out: 5V 1.5A, can charge phones
Transmission Range: Up to 10 Meters
Frequency Response: 180Hz-20KHz
Playback Time: Up to 18 Hrs. – with Optimum Use, Up to 12 Hrs. – At Maximum Volume
Charging Time: 8 Hrs.