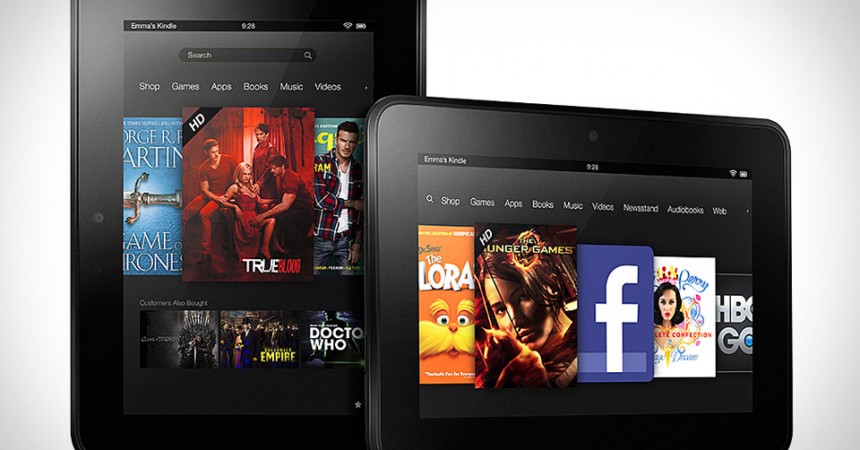 Amazon Announced Two New Kindle Fire HD tablets & a New e-Reader
After the successful response in the predecessor Kindle, Amazon is now out with two new Kindle Fire HD tablets along with a New e-Reader. Amazon finally has pulled up the curtains from the new set of tablets and a e-Reader which will soon be launched in the market.
Features of Kindle Fire HD Tablets
The Kindle Fire HD 7 inches and Kindle Fire HD 8.9 inches are the two new tablets which Amazon has announced. The 7 inches Kindle Fire offers the HD display comes with the resolution of 1280×800 pixel and has got the processor of 1 GHz. Along with this, there is also enhanced dual WIFI which offers better and fast connectivity, however 3G is missing in this set.
Kindle Fire HD 8.9 inches is another tablet which Amazon has announced and it comes with 1.5 GHz processor along with 8.9 inches display which assures the resolution of 1920×1200 pixel. It has got dual band Wi Fi and also comes with 4G LTE.
The price of 7 inches Kindle Fire HD would be USD 199 and USD 299 for 16 and 32 GB variants. The cost of 8.9 inches Kindle Fire HD would be lasting USD 299 and USD 369 for Wi Fi only version having 16/32 GB and for 4G variants the cost would be USD 499 and USD 599 for 32GB and 64GB respectively.
Amazon Kindle Fire HD Tablets Prices
The New e-Reader from Amazon is named as Kindle Paperwhite and it can hold up to 1100 books at an instance. It has got Wi Fi and comes with 2 GB of cloud space. The cost of Wi Fi only version is USD 119 and with 3G, the cost is USD 179.