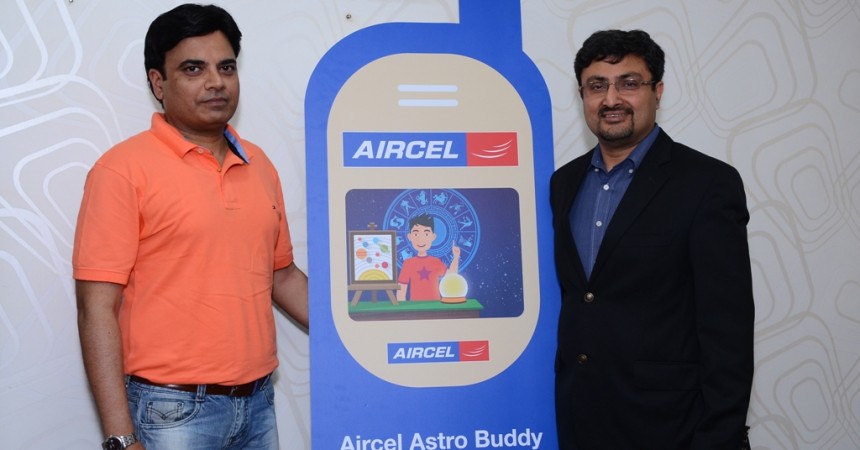 Aircel Customers To Get Daily Dose Of Astrology Now On Interactive Video
[dropcap]A[/dropcap]ircel, one of India's leading innovative mobile service providers, added a unique feature to its 'AstroBuddy' product, providing daily astrology predictions to customers through easy downloadable, interactive animated videos. This makes Aircel one of the first telecom operators to offer astrology videos as a Value Added Service on Data, which was so far offered largely on Voice or through SMS based services. The subscription-based service provides predictions on video or SMS based on one's zodiac signs/date of birth – with forecasts by celebrated Astro buddy, Bhupesh Sharma, the lead Astro-counsellor of Nyassa AstroCorp, an astrology consultancy.
Anupam Vasudev, Chief Marketing Officer of Aircel, said, "There's a significant shift towards Data in the way people consume content today, especially for Value Added Services. What was so far accessed on Voice or SMS, is now finding feet on Data, as consumers are increasingly demanding data-rich content. Our numbers corroborate this – Aircel's total data revenue has grown by more than 75% and we observe consumption of varied kinds of services that were traditionally VAS. The introduction of this interactive video feature to our gripping Astrology service is a sincere effort in adapting to this changing usage pattern."
Aircel's 'Astro Buddy' service, with its sticky packaging and presentation, provides predictions on a host of subjects such as Relationship, Health, Career, Finance, Family through daily alerts to the customer's phone – making it simple and easily accessible. The service, powered by leading mobile internet company One97, is delivered with a single step access for quick downloading, essentially making it available on all data enabled devices.
Bhupesh Sharma, Astro Buddy and Lead Astro-Counsellor, Nyassa AstroCorp, said, "Astrology has answers to our lives' many problems and dilemmas. The new video service for astrological predictions is truly a great way for subscribers to know their daily horoscope, as it will help subscribers get a lot more clarity to really comprehend the predictions due to the interactivity of the videos. I'm truly delighted to support this service by Aircel.
Customers can subscribe to the video service at just Rs. 30/ month by sending SMS "Astrobuddy" to 5800000. To receive alerts on SMS, customers need to send SUB NYASSASMS to 51518, again at Rs. 30/month.