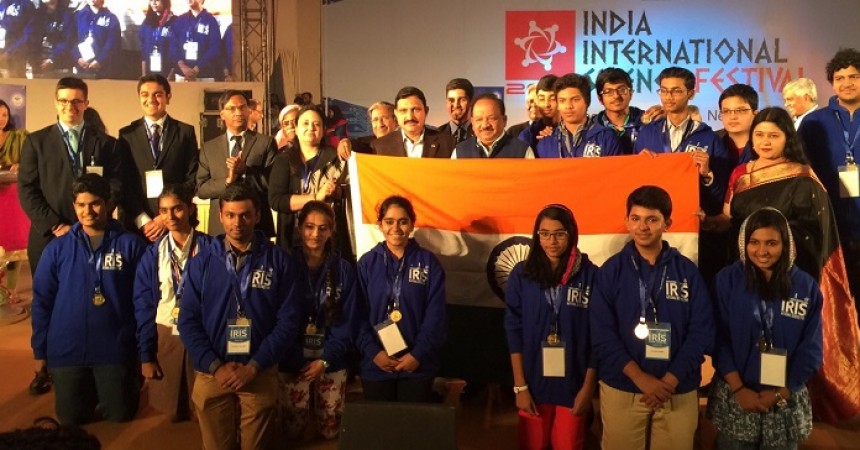 12 Brilliant Projects Selected To Represent India At Intel International Science And Engineering Fair (Intel ISEF) 2016 In Arizona, U.S.A
New Delhi, India, 9th December, 2015: At a ceremony held at Indian Institute of Technology (IIT) Delhi on Monday, Intel India announced the finalists of the Initiative for Research & Innovation in Science 2015 (IRIS National Science Fair 2015), which aims to encourage problem-solving, research and systematic approaches through science and technology. 'Team India 2016' comprising of 12 selected projects from India's next generation innovators will represent the country at the Intel International Science and Engineering Fair (Intel ISEF) in May 2016 at Phoenix, Arizona, U.S.A. The event also launched the IRIS Abstract Book which details the history of IRIS and synopsis of all the projects being showcased, along with IRIS Fair 2015 App, which will serve as a one-stop platform for participants to collaborate, interact and share information around IRIS 2015.
This year marked the 10th anniversary of the IRIS National Science Fair. Organized in collaboration with the India International Science Fair (IISF) along with the other DST sponsored science initiatives of INSPIRE and I3, IRIS received over 2900 project from across the country in 2015. The final round included a total of 151 students from 49 cities, and was assessed by a panel of 30 judges.
IRIS focuses on original research based projects and creates a platform for giving equal opportunity to children from Govt. as well as Private schools to come together as part of Team India 2016 and represent India to compete against 70 countries at ISEF.
Commenting on the occasion, Debjani Ghosh, Vice President, Sales and Marketing Group, Managing Director, Intel South Asia, said, "Intel is committed to STEM education, research and innovation in India. Through IRIS and Intel International Science and Engineering Fair, we catalyze innovation and provide a life-changing opportunity for the students to broaden their horizons and collaborate in research programs. It is very relevant today with the ambitious program like Digital India where the role of technology and innovation will be absolutely critical. "
Intel ISEF brings together more than 1,700 high school students from over 70 countries, regions, and territories to showcase their independent research and compete for more than $4 million in awards and scholarships. Past winners at Intel ISEF have won plaudits for themselves and their nations, and several winners have had minor planets named after them.
The Initiative for Research and Innovation in Science (IRIS) is a public private collaboration between the Department of Science and Technology, Government of India, the Indo US Science and Technology Forum (IUSSTF) and Intel India which aims at empowering the next generation of innovators. With 4 national level mega-fairs – National Children Science Congress (NCSC), Science Fair by National Council of Science Museums (NCSM), Jawaharlal Nehru Science Fair by National Council of Educational Research & Training (NCERT) and Central Board of Secondary Education (CBSE) Science Exhibition affiliated with IRIS, it has emerged as the largest research-based science fair in India. IRIS has been able to reach over 3 million students through its affiliation with other fairs. This year, the INSPIRE Awardees of 2014 were also invited to send in their projects to participate in the IRIS National Science Fair.
Appendix: List of Selected Projects
No.
Participants
Project Title
Subject
School
Region
1
Shreyas Kapur
Cellphone based Optometry using frequency filtered Hybrid Images
Medicine and Health Sciences
Modern School
New Delhi
2
Abhimanyu Kumar
Dimenoride – A Theory on study of Dimensions and Figures
Mathematics
Stepping Stones Sr. Sec. School
Chandigarh
3
Naureen Taj
Qabeera T N
Curing cotton from The Wonder Palm-Coconut
Plant Sciences
Govt.Sr.Secondary School
Kavaratti Island, Lakshadweep
4
Arvind Krishna Ranganathan
Dynamical Analysis of the Properties of a well-defined Point Particle (Origin, Velocity, Trajectory) In A 2-Dimensional Environment
Mathematics
Ecole Mondiale World School
Mumbai
5
Parvathi Ram
A New Method for Simulation-Aided Drug Discovery using advanced docking and refolding algorithms
Cellular and Molecular Biology
National Public School
Bangalore
6
Hemant H Kumar
Cognitive Musicology: Computational Analysis of Carnatic Music using Artificial Neural Networks (ANN)
Behavioural & Social Science
Sindhi High School
Bangalore
7
Prashaant Ranganathan
Acceleration of Germination and Growth of Wheat and Barley using Aqueous Ferrofluids
Plant Sciences
Carmel Junior College School
Jamshedpur, Jharkhand
8
Sagnik Majumder
Amik Mandal
Monotonicity in Random Sequences
Mathematics
Hem Sheela Model School
Durgapur, West Bengal
9
Harshit Jindal
Mahima Yadav
Mycobacterium Indicus Pranii – A novel approach for treating Asthma
Microbiology
Maharaja Agarsain Public School
New Delhi
10
Aditya Khant
Airtouch – An application that enables Touch-Free, Sensor-Independent input for Human-Computer Interaction
Computer Science
Dhirubhai Ambani International School
Mumbai
11
Dhriti Gaur
Pushkar Mandal
Controlling Epigenetic induced diseases through histone modification using natural products as Epigenetic Controllers
Cellular and Molecular Biology
Maharaja Agarsain Public School
New Delhi
12
Aditya Bhargava
Nature derived green materials as Optical Switches for protection of Optical Lenses
Engineering: Materials and Bioengineering
Vidya Mandir
Bangalore