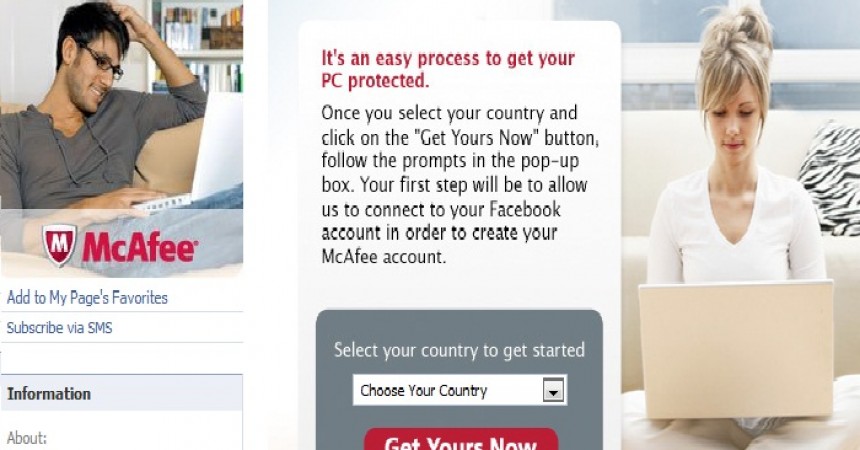 Free McAfee Antivirus Registered for Facebook Users [Download]
There are more than 600 million of Facebook users worldwide.
Also, Antivirus is the basic software for a secure and safe computer.
McAfee and Facebook have joined hands to provide free antivirus solution to all the facebook users.
If you have your own PC, you are on facebook, want a Secure and Reliable Antivirus Protection, plus you want to get it for free without investing any funds then do read below to avail the McAfee Facebook offer.
You will get a Free 6 Months Registered McAfee Antivirus Protection if you are a Facebook user and on top of that if you wish to renew your license with McAfee after your free 6 months are over you can avail a Flat 50% off on the License Renewal.
How to get Free McAfee Antivirus Registered (Download) from Facebook:
Step 1 : Login you Facebook Account.
Step 2 : Goto search tab and insert 'McAfee' and land on the Official McAfee Page on Facebook.
Step 3 : Like this Official McAfee page.
Step 4 : Goto 'McAfee 4 Free' tab on that page.
Step 5 : Now 'Choose your Country' and click on 'Get Yours Now'
Step 6 : A permission dialogue box will appear and click on 'Allow' in that permission box. This is to give McAfee access to your profile database on Facebook servers from your Facebook Account.
Step 7 : You will be asked to prompt password for your McAfee Account (Which will be automatically generated).
Step 8 : Now, you will be directed to the URL of your McAfee Account.
Step 9 : Inside your McAfee Account you will get the download link for your Free Registered 6 Months McAfee Antivirus.
Step 10 : Download and Install it.
Thats it, you are done and now fully securely protected by McAfee.
Note : Internet Connectivity is a must. Also, note down your McAfee account details for any future reference.
If you come across any difficulty feel free to reach us for help.