Many people like clean, sleek and few icon set on desktop but there are some handy Desktop widgets offered on your windows desktop that can totally improve your productivity. I would like to review best of them, which I am using daily & would like to let you know whats good about it.
Google Desktop
Google, a well known name on the web has its own Desktop sidebar with gadgets. The key features of Google desktop are as follows:
Available for Mac, Linux and Windows (7/XP/Vista)
Pressing "Ctrl" twice opens the search box.
Free to download. Download Google Desktop Here
Downloadable gadgets, i.e. it works on "plug-in" system. You can download/add the gadget you need.
Gives you a choice of gadgets (widgets) direct from the Google sidebar. Just click the "+" symbol on the top right.
What you might not like about Google Desktop
Consumes some part of screen even during work which sometimes annoys.
Google search from the tiny search box isn't so fast.
Slows down the machine during start up.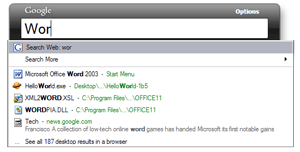 Yahoo Desktop
Yahoo, being a competitor of Google, also has its Desktop client called "Yahoo Widgets". Basically, as all the Widgets/sidebars/gadgets do, it also helps you in many small steps.
Features:
Free of cost, Download Yahoo Desktop Gadget Here
More than 4,000 desktop gadgets.
You can create your own gadget.
Sleeker looks as compared to Google desktop.
Limitations:
Slow start up.
Some widgets shows problem on download/launch.
Crashes frequently on high system usages.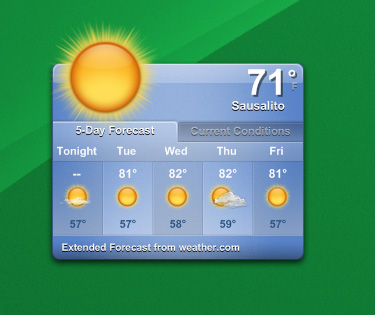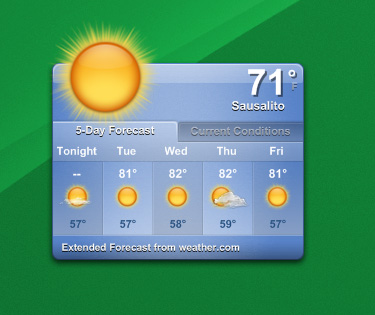 Windows Desktop Gadgets
On finding that Google and Yahoo have made products for Windows users, Microsoft also launched its "Gadgets" with the launch of Windows 7. With Windows 7 Ultimate edition, package of several useful gadgets including Clock, Calendar, Weather, Slide show, puzzle game etc. Comes in hand and other much stuff can be downloaded by clicking on more gadgets from the gadgets window.
Features:
Microsoft's own gadgets, i.e. reliable.
One click hide and show. Direct from the properties.
Many gadgets downloadable from Microsoft site.
Limitations:
Not so suitable for slow computes (Intel P3 Processors. Works fine on my Dual core yet.)
Not much gadgets online worth download. Lacks in number of gadgets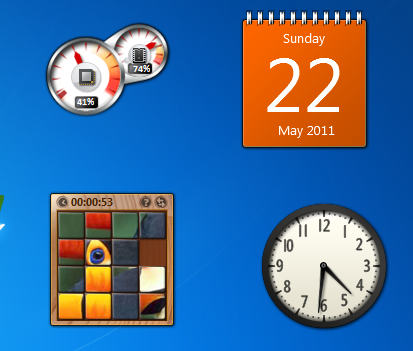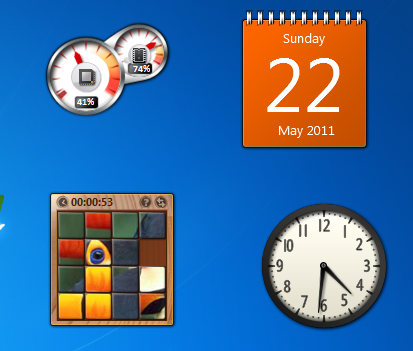 Rainmeter
Rainmeter is a desktop client which is widely used. I found it best among all. It was unexpected that another gadget will beat Google, Yahoo and Microsoft.
Features:
Faster start up and doesn't slow down system.
Transparency control allows you to show and hide gadget on mouse over and mouse out respectively.
Best one- Most customizable. Themes are the best part.
Each gadget works separately (So as Windows Gadget does). That is, unlike Google desktop, where you detach or attach gadgets to the so called "sidebar", in Rainmeter, All the gadgets are already.
Limitations:
I didn't find any.
Our Verdict
It's the era of style and stability that you always want to carry around. We rate the Rainmeter as the best gadget considering the overall performance of it. Let us know your opinion about windows desktop gadgets in comments section below.