From past 2-3 years most of young Indian consumers are preferring to buy online almost everything. This wasn't true before and Indian consumers hesitated to use their credit card or banking information to online portals & there were not much of expectations from such markets. But as things are changing now – and same Indian consumers are getting deeper in to online shopping to even small amounts of cellphone recharges – great marketplaces are exploring out of web dedicated for Indians.
Following are top 3 portals where you can buy gadgets like cellphones, tablet, gaming system, accessories, electronics appliances not just with help of online banking and credit card but also have Cash on Delivery option for those who still fear to pay online.
1. Flipkart
I am mentioning Flipkart first because, this is the best one I have ever used. Simple to use & everybody on Facebook is talking about how great they find flipkart to buy gadgets.
This site was basically best for buying books before but slowly they got into mobiles, music, movies, cameras & computers. They offer variety of deals if you are willing to buy mobile phones at lowest prices compared to its street prices. Flipkart have managed to make a very user friendly & simple interface, so that user can focus on technical specs & gadget information before buying. Very less confusion compared to ebay.in
They also have recently made available such phones that are not yet officially launched in India , which is only of its kind of initiative at normal prices. Flipkart also let you pre-order gadgets if they are coming son in Indian markets. The best part of flipkart.com is every product you can buy on Cash on Delivery , where you can pay after you receive the product.
Click here to visit Flipkart.com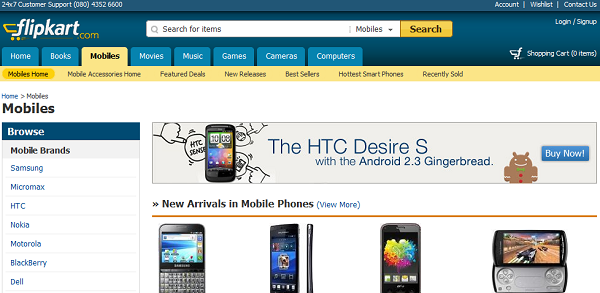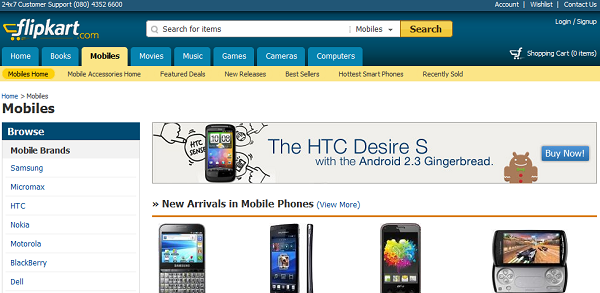 2. Ebay India
Well, this one is not only best for buying in India, but all over the world people loves it. Ebay.in is an Indian version of Ebay.com – they offer variety of deals on every kind of gadgets and accessories on new & used products.
Ebay works on very different buy/sell modules where you can also sell your stuff for great price. This one is also a great hub for Indian buyers but don't forget to buy from Ebay power sellers for extra safety. Ebay does not offer cash on delivery on all products but there is a safe online payment portal for paying online.
They also have all gadgets like Cellphones, Tablet, Netbooks, LCD Tvs, gaming consoles & hundreads of more products. You can also buy international products even before they get launched in India. (But at higher prices.)
Ebay is the only portal that offers 0% EMI schemes for 2 & 6 months , if you have credit cards from ICICI, Citibank & HDFC banks. Which is also great for gadget lovers who wish to get high price gadgets on divided payment schemes.
Click Here to Buy From Ebay.in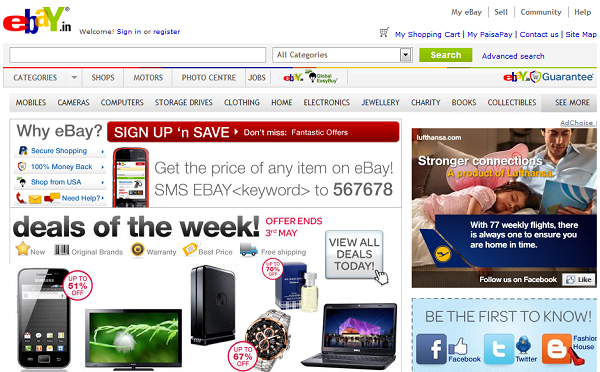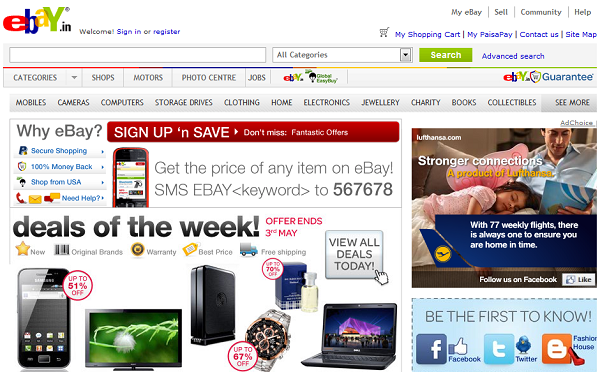 3.LetsBuy
LetsBuy.com is 100% dedicated Indian website to gadgets & electronics home appliances & I have explored from social networking giant "Facebook", where if things are great – they get viral in no time.
Letsbuy.com is a great electronics hub for Indians to buy online safely with Cash on delivery as well as pay online deals. Lets buy have not just made available every great Gadgets across the globe but also the dedicated gaming consoles shop where you can buy consoles form Xbox, Nintendo, Sony, THQ, Verbatim & Steel series. Not just consoles and accessories but LetsBuy is true gamers delight as they offer you to buy variety of blockbusters games right there at your fingertips.
They have also made available some great deals on mobile phones, tablets like iPad 2 (recently added), cameras & electronic goods.
Click here to ShopFrom LetsBuy.com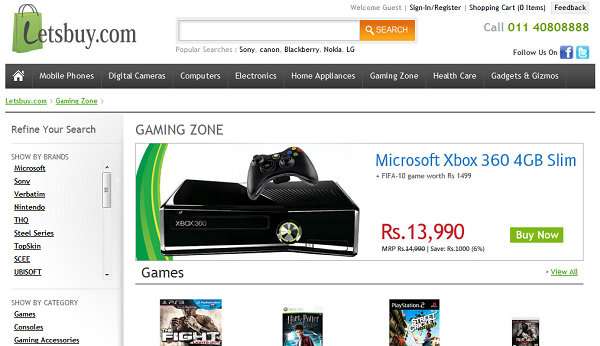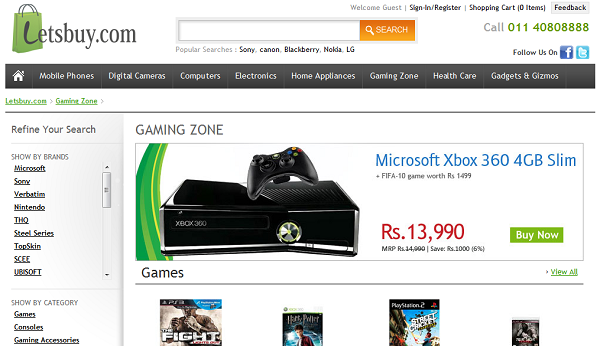 So I guess these are best according my personal opinion & experience in buying online form past 5 years. I still think new palyers like Flipkart making difference in shopping experience for Indian consumers like me & I definitely loved it.
Let me know what you think about these sites & is there any other favorite site you have here down in comments.