The company Sony Ericsson, intends to add to the list of suppliers that produce communicators running the new operating system Windows Phone 7. However, its new models Sony Ericsson Xperia X7 and Xperia X7 Mini will go on sale until next year – the announcement is expected in the first quarter. Information about them is contained in the slides that hit the net. There are images of the devices and their lists of characteristics, called communicator Sony Ericsson Xperia X7 and Sony Ericsson Xperia X7 Mini. Apparently, this piece with a large touchscreen and hardware without the keyboards, at least they are not visible.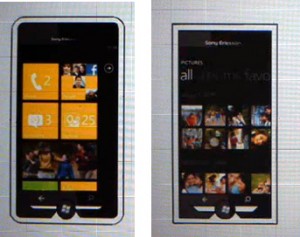 Sony Ericsson Xperia X7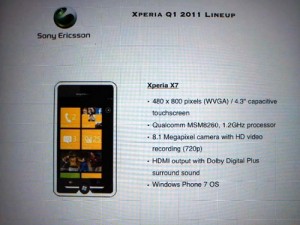 Model of Sony Ericsson Xperia X7 is built on the Qualcomm Snapdragon MSM8260 chipset with a clock speed of 1.2 GHz and support for standard HSPA +. Display apparatus with 4.3-inch capacitive touch, but its resolution is 480×800 pixels. Also, the communicator is equipped with built-in 8.1 megapixel camera that can record video 720p. Other features of the document mentions the HDMI port and audio Dolby Digital Plus.
Sony Ericsson Xperia X7 Mini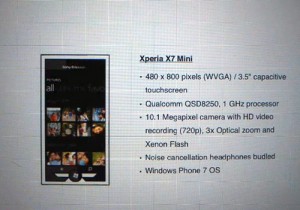 Another device – Sony Ericsson Xperia X7 Mini – has smaller touch screen: its diagonal is 3.5 inches. Although a similar resolution, 480×800 pixels. And the chipset it has simpler: Qualcomm Snapdragon QSD8250 with 1 GHz processor and supports HSPA. But the camera at the Sony Ericsson Xperia X7 Mini is not only a higher resolution 10.1 megapixel, but the three-time optical zoom and Xenon flash. A bundled with this new product will be supplied headphones with noise reduction.