Samsung mPower Txt M369
Samsung has just launch the new CDMA mobile Phone in India, dubbed as mPower Txt M369. Samsung mPower Txt M369 comes with Live TV, QWERTY keypad and EVDO connectivity for high speed internet features. Samsung mPower Txt M369 CDMA mobile phone also features OMH capabilities (OMH technology provides flexibility to users to use the same handset for any of the CDMA service provider). EVDO allows 3G connectivity through WiFi, Live TV provides up to 50 channels on Mobile, and OMH allows users flexibility to change their carrier.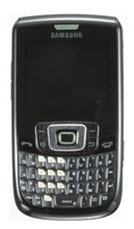 Samsung mPower Txt M369 is a social networking integrated CDMA mobile phone. It is a A full QWERTY keypad mobile phone with 2.2-inch QVGA display with 320×240 pixels of screen resolution, a 2MP camera, Video recording, FM Radio with recording, 3.5mm audio jack, Java, Mobile tracker, & Document Viewer, Bluetooth, USB, Wi-Fi connectivity, 104MB internal memory and support External memory up to 16GB. It measures 112x 60.95 X 11.96mm. It is used as 3G Wireless Modem For High Speed Internet Access. Samsung mPower Txt M369 is equipped with standard Li-Ion 1000mAh battery with 4.5 hours of talk time.
Samsung mPower Txt M369 Price in India:- Samsung mPower Txt M369 Price in India is Rs. 6500 approx…