Samsung announced the Touchwiz UX interface, latest version of their proprietary UI before some days & now finally it's made available for all to download. I recently got a chance to check out all new features involved in this 10.1 inch android tablet & results were quite impressive.
New Features of Touchwiz UX Update (Galaxy Tab 10.1)
Lets take a closer look at what's new included in this latest Samsung Touchwiz UX update.
First of all UX  was released for Galaxy S2 & overall look on galaxy Tab looks similar to the phone update. Tablet looks quite renovated & refreshing colors are embedded overall to give it that richer feel.
There is a grayish blue kind of color presented all over the screen, So apps loos more better and give a competitive look if we compare it with iPad 2 & Motorola Xoom.
Some of the custom Smasung apps like Music Hub  have `got new icons like but rest all apps menu looks all similar to older Touchwiz 3 user interface.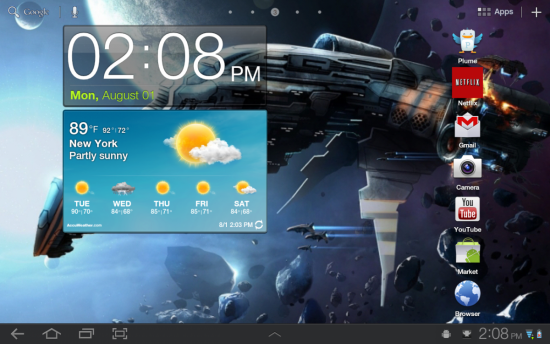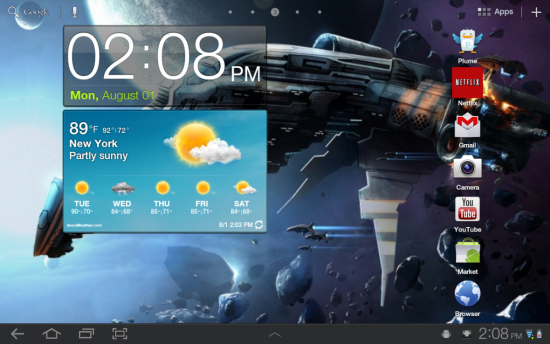 Touchwiz UX has made quite exceptional progress by adding screenshot button on Home screen beside the multitasking Window icon. Which makes taking screenshot a great utility for overall usage. You can get screenshots with one click & share it with friends or email it.
The all new Touchwiz UX  has also made an speedier processing support for its powerful hardware & the overall UI was not lagging , not sluggish at all. I tried running around 5-6 apps at a time while using browser but the UI was still performing way to faster.The overall multitasking , Pinch to Zoom , Browsing works like a charm for Galaxy Tab 10.1
Again a new feature added for easier multitasking  & you can use multitask icon from one click, it does not pop up on screen and embed well in the UI compared to its older version.
The Media Hub feature makes it one for all solution to buy music & movies. It makes a competitive alternative to  iTunes feature of Apple iPad 2. The overall media hub experience is lot faster and better with this update & makes this Android tablet must have for media lovers. Addition of  Social Hub makes it very easy to access all your social media accounts like Facebook & twitter in a unified interface.
Let's talk about camera features now there is a innovative improvement called Motion to Zoom – You can lean tablet forward and backwards to see the picture zooming in & zooming out. This feature works good & little training is made available for first time users. Other than this all the features in camera section remains same.
So overall, it was really good experience using Galaxy Tab 10.1 & using the new features involved in Samsung Touchwiz UX.  The interface was still dominated by Android  Honeycomb 3.1 , because it is already optimized best as a stand alone Tablet OS.
Heads up to Samsung for Faster & Rich UI with some cool improvements overall. For more such reviews, tutorials, research articles & How to's – Subscribe to our Free Email Newsletter