While most of the manufacturers are updating their upgrading their high-end smartphone line-up with latest specs, the popular budget range smartphone around Rs.10000 ($200) range has not been forgotten by the Samsung.
This is the Hands-on review of Samsung Galaxy S Duos 2 S7582, that is a significant upgrade over the popular smartphone Galaxy S Duos.
We have got this smartphone to test for a week, and noticed even there is almost no difference in the looks of new model and the original Galaxy S Duos S7562, it has received a considerable under the hood upgrades for just additional Rs.1000 in cost.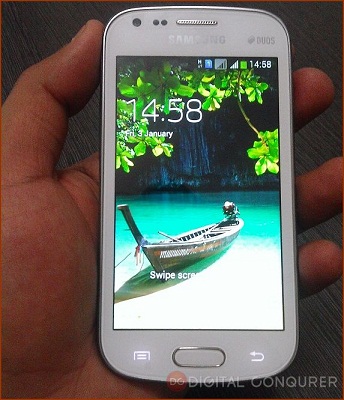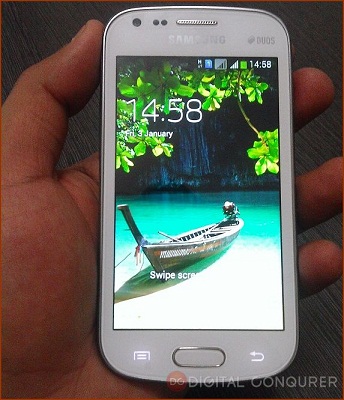 Samsung Galaxy S Duos 2 Review (S7582)
Operating System
This new version of S Duos has been upgraded to Android 4.2 Jelly Bean operating system, without any promise to bring Android 4.4 or higher versions in future yet. But as KitKar 4.4 significantly dropped the hefty specifications need for smartphones, you might expect upgrade in future.
Real World Performance Upgrade
To run the operating system and overall smartphone operation perfectly, the all new Galaxy S Duos 2 S 7582 has a 1.2 Ghz dual-core Cortex A9 processor, which has been upgraded from single core A5 from previous model.
Surprisingly, the RAM has been kept the same 768MB, which I have expected to be at least 1GB. This matters a lot, because original S Duos starts hanging a lot more when you install 10-15 application and have heavy usage.
2 Cores of the device, will help tackle the process handling and performance issues by huge margin, but if it would have been 1 GB of memory, Galaxy S Duos II S 7582 would have been a true rock star in sub-13000 price range of smartphones in India.
The phone can handle HD videos flawlessly thanks to the Videocore IV GPU, though I have experienced some sluggishness when HD video was minimized and I tried to do some multi-tasking.(This is why we needed 1GB RAM.)
For the rest of the daily task, phone handled my intense usage of apps like Pocket,Twitter, Gmail, Facebook & YouTube all together very swiftly. Which I think is good performance enough for any average user out there!
Display
New Samsung Galaxy S Duos 2 S7582 has same WVGA 480*800 pixels resolution (with 16M color dept) , same as that of the old version, which was pretty decent in indoor performance.
The viewing angles are good enough to justify the price, though when you try to use the Duos 2 in bright sunlight, it will suck big time.
The display has been kept the size of 4 inch with TFT capacitive touch, and as you can see in above picture, there is no significant upgrade on the device's physical appearance. This is the segment where I always recommend people buying expensive phones from HTC or Sony, just for the sake of different look and design. But, when you are on tight budget, nothing gives as much features as that of Samsung!
Connectivity & Ports
On the right hand side of Galaxy S Duos II, power button is located in a standard position, where as the typical MicroSD slot is available on the bottom. Note that the capacity of this MicroSD card slot has been upgraded to upto 64GB now, so you can upgrade to storage later on. The in-build 4GB storage is kept same from which you can hardly get 2GB that is left after considering the operating system size.
The outside aluminum finished ring gives good grip over the phone and a feel of little bit of expensiveness than 100% plastic body smartphones.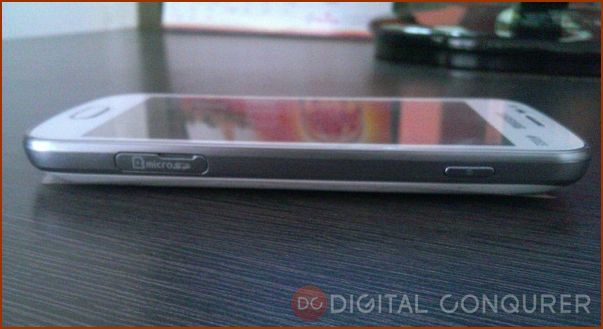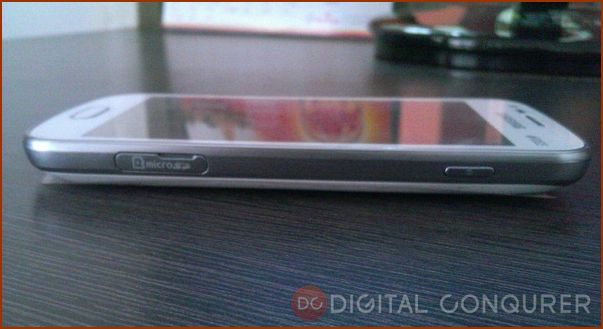 On the left hand side, only volume rockers are present, and they are well elevated from the surface to operate even without looking at it.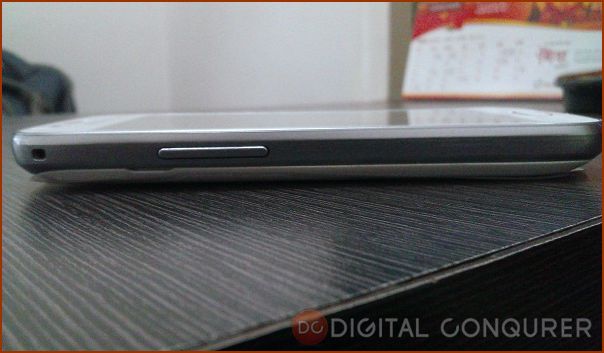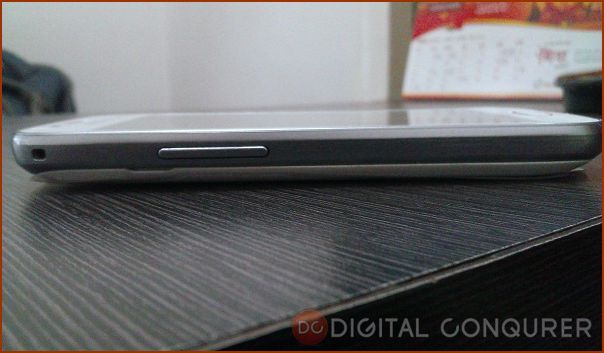 On the bottom-side, there is a micro-USB charging slot, that can also be used for data transfer as well. On the bottom surface there is a physical middle button of an impressive size, to operate the phone properly, and other two are capacitive buttons, each on both side.
The top side of the phone has 3.5mm audio jack, you can use to hookup any standard size headphones that you like.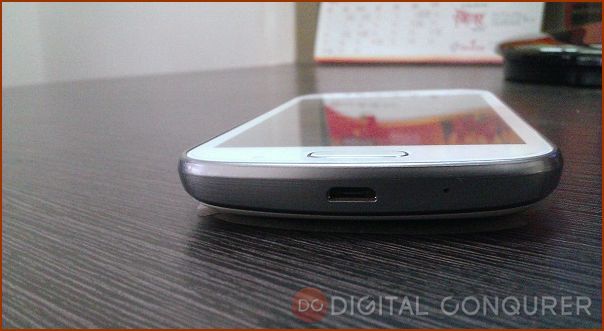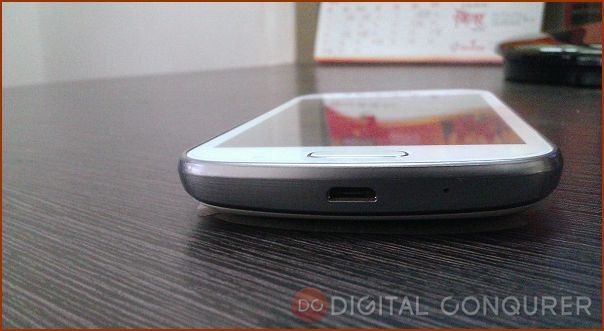 Samsung Galaxy S Duos 2 has all standard connectivity options like WiFi, WiFi Direct, 3G, A-GPS,GLONASS & A-GPS, though NFC has been left out, which is not something you should opt out this phone for.
All important sensors like Geo-magnetic, Accelerometer & Proximity Sensor are present for improved gaming and smart actions for Duos 2.
Multimedia, Camera & Gaming
I am summing up these three segments all together, because most of the consumers buy the smartphone for all these, and these are probably the driving factors for final decision as well.
So as I've said the Videocore IV GPU is good enough for HD video playback, this phone can run much better graphics game than the last one thanks to 2 core processor. It brings faster loading time to games, and you can enjoy all casual & popular games from Android market apart from very resource intensive games like Dead Trigger.
The 5 MegaPixel camera is on the back, which has not much of improvements over its predecessor. The photos are of average quality, and they get even worse when you are exposed to bad lighting conditions. But for simple family trips, this phone can capture some decent quality images. LED flash can help in indoor snaps, whereas AutoFocus is a must have feature these days to stay away from nu-necessary blurriness. Front facing 0.3 MP camera is OK for video calls on Skype or 3G.
Listening to music on this phone is decent, sometimes volume can be too loud on headphones, but it depends on quality of songs you chose. Standard headphone with the device are of cheap quality, and you should prefer buying something better from Philips or Panasonic for under Rs.1000, only if you are a music buff. The external sound of the device is louder than anything I have heard from HTC or Sony in the similar price range.
Battery Life
Samsung Galaxy S Duos 2 uses 1500mAh standard battery, that should have been upgraded to at least 2000mAh. For enthusiasts, gamers, and constant internet users, this phone will drain out in the middle of the day, meaning requiring charge twice a day.
Though, for a casual usage, this battery is good enough!
Buying Advice & Our Verdict
For just additional Rs.1000, this phone has twice the horsepower with processor upgrade, a better operating system, higher external storage capability & better graphics processing unit. So if you were planning to go for Samsung Galaxy S Duos S7562, the original model, you should go for the newer version Duos 2 S7582, without even giving an additional thought. The device is 100% worth its price for sure.
But if you are a thinker as I am, you should look for better RAM, even a better processor + GPU & a sweet price point, to make the overall purchase future-proof. Reason being, the under 1GB RAM will cause Galaxy DUOS 2 un-necessary sluggishness despite of processor upgrade.
My advice will be if you are looking for best looker with somewhat similar performance, go for HTC Desire U or If you want best performer by spending 2-3K more, go for Sony Xperia M, both available at nearly Rs.13K price point.
Price in India: Rs.10,500 ($200)
Our Ratings: 4/5
Do let us know your views and suggestion in comments below!