Samsung Electronics Co. Ltd. has unveiled a new compact digital camera SH100. Samsung SH100 with Wireless LAN Wi-Fi enabling – Now its owner to share your photos and video through the Internet and social networks if you are outside residence. As stated by the manufacturer, this new digital camera will be its flagship model among the connected camera companies in 2011.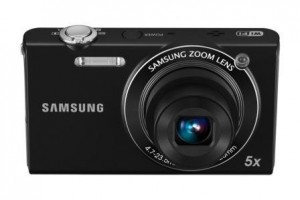 Samsung SH100 owner can connect it to Wi-Fi for smartphone Samsung Galaxy S, to use the phone's screen as a viewfinder in real time. From your smartphone, you can also control the zoom, select the camera settings and remote control buttons to click on the camera. Now complete control over the camera will always be in the hand of the user wherever he was. You can even use a GPS-module smartphone to capture the geographic coordinates of the location shooting.
Wi-Fi support also lets you copy images to the computer by pressing only two buttons. When activated PC Auto Back-up camera automatically detects your computer and give him the last shot the photo, even if the PC is turned off. This feature is compatible with the Wake-on LAN, which is supported by many of today's home PCs.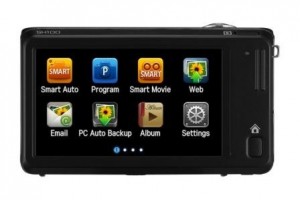 Via Wi-Fi camera owner can upload photos directly to social networking sites such as Facebook, Picasa and Photo Bucket, send e-mail addresses etc. You can also remove the HD-video and post it on YouTube directly from your camera. To speed up the process of downloading large files, SH100 owners have access to mobility services provider Boingo, which provides an opportunity to access the Internet at high speed in more than 200 thousand hotspots Wi-Fi around the world.
It has firm touch interface Smart Access and control of the camera has become as simple and intuitive like as many smartphones. Even such complicated operations such as wireless transmission of content from the camera will be activated with just a few touches to the touch buttons on a 3-inch display.
Wireless capabilities SH100 adds support for technology Samsung AllShare. With AllShare users can easily transfer content from your camera to other devices in the home, standards-compliant DLNA, such as televisions.
Brief specifications Samsung SH100:
Matrix: 1 / 2.33"; CCD (CCD); 14.2 MP
Lens: Samsung f = f 4.7-23.5 mm (35 mm equivalent: 26-130 mm), digital image stabilizer
Wireless connection (802.11b/g/n)
DLNA-compatible: DMS and MRCP
Dimensions: 93 x 53.9 x 18.9 mm
Samsung SH100 deliveries start from February and March this year for price of about $ 199.99.