Well, Nokia X2 is a small budget multimedia cell from the Nokia's Xpress Music Series.
The phone is very much popular in the market for the middles budget cell phone buyers.
General Secs of the phone are as follows :
5 MP Camera.
GPRS/EDGE Connectivity
Nokia Ovi Store
Stereo Speakers
Handsfree FM
Expandable upto 16 GB
3.5 mm audio jack and dedicated music keys
The price of the cell phone is around Rs 5000 or say $110. But, the phone have many flaws in it as compared to the features provided in such a small amount of price.
Here, I would like to share some features we discovered while using the phone :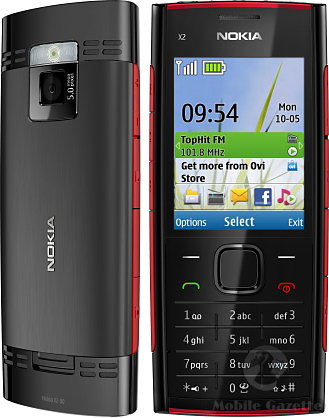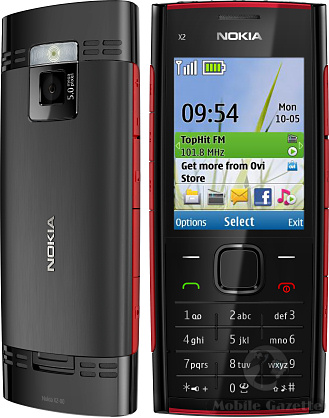 Flaws in Nokia X2 [Nokia X2-00 Bugs] :
# The camera provided is of 5 MP, but comparatively the resolution of the camera is very small.
# The clarity of the pictures is not observed above 2.5 MP, exactly half promised by Nokia.
# It has a single LED flash, but not very much useful rather then using it as a torch light.
# Flash in a camera is provided to take pictures in dark, but in X2, it never helps, it brightens the image and also lowers the quality of the picture to a photo taken from some unbranded phones.
# The flash light flashes four times while taking a picture, just a show off from Nokia.
# You have to choose between the Inbox and the Conversation Menu in the Messaging Option, as you can view just one at a time, this sucks a lot.
# The phone is said to be having Nokia Symbian S40 6th Edition (With Special Features), but none of them are found on the cell phone.
# In a S40 6th Edition cell phone you can minimize chat, experience E-Mail on th go and also use facebook and twitter as a background service, but Nokia X2 has a flaw in that too, no hide options for chat and social networking, you have to use one service at a time.
# The Email and the chat client does not support gmail, yahoo, etc. services and they force you to use the Nokia Ovi Mail service.
# The Ovi Store also runs very slow and have some operating bugs in it.
# Also, if you are very Hot Swappable with your Memory Card, later you are gonna face restarting problems with you cell, Nokia X2 have a bug of getting restarted in between from your work.
# There are not brightness setting options plus the bigger fonts irritates sometimes.
# Have a very poor display, compared to as expected from a 256k display.
# You cannot directly edit your pictures from your memory card or the photos menu in your cell phone. For editing you have to open it to full screen from your photos menu in the phone and then you can edit it, editing or say rotating the picture directly from the memory card cannot be done.
# Also, the use of photos menu acquires some caching memory on you memory card, making a folder as 'imgcache'. This is a waste of memory and also deleting this folder causes taking time for a picture to load next time you open it.
So, guys out there, if you are deciding to buy this phone, just keep in mind that you are not buying a Camera Phone, it is a New MP3 Player from Nokia with the ability of making calls and messages.
Cause picture clarity, camera and using Internet on the Phone sucks a lot.
Its for all the Music Lovers, as the bundled earphones give a very good sound quality and it have stereo external speakers (4 Speaker In all), plus there are dedicated Music Keys and also the battery backup is good for hearing some soothing music on a long run.
Credits : We would like to Thank Miss. Akanksha Jadhav for letting us know all these flaws in Nokia X2, she uses this phone and we will keep you updated if any other Nokia X2-00 Bug is found.