Micro-star International, popularly known as MSI, is one of the leading companies when it comes to high-performance gaming laptops and PC components. They always give their customers the latest set of hardware and software which enhances the user experience. In this never ending process, they have now updated their whole range of gaming laptops with latest Intel's 7th Gen Kaby Lake processors along with Nvidia's 10-series graphics cards.
With every new generation of hardware, more performance is available from the parts which are also cheaper than their previous generations. Also, they consume less amount of electricity thereby producing less heat. We have been able to get our hands on the MSI GP62 7RD Leopard. This particular laptop is powered by the new added Nvidia 1050 GPU. So, we are quite excited to see how this GPU performs along with other hardware. Let's get right onto it.
MSI GP62 7RD Leopard Review
Design
The Leopard is the smallest of the gaming laptop series. It is still very big compared to our mainstream laptops and heavier than them. But when compared to the GT83VR 6RF Titan SLI, it is tiny. Therefore, you can carry it around without any problem. It is 29mm thick and weighs 2.4 Kg, so it will fit into your big bags easily.
When you put your gaze upon the Leopard Pro, you'll know its a gaming laptop. It has all the right curves and intuitive line and the red black color combination is unmistakable. The matte black finish picks up fingerprint very easily, therefore, you need to clean it regularly. On the back of the screen, there is the MSI "Gaming G series" badge which isn't backlit like the Apache Pro.
As this laptop is aimed at the gamers who are on a budget, there are a lot of things done to keep the cost as low as possible. For starters, the screen is wrapped around in black plastic and the laptops as a whole isn't very sturdy as we wanted it to be. The screen does tilt up to 180 degrees, but the hinges are made out of plastic material too, therefore, you need to use it with care.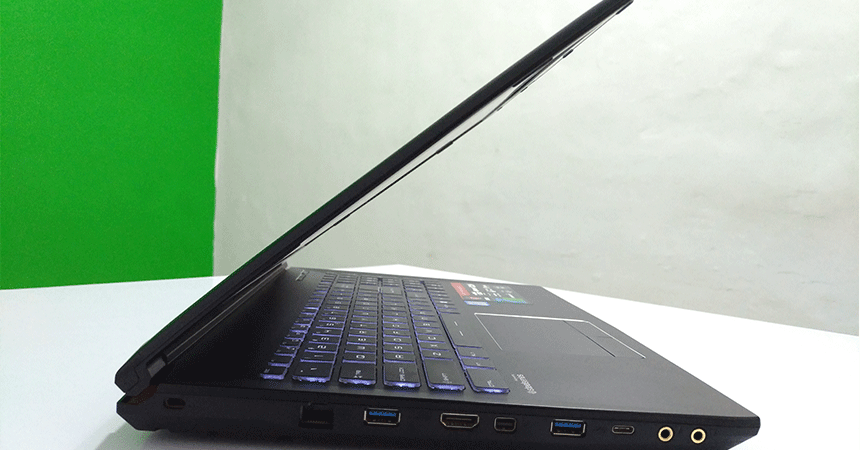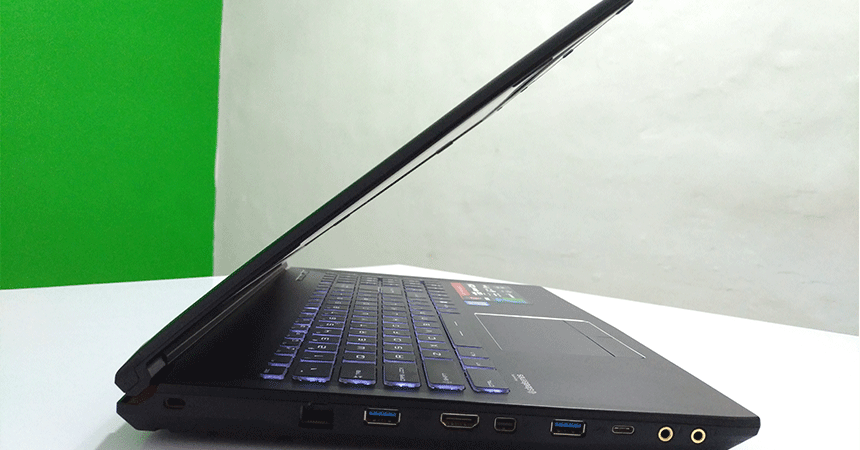 Even though it has a 15.6-inch display, it is pretty wide to fit in a regular size keypad along with a number pad. Below this keyboard is a big mouse pad with 2 independent buttons and enough space on its sides for you to rest your palms. The keys on this keyboard are very easy to access as they are on the surface. SteelSeries has helped in building this keyboard, but it doesn't have RGS backlit. It has only white color backlit with 3 levels of brightness. Also, there is configuration provided for utility for macros.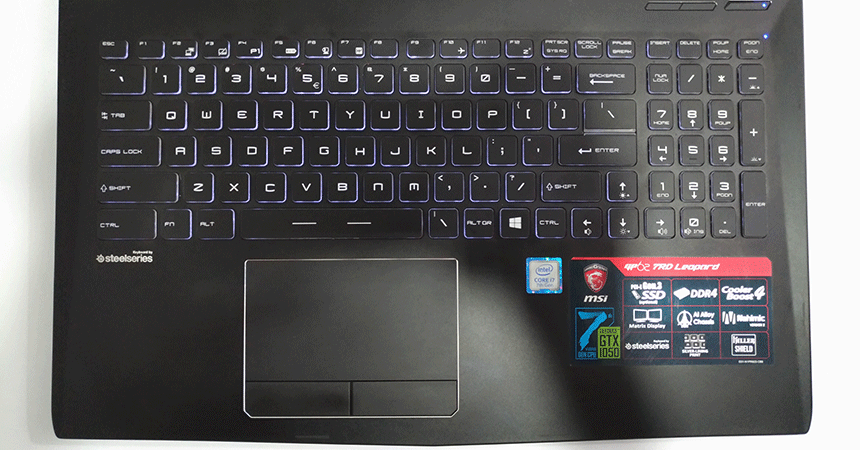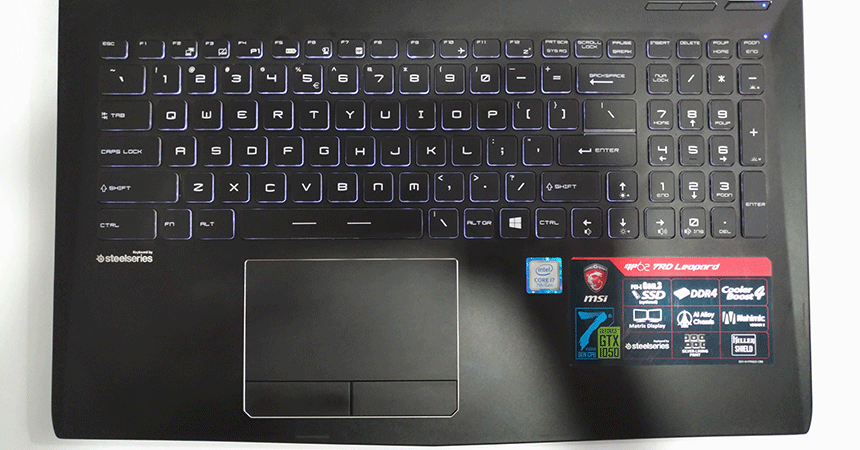 The interesting thing about this keyboard is that there is no windows key on the left side of the spacebar. Many will find this weird but a gamer will soon realize that it is very clever. While playing games like Dota, Crysis etc, you accidentally hit the windows key on the left side when you're trying to use a special attack. This happens more often than you think. Therefore, as there is no windows key here, you won't be interrupted while enjoying your game. The arrow keys are pretty difficult to locate as they are in between other keys. So it takes time for you to adjust to it.
Layout and Accessories
On the left side of the laptop, you'll find two sets of 3.5mm jack for mic and headphones respectively, a USB Type-C port, two USB 3.0 ports, HDMI, Ethernet LAN port and a Mini-Display port. On the right side, there is a DC power input, SD card reader slot, a USB 2.0 port and a DVD-RW drive.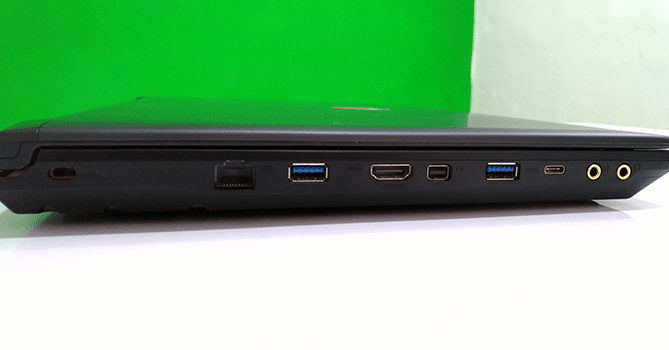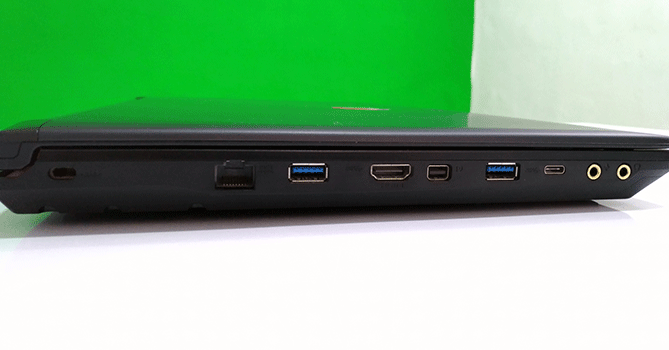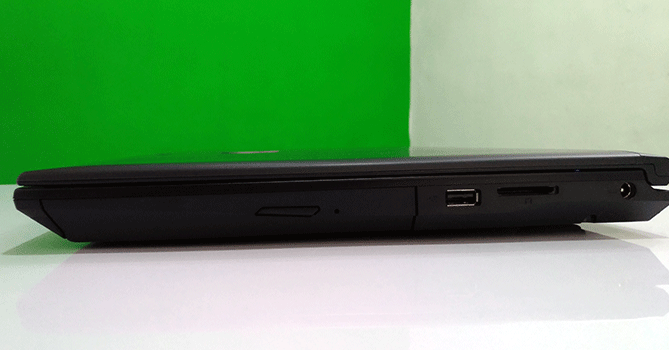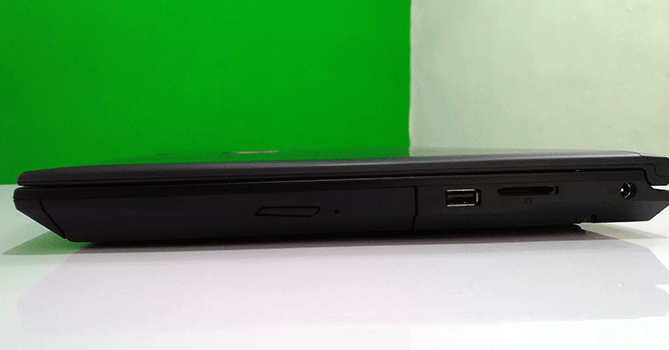 The front side below the keyboard is angled downwards. This is where the speakers are placed along with the LED indicators which are blue in color. on the back side, there are two air vents but only the left vent throws out the hot air. On the bottom, there are a lot of small openings that improves the air circulation. You can also see the RAM through these openings, but to access it you will have to open 14 screws out of which one is covered with warranty void seal.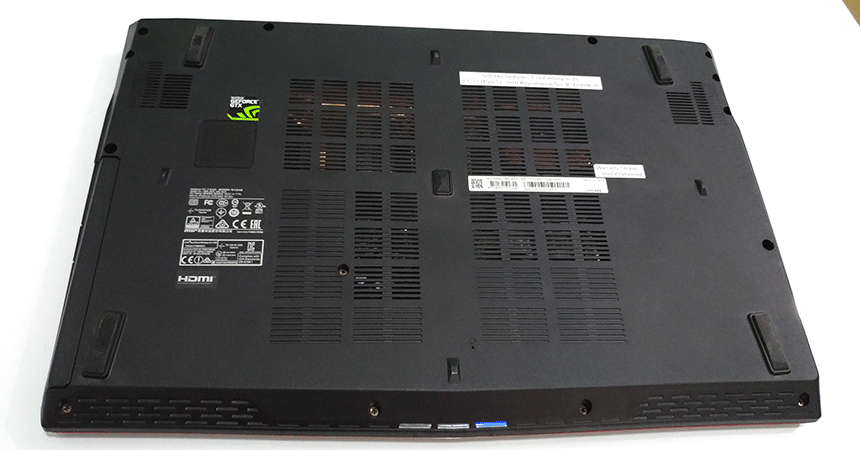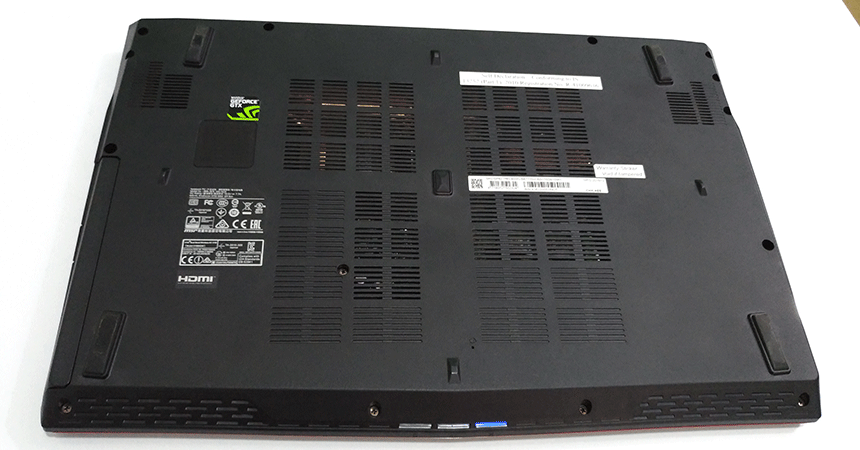 The customers who will be buying these laptops would like to play around it a little. Therefore, the RAM, hard disk, SSD should've been made more accessible. But due to this, you won't be able to upgrade this laptop until its warranty expires.
The charger of the Leopard Pro is heavy and is rated at 150W. It is a bit slim compared to the Apache Pro charger but still has a considerable size and weight. Therefore, you have to consider it when you want to travel with this laptop.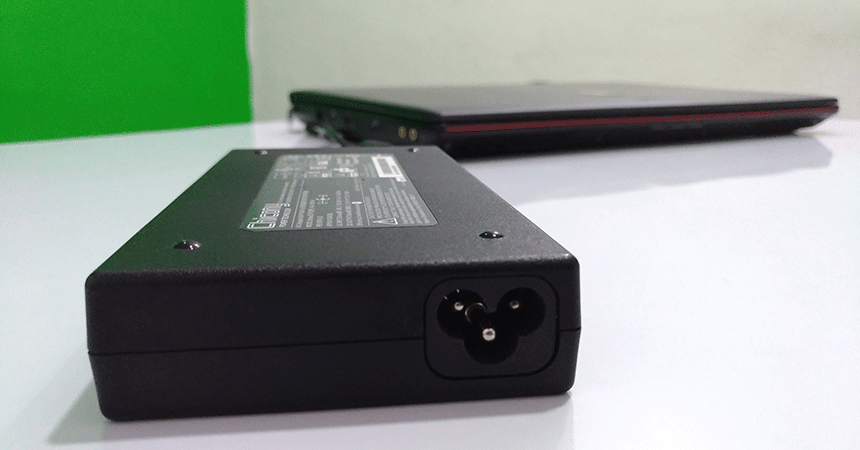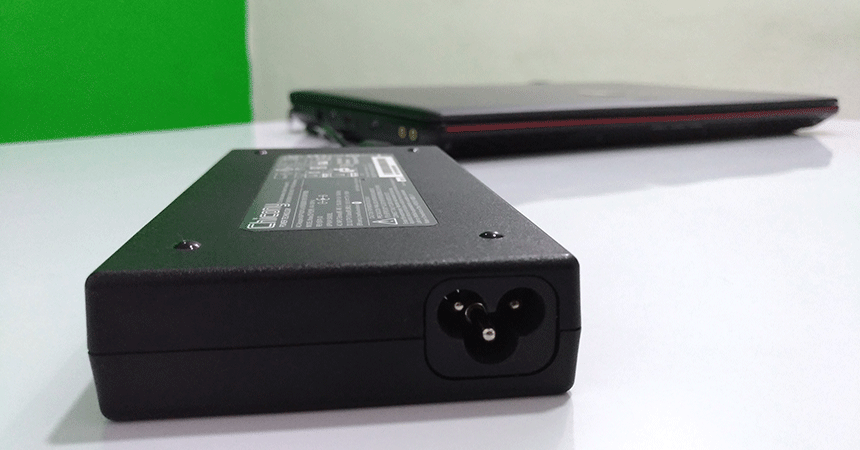 Display
The Leopard has a 15.6-inch display with a resolution of 1920×1080. It is a matte finish panel and has no touch capability. It is a decent screen but is very dull to look at. Being a matte finish has its pros and cons. For instance, the screen doesn't reflect anything that is in our background but has low brightness and color reproduction isn't up to the mark.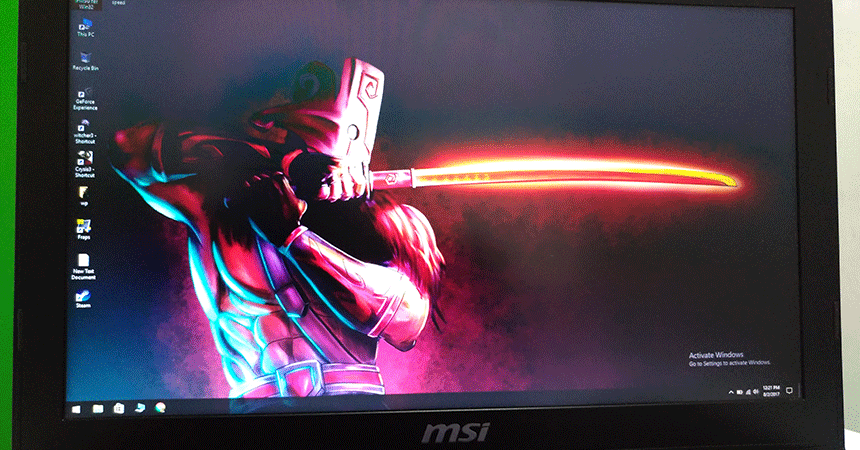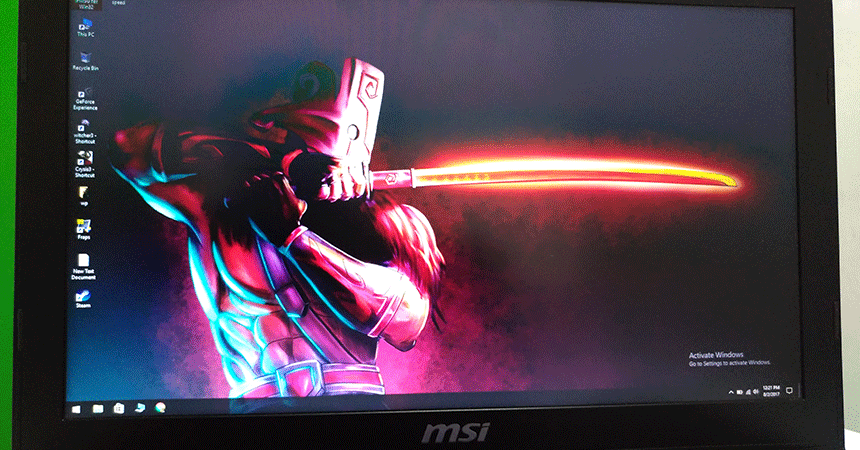 It has a 120 Hz refresh rate and a 5ms response time and add to that the level of sharpness that this display offers, makes this display one of the best for gaming. It is very good for your regular work like browsing the internet and watching videos. It is a very sharp display but lacks the fun element. Also, it doesn't have good viewing angles. You have to look at it directly for the best view. Today's mainstream laptops have very good display's, therefore, this display is quite a downside when it comes to gaming.
Specifications of MSI GP62 7RD Leopard
The Leopard is loaded with some serious hardware. It comes with Intel's 7th Gen Core i7-7700HQ which is one of the best processors in this lineup. It has 6MB cache memory and a maximum frequency of 3.8 GHz with lowest being 2.8 GHz. It has 16 GB RAM, 128 GB SSD, and 1 TB hard disk. It also comes with Nvidia's new Geforce GTX 1050 graphics card. There are a 2GB VRAM and a 4GB VRAM variant of GTX 1050 of this laptop that is available in the market. There isn't any difference in the names, therefore, make sure which one you're buying because the 4GB variant is a bit more expensive than the other.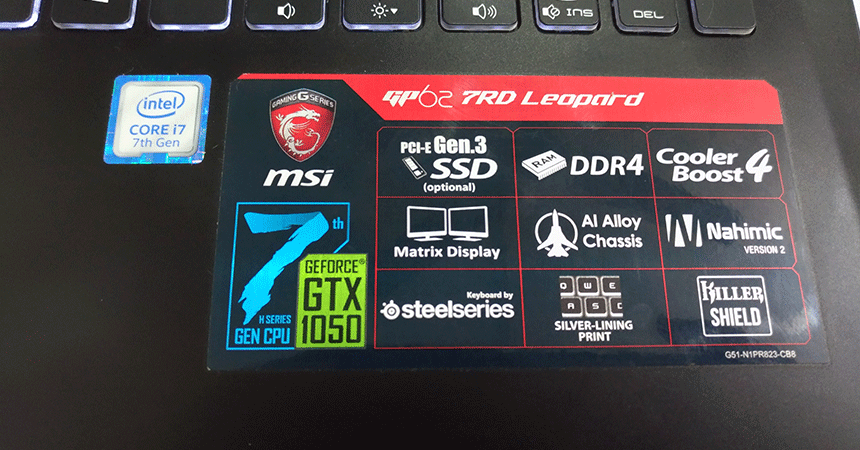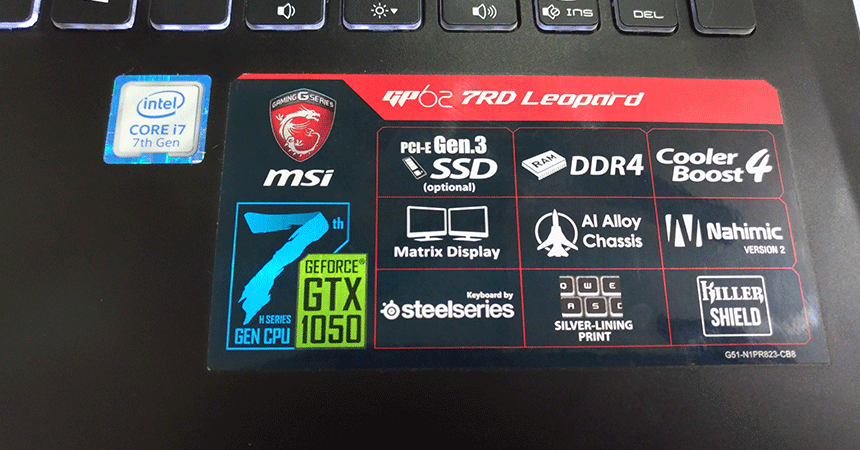 You get all the regular stuff like WiFi ac, Bluetooth 4.2, HD Webcam and a Killer Gigabit Ethernet controller. MSI also adds a lot of bloatware with Windows 10. You get preloaded Steam, Nahimic audio controller, Nvidia GeForce Experience, Killer Network Interface and the Dragon Center to control all of this. A couple of these are essentials but others aren't and, therefore, can be a bit annoying as they keep on producing pop ups for registration and other things. You can disable them from their settings though.
Performance of MSI GP62 7RD Leopard
To start with, the Leopard is very comfortable to use given its big palm rest and a good keyboard. The display, as stated earlier is sharp and good for regular work. The colors that are produced aren't that exciting and you will notice that during your gaming sessions.
The laptop, given its powerful hardware, handles all your daily requirement with ease. You can throw virtually anything at it and it won't even break a sweat. It is a very powerful laptop in this aspect. The exhaust fans are a bit noisy when they run at full speed and can be a bit annoying if they spin up during simple tasks such as reading or playing videos.
The 1080p resolution is perfect and the size is very generous which makes this laptop great for gaming. The only problem we faced was that after spending a considerable amount of time playing games, the left part got very hot. The extent was that we couldn't place our palm on it comfortably. Now, is this issue only for the unit that we got or it is for the entire lot, we aren't sure. But MSI needs to acknowledge this quickly and find a solution for it.
We played The Witcher 3, Crysis 3, Far Cry Primal, CS GO, Rainbow Six Siege and other similar titles. We wanted to see how the GTX 1050 graphics card performed and it didn't disappoint at all.For The Witcher 3, even being a bit old it is still a very heavy game even for the newest high-performance GPU's, we managed to get around 25 FPS at ultra high settings with AC power plugged in and got over 35 FPS easily for normal settings.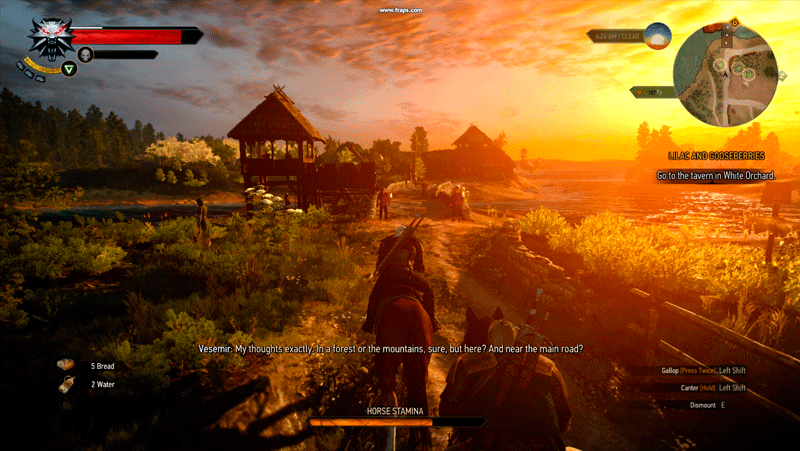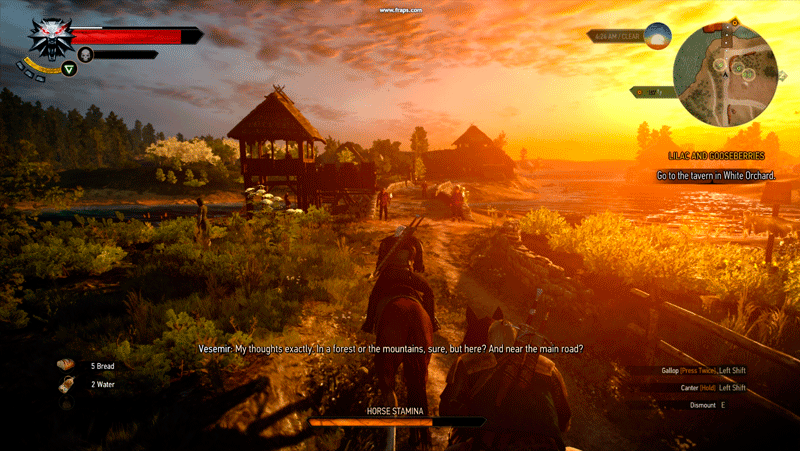 All the games ran on ultra high settings without any stutter and the sharp display enhanced our user experience. The only problem was that, even on full brightness, during dark scenes such as entering into caves in The Witcher 3, we couldn't see anything apart from the chilling sounds of the monster. We had to light up the torch so we could see the monster who's about to attack us. This is a similar problem that we faced with the Apache Pro too.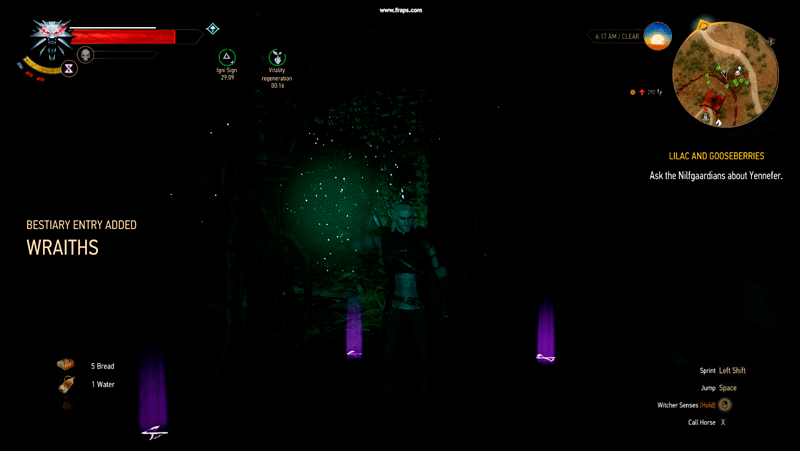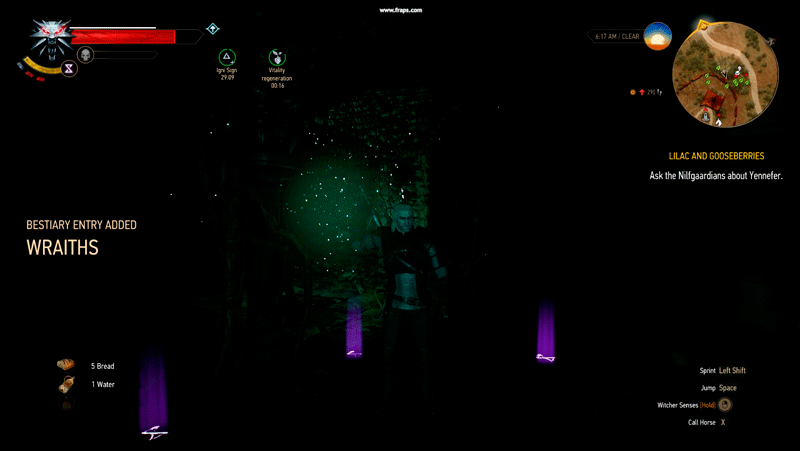 For Crysis 3, we got around 33 FPS on full settings with power plugged in. Dota 2 isn't a heavy game and therefore it ran at amazing FPS of more than 100. The gaming experience was very good overall.
There are a lot of benchmarking results available, so we decided not to do that and would only share our real life experience with this laptop. Because at the end, this is what matters and not what the numbers say. The audio output was enhanced by the Nahimic which also improved our experience and we had an immersive gaming experience.
Battery Life
Battery life of a gaming laptop sucks, period. Therefore, didn't have any high expectations from this one either. We got almost around 3 hours of casual use. To get maximum FPS while gaming, you need to plug in the charger, therefore, don't know how many hours you'll get while gaming, but I expect it will be very less. Bottom line, always carry your charger with you no matter what the battery indicator says because it won't last long.
Verdict
The MSI GP62 7RD Leopard costs Rs 1,06,099 on Amazon. At this price point, it is a very tempting deal as the other laptops with same specifications are priced a bit high. This laptop offers you the latest hardware from both Intel and Nvidia, which is its main advantage.
This laptop has enough juice to get all your work done and also play some really heavy titles. Also, it is very comfortable to work. It's comparatively smaller size makes it portable too. This is a great buy for people who want a powerful and big laptop to do their work. With a sharp screen, while graphics related work, attention to minute details can also be acknowledged.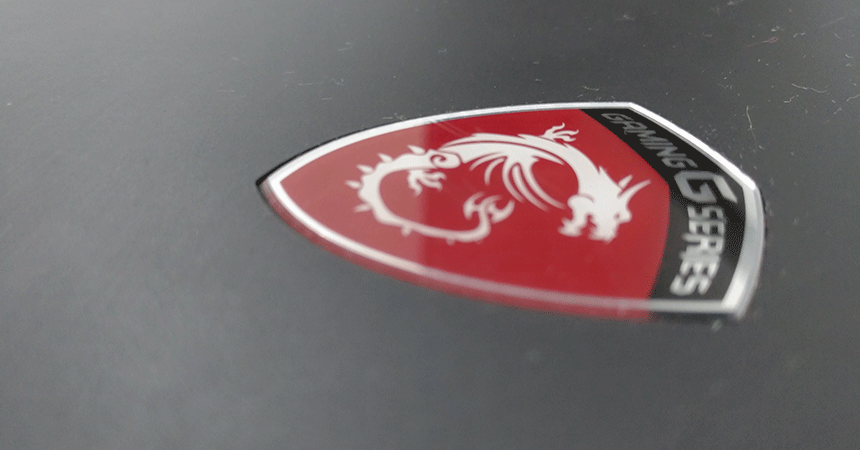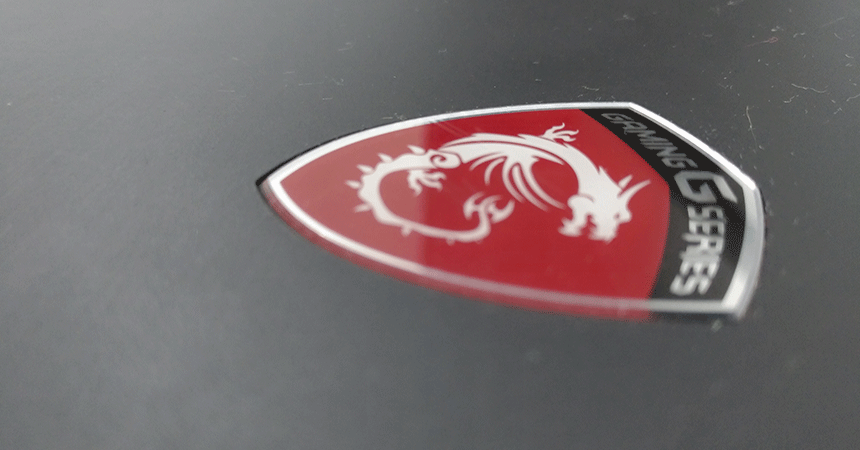 Spend a tad more and get the 4 GB VRAM variant, as I think it will be worth your money and will be able to do few more things easily simply due to its larger memory. Other than having a dull screen, plasticky feel and loud fans, I don't see any trouble with this laptop and would surely encourage you to buy it due to its sheer power and the price at which it offers.