LeEco Le 2 Review: Premium Budget Smartphone!
Being successor of one of the most promising budget smartphone launches of last year, Le 2 launch event was more than satisfying for the superfans and lived up to the expected specs, features and pricing at least on the paper. I already covered 10 interesting things that you must know about the Le 2 in my youtube video, (which you can check out here) and following is my in-depth review of this smartphone.
LeEco Le 2 Review
Physical Appearance & Build Quality
With some minor but well thought out changes, the core design remains almost same as that of Le 1.With a unique rose gold metallic finish, this phone looks elegantly well designed. With 153 gms of weight being well-distributed over the body, it feels being well-balanced design right away. The premium finish of this kind is rare even in the mid-budget smartphones, making it a great package overall.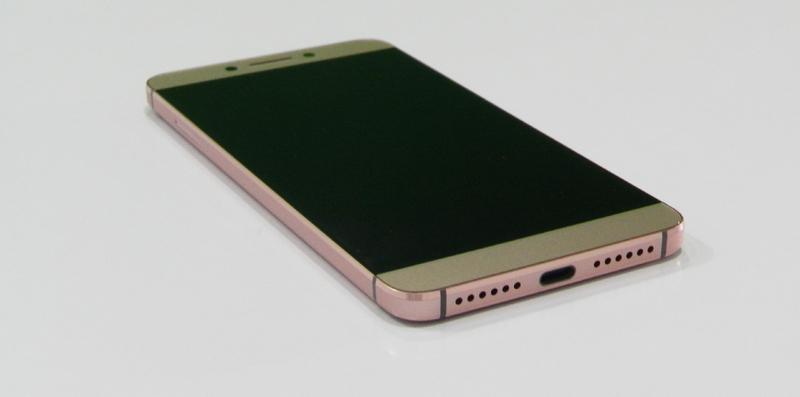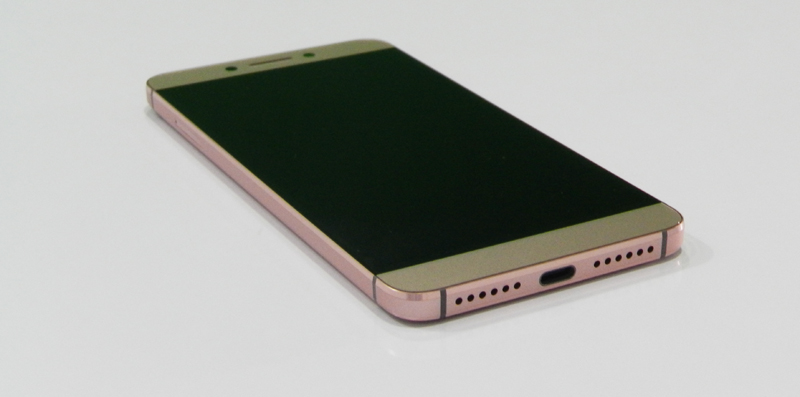 There is a proximity sensor on the top that is noticeably bigger than what I am used to, which is designed to match the symmetry along with the camera on the other side of the speaker. You get three capacitive buttons that are barely visible in standby and illuminated nicely when you wake the screen up. On top of this headphone, you get an IR blaster that can be connected to any TV, Air Conditioner or Set Top box that supports infra-red technology, quite a useful alternative when you can not find the remotes. Only high-end phones that have come out recently are equipped with the IR blasters, and Le 2 stays unique with this addition.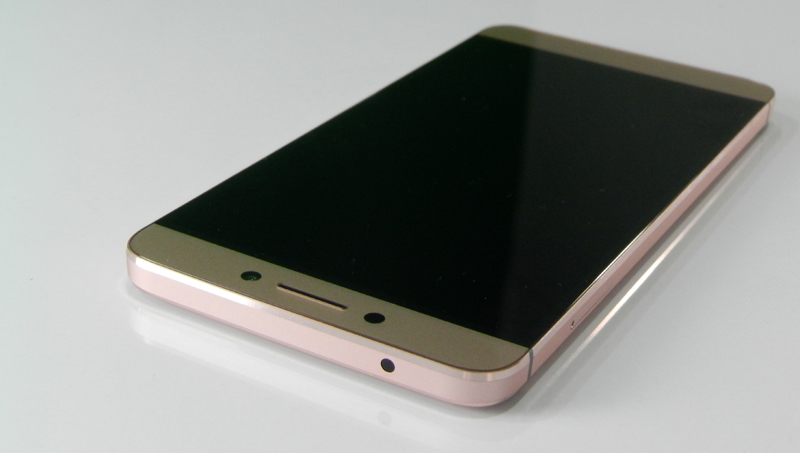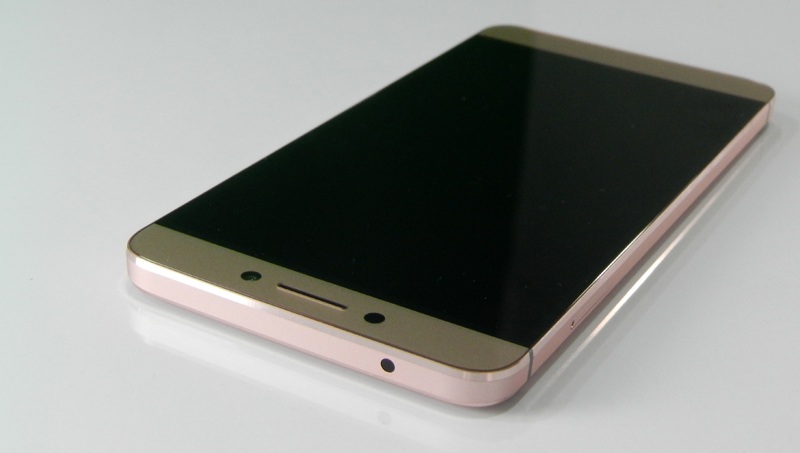 There is no 3.5 mm jack on the top, as Le 2 is equipped with CDLA technology for audio, that can be connected with the USB Type-C port, but LeEco gives you USB Type C to 3.5 mm jack converter, just in case you do not own any CDLA headphones. CDLA earphones are not widely available yet but surely is a futuristic technology to own. With the first flash sale they gave away the CDLA earphones with the device for free, which I am not sure will continue for the future sales as well.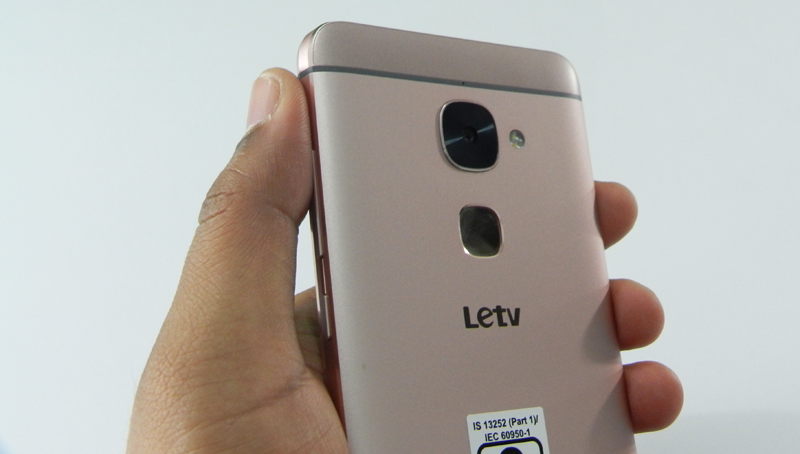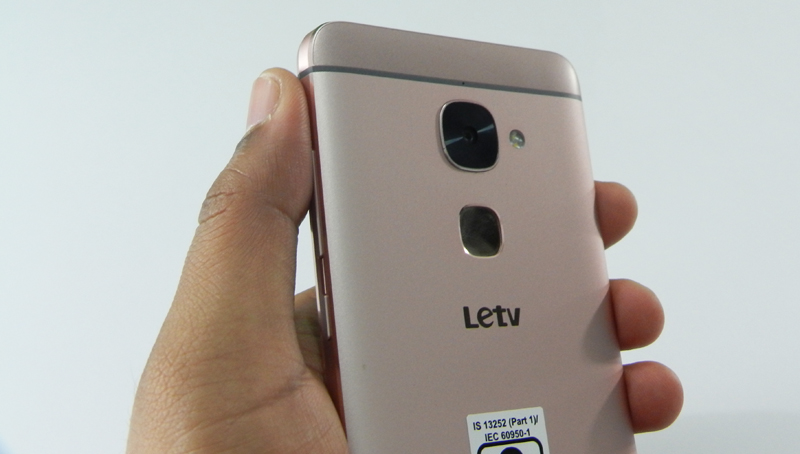 The back side has 16 MP camera with f / 2.0 aperture followed by the fingerprint scanner. The fingerprint scanner is easy to set up, and quite accurately authenticated my fingerprint every time I used it. Along with the great accuracy, waking up the Le 2 from sleep is as fast as it can be, and the same sensor can also be used for taking up quick selfies!
The bottom side of the device has USB Type-C port for charging, data and CDLA audio. Both sides of the port are covered with big speaker vents, that offer crisp sound quality. On the design side, though, I wish these vents were little smaller, somewhat like OnePlus X, that would have added the extra elegance to its overall design.
Some bloggers complained about the cracking sound when the screen is hard pressed, which I believe was a fault in early review units, I did not experience any such noise on my Le 2 device. So no need to worry about it anyways.
Display
The 5.5-inch display is FULL HD 1080P and has a pixel density of 403 PPI. The crispness of the icons and high-resolution images are quite visible thanks to 1920×1080 resolution offered in the budget segment. This big display is not only great for watching movies or reading, but for high-end gaming as well.
I enjoyed prolonged browsing and reading kindle e-books on Le 2, and the sharp text resolution certainly made it a delightful experience for my eyes.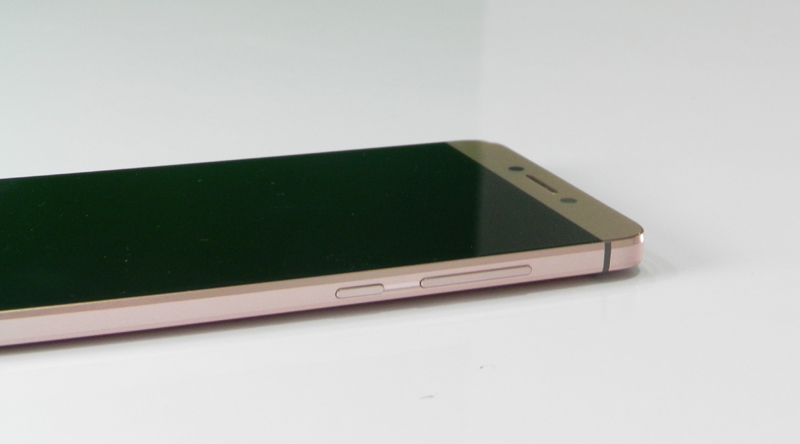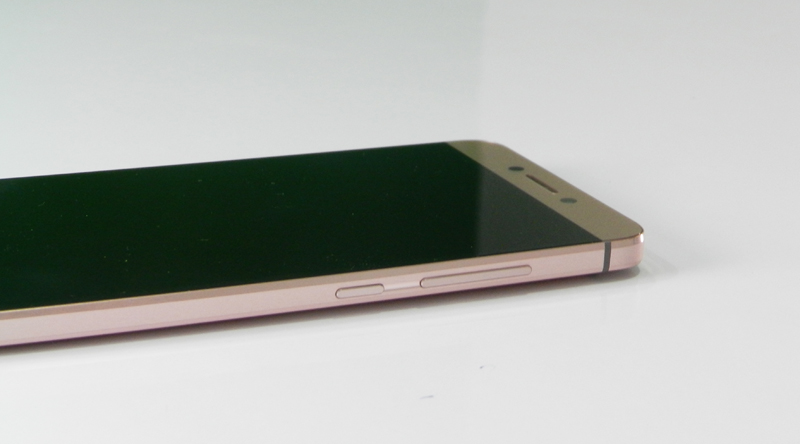 Performance
Sporting the all new Snapdragon 652 processor, this is one of the first entry in Indian market with the chip that is 21% faster than Snapdragon 800, and much faster than Apple's A8 processor as well. The AnTuTu benchmark scored over 80,000 in benchmark which is higher than Galaxy S6 and iPhone 6, the flagship of the last generation of smartphones. The single core GeekBench score of 1505 and multi-core score of 4770 backed the results produced by AnTuTu benchmarks, making Le 2 the fastest smartphone under Rs.12,000 (At least for now).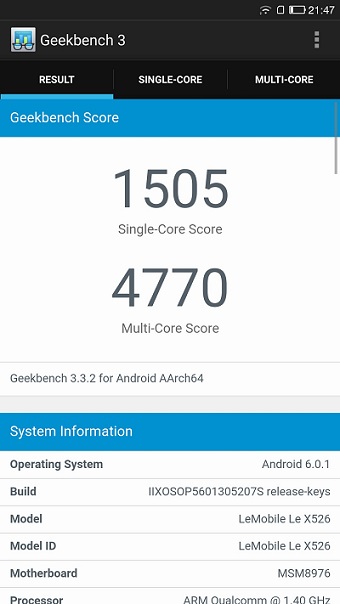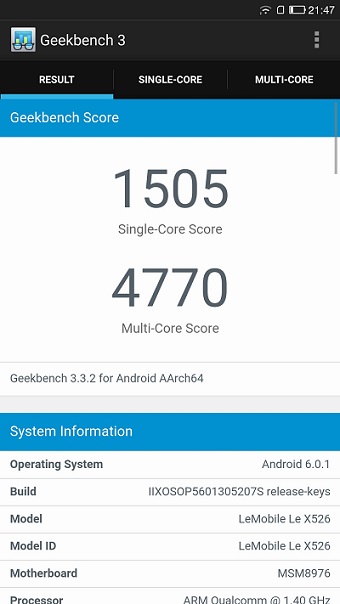 With 3GB of RAM, multi-tasking becomes a flawless experience, even when multiple apps and games stay live in the background. The phone gets a bit heated for prolonged gaming or multi-tasking, but the heat remains well under control and doesn't cross the limits, which is a big improvement over its predecessor.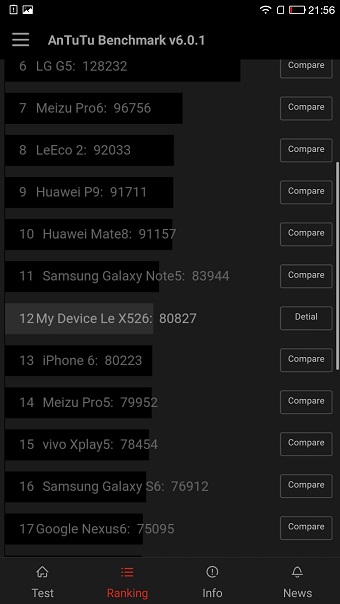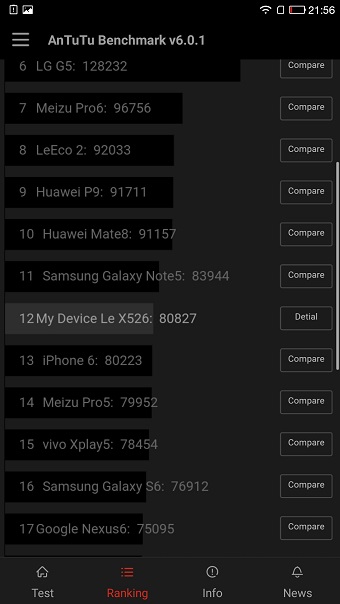 The Android M is quite redesigned with EUI 5.6, and it is getting better with every update. The UI customizations are quite useful if you love tweaking around the appearance of your device, but the only feature I hated is the non-movable Live button at the center of the home screen. It quickly takes you to LeVidi and other bloatware that comes with LeEco membership, which I did not find much useful all the time. LeView is sideloading bloatware I hated, that shows you viral content from across the web, mostly a ripped off version of YouTube, which I believe might be useful for people who never heard of YouTube before. It's an attempt to push curated content, that can not be manipulated much by your preference, and you will mostly find it being stuffed with viral videos.
Gaming
We played Asphalt Airborne and Modern Combat 5, two of the well known resource intensive 3D HD games, both of which performed quite nicely on both single player and multiplayer combats. With over half an hour of gameplay of Asphalt Airborne, I felt minor heating under the hood, which was at acceptable levels. The frame rates were more than playable with Adreno 510 GPU and 3GB of RAM even for the visual effect intensive scenes in Modern Combat. The textures, effects and sounds all together provided a superb entertainment value overall.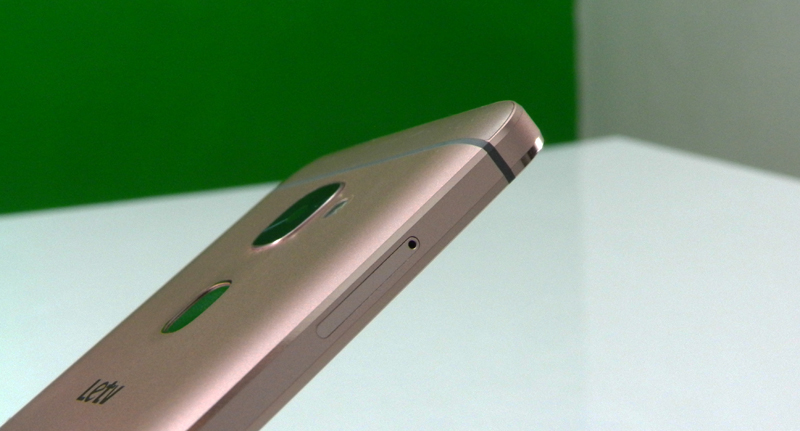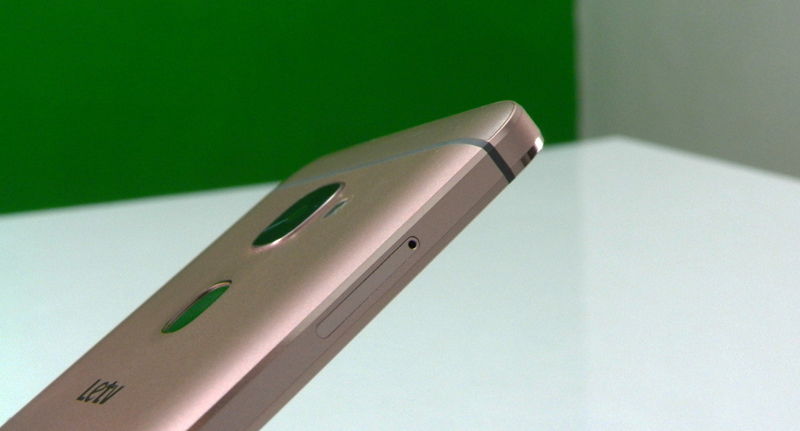 Overall, a great smartphone if you want to enjoy latest and high end games that are available for Android!.
Browsing
I hated the eUI's built-in browser, but chrome performed pretty amazingly even when the multiple tabs were open at the same time. The pinch-to-zoom is blazing fast and kinetic scrolling effect is pretty impressive as well.
Camera
The 16MP rear camera takes decent photos outdoors, even in cloudy day today, we managed to take some good closeup shots. Camera produces natural colors, but sometimes produces overexposed results. With the f 2.0 aperture you can get good shallow depth of field. If not focussed manually, the overall focus tends to wash out images captured by this camera.
The front camera is much more satisfying when it comes to selfies, and you can expect great quality from 8MP front shooter. When it comes to indoor, rear camera struggles to capture images without any noise, same is with the front camera, but its still better than the rear one.
Videos can be shot in Full HD 1080P and downscaled 4K resolution at 30 FPS. The video can not be manual focused during recording, a flaw that follows from original Le 1. Surprisingly, third party apps can focus while recording, which means its EUI bug being left out.
The video quality is just okay, and lack of image stabilization will keep your recording shake as it is, so not a great device for video recording enthusiasts. With manual options like Slow motion videos and manual control, the camera app by LeEco is very well designed to quench the thirst for photography enthusiasts.
Connectivity
Le 2 comes with dual band 2.4/ 5 GHz wireless technology, faster Bluetooth 4.1 standard, Wi-Fi Direct and a support for Wireless Displays if you already own a smart TV.
Battery Life
The 3000 mAh battery might sound OKAY for the phone that packs so many next generation features and connectivity options, but it lasted me easily all day long for frequent usage. With the super-charging features through USB C, it takes hardly 30 minutes to get up to 50% charged, and about 1.2 hours to charge from 0 to 100%. Quite impressive battery life and quick charging feature for the phone that is being offered just under Rs. 12,000.
Music & Movies
With a big display and impressive CDLA technology that LeEco has developed with Qualcomm, watching movies or listening to lossless music is nothing short of a blissful experience. This change in audio technology is long awaited, and Le 2 brings this experience to you at an affordable cost.
Most amazing thing about the native music app by EUI, is it auto fetches the script for all the English songs you play, and accurately prompt the lyrics line by line as the song progresses.
Le 2 also comes with 1 year LeEco membership that offers unlimited streaming of music and video content, along with their partners. This membership is worth Rs. 4990 per year, that along with free streaming offers you priority service for free for the first year. LeEco team looked quite confident when they announced that with new generation of Le devices they are bringing a well-defined content ecosystem, that will keep their fans entertained and informed with their devices. This particular ecosystem will get much better when they license or create content rather than just joining hands with the third party services like Yupp TV.
Verdict Of LeEco Le 2
You can not expect manufacturers to do everything perfect at this price range, and if you can ignore some minor cons, Le 2 can be the perfect smartphone you were waiting for.
With over 7000 worth of freebies with the device that is priced at just Rs. 11,999, and packs so many features, you can only dream in a budget smartphone, Le 2 is a smartphone that will satisfy your need for extreme performance.