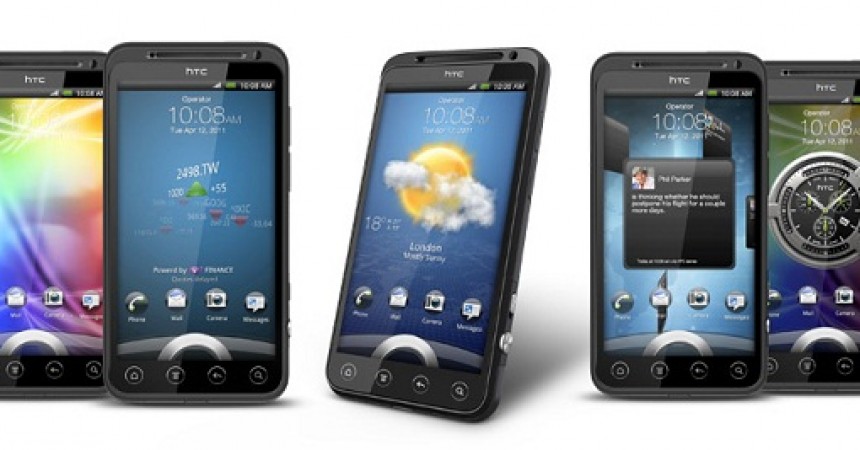 HTC Evo 3D Review – Powerful Android 3D Smartphone
It's kind of a welcome year for most of 3Devices considering the amount of smartphone & smart 3D TV launched we see in past few days.2 Most of major smartphone makers jumped in to the 3D smartphone market with recent builds of Android OS. And as always gone through digital markets in my city & here I am with my First 3D smartphone review from my personal favorite maker – HTC
HTC Evo 3D is the new phone named & being first in its series it comes with some really cool features that I would like to discuss in this review.
HTC Evo is the first and only 3D phone currently available in US market that you can buy on contract with Sprint Mobiles. Now I don't wan to discuss here "the networks issues" Sprint is currently facing with its 3G network. But I am sure it wont last long & Sprint is great with its current 2G network as well as data plans you get with Evo 3D.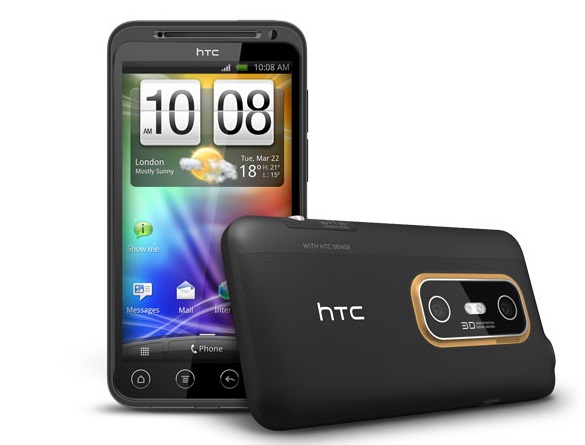 Display
HTC EVo 3D comes with mighty 4.3 inch display , which is greatest asset for regular web users and dedicated mobile gamers. Seems like 4.3 inch display is becoming industry standard for all new high end smartphones including Android , Meego & WindowsPphone 7 smartphone OS.
Display of EVo 3D is qHD that gives big resolution of 540×960, which is wider & better for watching HD content & for gaming as well. This qHD display technology is same that was introduced with Motorola Droid X2.
Performance & Hardware
Lets get into the heart of this phone which is powered by Dual Core 1.2 GHz Snapdragon Processor & have a decent performance over browsing, day to day multi tasking & Gaming. You feel the most difference in Gaming – because at UI it feels as normal as single core 1.2 GHz processor. Even the pinch to zoom was not great compared to single core phones in case of browsing.
Phone comes with camera shortcut key, volume rocker keys, power button, 3.5mm audio jack for headsets. The very best part of the phone is it comes with 3D-2D toggle switch which lets you capture image in 3D or 2D quality with single click.
HD movies & games works great in the phone & good news is HTC is giving away free movie with it – Green Hornet in HD.
Build Quality
HTC has always impressed its users by making available the best design and build quality compared to Samsung and LG. The Evo 3d is also not an exception to this. Evo 3D hastexturized battery door so makes it easy to hold & does not slip from hand. The phone feels harder, thicker and good to hold overall.
If we compare to the only rival it have that is LG Optimus 3D – It looks quite similar overall. But HTC have really edge in quality fo material they are using. You might feels that phone quite looks similar to the mix of HTC Sensation & Incredible S.
Camera & 3D Experience
This is where I though Evo 3D will at least have 1080pHD video recording but it wasn't truth. The phone comes with 5 Megapixels of Dual camera that can shoot decent quality of 720p HD videos. The phone also comes with decent quality of video camera at front for video calling and video chat.
Actual 3D experience comes in with the 3D camera made of dual lenses, you can experience that phone captures really good 3D images. Images looks best when you operate phone in proper direction. The instruction manual will give you details about it. I have used the Optimus 3D from LG which gives more improved quality compared to HTC Evo 3D. What lacks much in 3D is depth & clarity of focused 3D object/person.
2D-3D toggle switch makes it easier to capture images in one click & toggle toggle between 2D & 3D. But As I said 3D is little does not feel too good from experience that I have and it started giving you boring feel in 10 or 15 minutes. But the 2D images that we clicked are actually very good compared to other high end smartphones.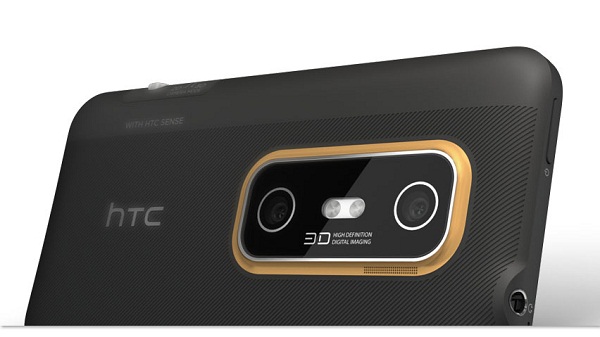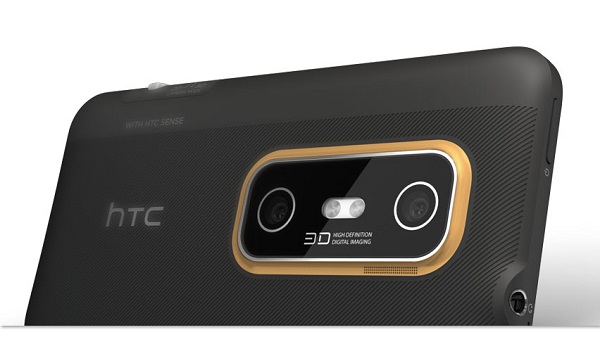 Android & Sense UI
HTC Evo 3D comes with latest build of Android 2.3 Gingerbread that is personalised by HTC with its Sense UI. As new Sense UI 3.0 is having more improved features compared to old one like – Better camera effects, divided menu pages, improved HTC scenes 7 Dashboard on home screen.
Definitely the Sense is most advanced UI for Android in Industry & you can enjoy it with HTC EVO 3D as well as the power of latest Android build. Evo 3D performs well & UI is very responsive thanks to its capacitive touch and high speed processor. HTC Sense will give you in built capabilities of Facebook & Twitter integrated all over the smartphone. They have now also added SWYPE Text input with the standard phone keyboard layout.
Again HTC has added some of their own good apps like HTC Likes, HTC Hub for downloading cool ringtones & wallpapers.
Verdict
HTC Evo 3D is really an great phone that gives you great package for entertainment and work. If you are looking for serious 3D device for professional 3D photography then I would not recommend you to buy this phone. But If you want a greta smartphone for casual 3D experience then go for EVO 3D for sure. LG Optimus comes in same price range that is great for 3D but overall as a phone does not perform well.
So, thumbs up from us to HTC Evo 3D – For g Build quality, Hardware, UI, Entertainment, Performance & Value for money.