Minecraft is without a doubt one of the most popular games on the planet. Minecraft spawned a new gaming genre known as sandbox games, in which players may build, edit, or destroy their world. Today, you may play a variety of sandbox games like as Minecraft. Minecraft is accessible on a variety of platforms, including Windows, MacOS, Linux, Android, iOS, and the greatest consoles available. And, after years of waiting, Minecraft creator Mojang has finally added Bedrock Edition compatibility to Google's Chrome OS. However, it is under early access and has a number of needs, which will be discussed in this article. Furthermore, there is no need to be concerned because Chrome OS also supports Android and Linux. That means you can easily install and play Minecraft on your Chromebook. So, let's get started with the Minecraft installation or how to install minecraft on chromebook.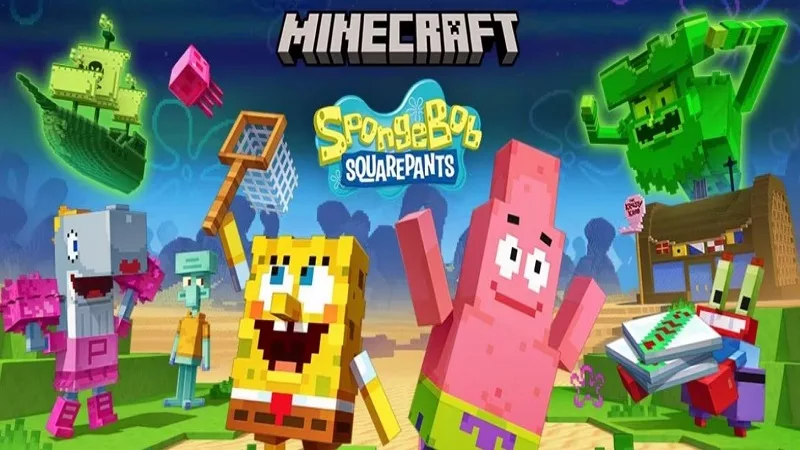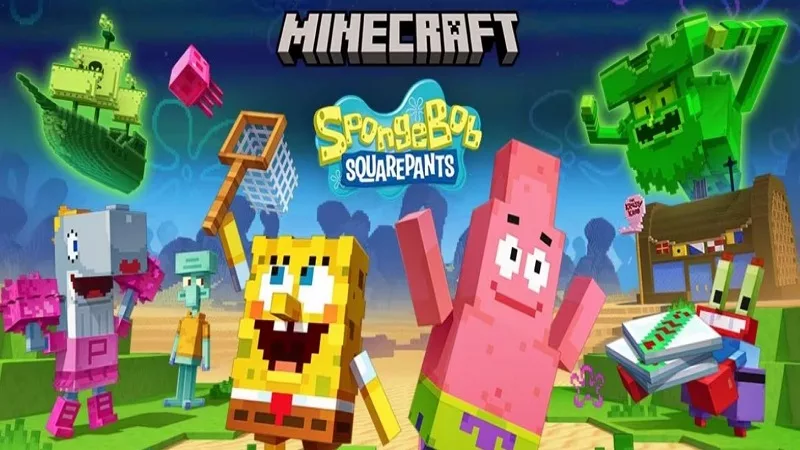 Before we begin, there are a few points I'd want to explain. Minecraft can be run on a Chromebook without activating Developer Mode in ChromeOS or downloading Crouton. You may also run it on the Stable channel. The only thing to remember is that your Chromebook must support Android or Linux.
You will not be able to run the newest Java edition of Minecraft on school-issued Chromebooks unless your administrator has allowed Linux support for your machine. Remember that Google added the possibility to use Linux software on school Chromebooks in 2019, but it all relies on your school administration. However, if you have a school-issued Chromebook, you may play Classic Minecraft in the browser. It will operate on any Chromebook and does not require administrator permission. Expand the table below and navigate to the appropriate area.
Mojang has now published Minecraft for Chromebook as part of the early access programs, as previously leaked. It's not for everyone, but if you match the basic criteria, you may begin playing Minecraft Bedrock Edition on a Chromebook right away. To begin, your Chromebook must support the Google Play Store. As a result, kids using school Chromebooks are unable to access the official version of Minecraft and must resort to one of the alternatives listed below.
Furthermore, your Chromebook must be powered by an Intel Celeron N4500, Intel i3-7130U, Mediatek MT8183, Qualcomm SC7180, or a faster CPU and run ChromeOS 111. In addition, your gadget must have 4GB of RAM. As a result, the majority of Chromebooks will be able to run the official Minecraft. In terms of features, you will be able to play Minecraft with your friends and family. Not only that, but with Minecraft for Chromebook, you will be able to test out the latest Minecraft 1.20 features and ride a camel.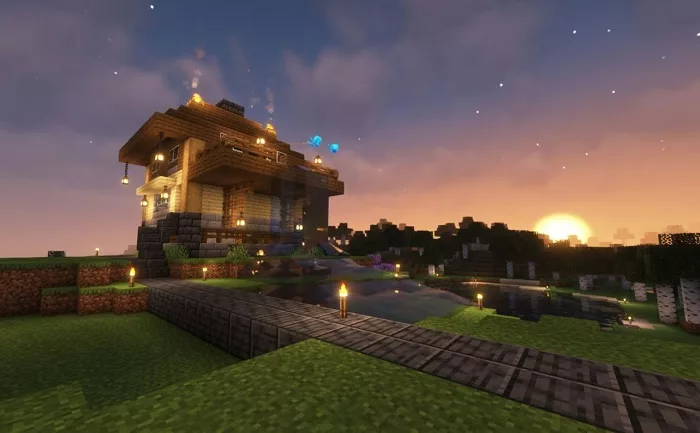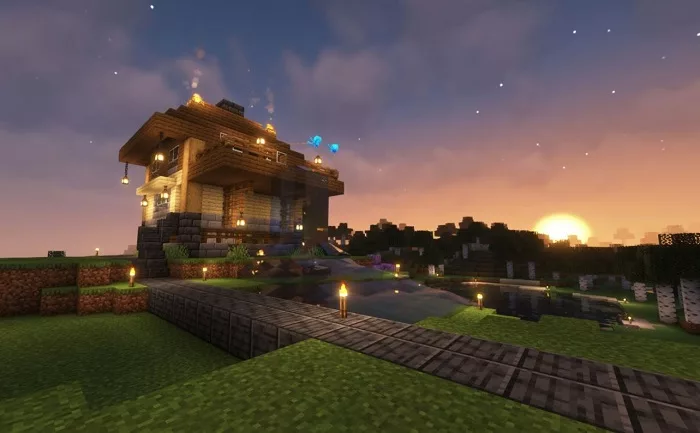 Because this is an early access version, there may be some issues, however Mojang aims to fix the bugs and better optimize the gameplay for Chromebooks before the complete release. With everything out of the way, let's look at how to install Minecraft Bedrock Edition on a Chromebook.
To begin, go to the Google Play Store and search for the Minecraft app. If your Chromebook matches the criteria, it will display one of the following prices: $19.99, $6.99, or $13. Those who wish to play Minecraft on both Android and Chromebooks must spend $19.99. The Android version is merely $6.99, and customers moving from the Android version to the Chromebook version must pay $13.
After installing the game, you may start playing Minecraft Bedrock Edition on your Chromebook.
Minecraft has released an Education Edition for Chromebook users in order to encourage creativity, teamwork, and problem-solving abilities. The game is designed particularly for kids who wish to how play Minecraft on Chromebooks. However, the game is offered as an Android app on the Play Store, so you must still contact your school administrator to have Google Play enabled on their end. With that said, let's get started.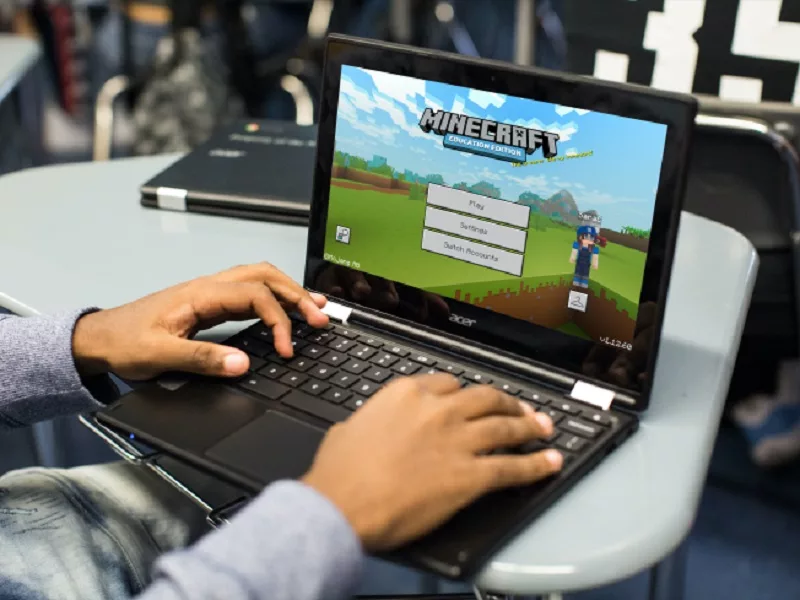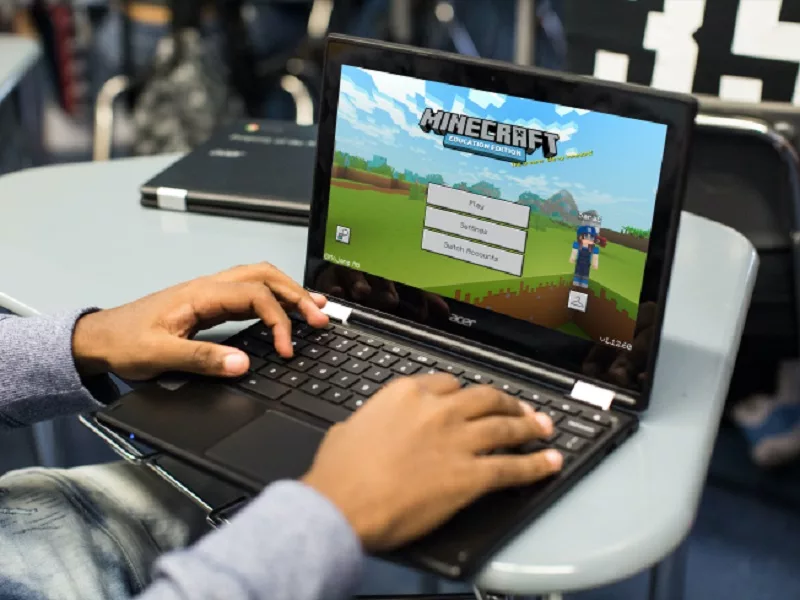 First, go to the Settings page and enable Google Play Store. It will allow you to access the Play Store and install Android apps on your Chromebook.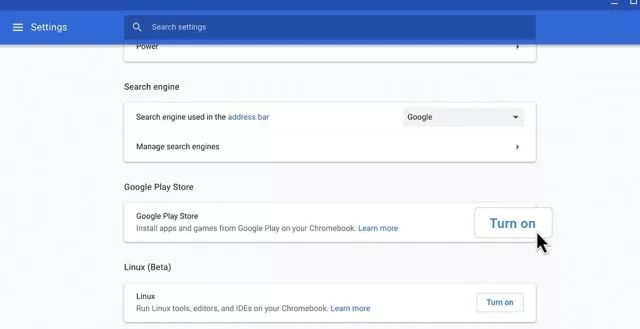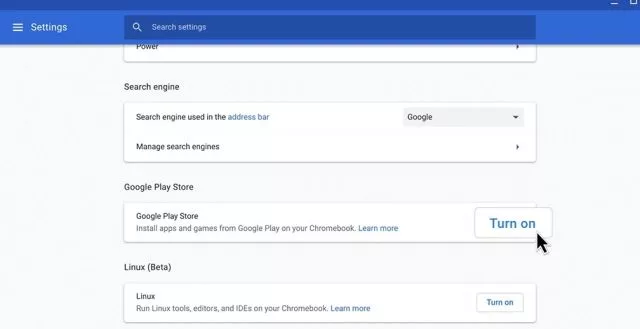 2. Go to the Play Store and search for Minecraft: Education Edition (Free), then download and install the game. That's all.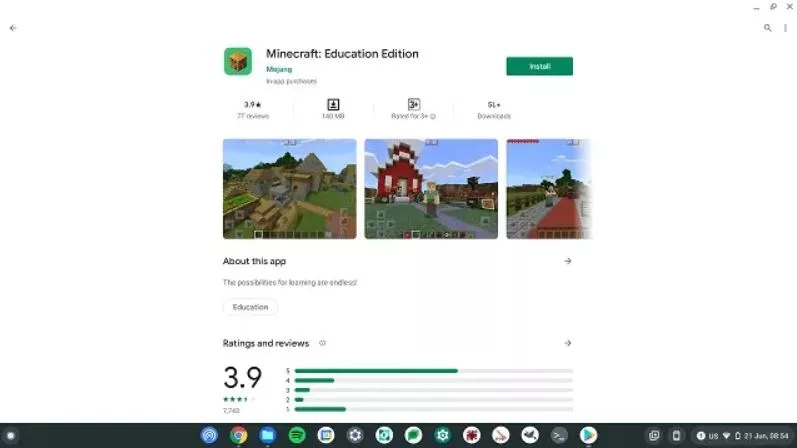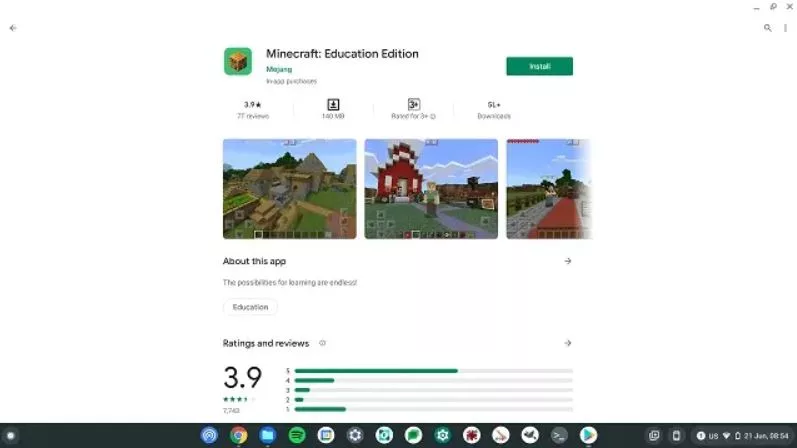 3. Remember that students have ten free logins. Following that, you must purchase a subscription using the link provided above. Furthermore, you must log in to Minecraft using your school account.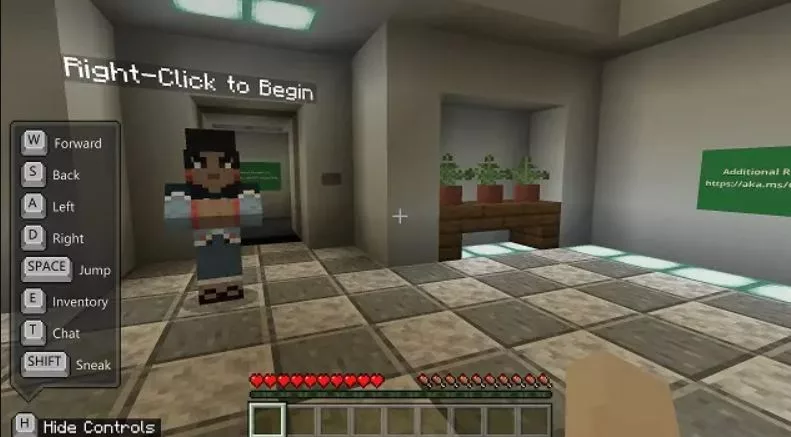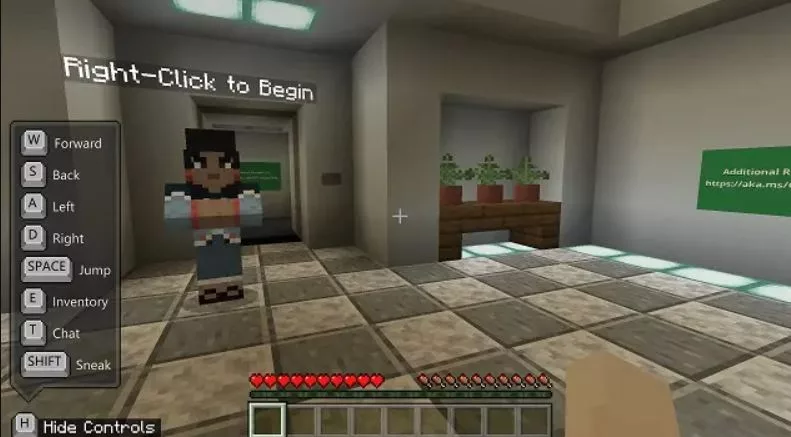 Using this approach, you may now install and play the newest Minecraft 1.19 version on your Chromebook. I tried Minecraft 1.19 on my Intel-powered Chromebook, and it worked well. To install and play the Minecraft 1.19 update, your Chromebook must have Linux support.
Before proceeding, ensure that you have installed Linux on your Chromebook. To illustrate, enter Settings and expand the menu by clicking on "Advanced" in the left pane. Then, select "Developers" from the drop-down menu. Contact your school administration if the "Developers" menu is not visible on your school-issued Chromebook.
Once in the "Developers" menu, click on the "Turn on" button next to the "Linux development environment (Beta)" area.
After installing Linux, launch the Linux Terminal. To do so, use the keyboard's search function to type "terminal" and then open it. You may also search for "Linux apps" in the App Drawer. "Terminal" can be found there.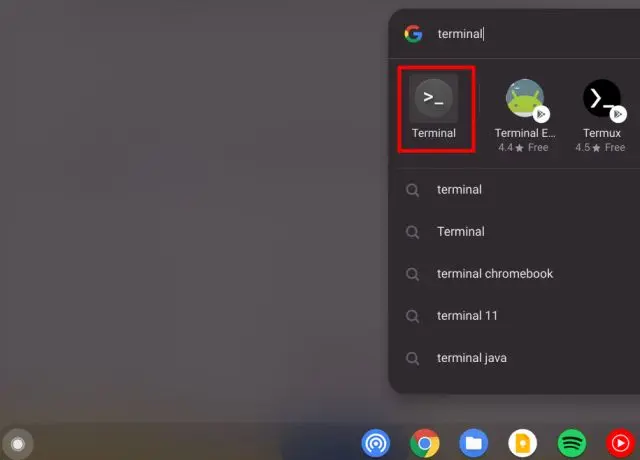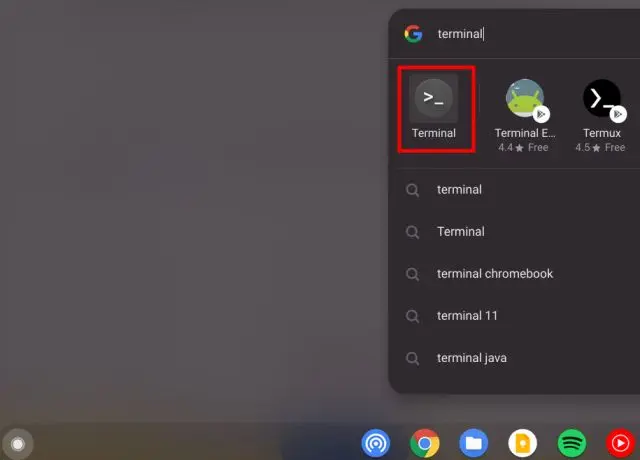 4. Execute the following command. This will bring your Linux system up to date.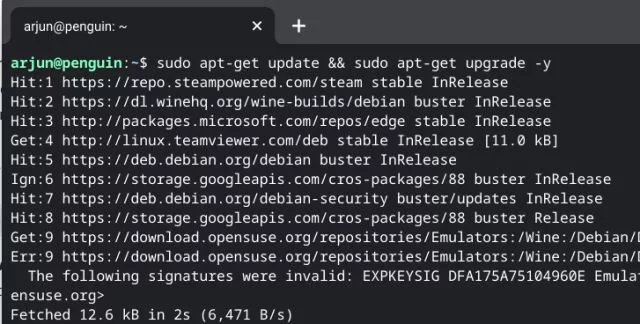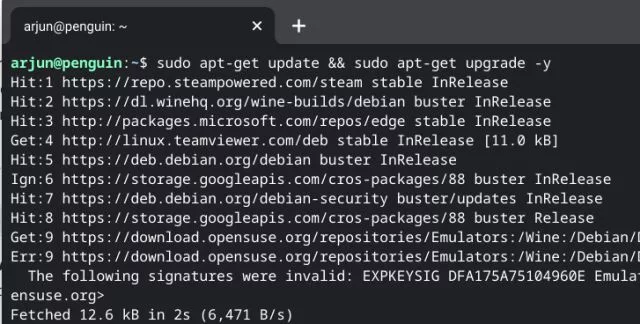 sudo apt-get update && sudo apt-get upgrade -y
Once the Linux build has been updated, get the Minecraft.deb file (Debian/Ubuntu) from the official website. Then, under the Files app, transfer the file to the "Linux files" area.
Double-click the downloaded file and then click the "Install" option. Minecraft will be installed on your Chromebook in a matter of minutes.
To play Minecraft, hit the Search key on the keyboard and type "Minecraft" into the search box. Finally, launch the "Minecraft Launcher" application. You may also access "Minecraft Launcher" by navigating to Linux programs in the App Drawer. After that, sign in using your Mojang or Microsoft account.
After that, click "Play Demo" at the bottom, and it will begin downloading the latest release and installing the update itself. After installation, the app will quit and reopen automatically. If this does not happen, manually launch "Minecraft Launcher" from the App Drawer.
Finally, Minecraft will launch on your Chromebook and be ready for play. Simply click "Play Demo World" to begin the gameplay.
The game plays well with WASD controls, and mouse sensitivity is adequate. If you wish to modify the sensitivity, go to "Options -> Mouse Settings" and set the sensitivity to "Hyperspeed." You may now play Minecraft on your Chromebook without jitter.
In addition, if you want to lock the mouse cursor when playing Minecraft on Chromebook, make sure to enable the following flag. Simply copy and paste it into the Chrome browser's address bar and press Enter. Then, from the drop-down menu, activate it and restart your Chromebook.
If you encounter an installation issue, launch the Terminal app from the App Drawer. Then, run the Linux command below to install the Java Development Kit. Finally, via the Files app, install the Minecraft.deb file as usual.
sudo apt-get install default-jdk -y
Mojang Studios has made the Classic version of Minecraft available on the web, which can be accessed via any browser. That means you can play Minecraft on Chromebooks provided by your school. However, you will only have 32 blocks to work with, and they will be shown on an outdated UI. It will undoubtedly remind you of the Minecraft UI from 2009. But the greatest thing is that WASD controls function in the browser and the game runs smoothly. There is also a multiplayer mode that allows you to invite up to 9 others. After all of that, here's how to play Minecraft Classic on your Chromebook.
In the Chrome browser, type classic.minecraft.net and press Enter. As you can see, you may start the game in multiplayer mode by sharing the URL with your friends, or you can start it on your own.
Once the Minecraft programs has begun to run, you must log in using your Microsoft or Majong account. Use the WASD keys to travel throughout the game, and the mouse to adjust your gaze direction. While the Esc (Escape) key launches the game's menu, where you may customize numerous settings and controls, pressing E will open your inventory. Shift allows you to crouch while Spacebar is used for leaping. While using a right click to put a block or utilize an item, a left click is used for attacking or destroying.
The WASD key controls work perfectly with the game. However, you may change the sensitivity by going to Options > Mouse Settings > Sensitivity: Hyperspeed if you notice that the game is a little sluggish or that the mouse isn't operating properly. You may alter your Chromebook's settings to enhance performance even more so that your gameplay is quick and effective. You may make sure that your Chromebook has all of the Chrome flags activated. By appropriately tweaking the visuals, frame rate, smooth lighting, render distance, and other in-game parameters, you may maximize your gaming experience.
Increasing Minecraft FPS and boosting performance on Chromebook
Chromebooks have a maximum frame rate of 50. On a Chromebook, I've seen frame rates in the 100+ range.
Your precise model and make will determine a lot. You should be able to navigate Mushroom Island without experiencing any hiccups because many current computers have plenty of power and should be able to deliver buttery smooth framerates.
A faster and more potent Intel CPU and more RAM enable high-end Chromebooks like the Chromebook Pixel, Samsung Plus, ASUS Flip 2, and HP 13 to run Minecraft at a better frame rate.
In comparison to Pentium and Celeron CPUs, they provide processors like the Intel Core m3, m5, i3, and i5 models. Consider getting a more powerful Chromebook if you intend to play Minecraft or other demanding games on it. Instead of having to cope with latency or FPS dips on a maxed-out Chromebook, it will be worthwhile. In contrast, the majority of Chromebooks come with a regular Intel Pentium or Celeron CPU and 4GB of RAM. You'll get around 50 FPS as a result. Are you high? Actually, no. Can you play it? Definitely. To play Minecraft without being overly disturbed by lag, you simply need roughly 30 FPS. That's really not bad for a tiny computer that costs so little and has integrated graphics.
To give yourself a little FPS bump, you may experiment with changing the game's settings and turning down the features that are not relevant to you. By adjusting the parameters, you'll obtain the best performance here. Disable flashy visuals. Reduce the render distance. Disconnect all particles. Disable animations. Mute the clouds. Reduce the mipmap levels. Deactivate anti-aliasing. Turn off V-Sync and see bobbing. Decline the resolution. Use the least amount of rendering power possible.
That concludes our tutorial on installing and playing the famous Minecraft game on Chromebook. For school kids who want to get started with Minecraft on their Chromebooks, the Android and Classic versions are ideal. You'll also need Linux support if you want to play full-fledged Java Edition. Things appear to be lot better today for Linux applications and Chrome OS games in general, thanks to the upgraded Linux (Beta). Because of Linux support, you can install Steam on a Chromebook. That's all we have for now. If you were able to play Minecraft on your Chromebook, please leave a comment and tell us about your gaming experience.
FAQs(Frequently Asked Questions)
Q.1 Is Minecraft laggy on Chromebook?
Depending on the type of Chromebook you have, but most of them can run Minecraft at 30 frames per second at a decent quality.
Q.2 Can Chromebooks run Minecraft Bedrock Edition?
The foundational version of Minecraft is the Android edition, commonly known as Minecraft Pocket Edition. Even though the official Minecraft Pocket Edition software isn't available, PojavLauncher can run it on Chromebooks.
Q.3 How do you get Minecraft for free on a Chromebook?
There is no legitimate way to obtain the premium version of the game Minecraft for free. All of these approaches need you to sign in using a Minecraft account that has previously made a transaction