If you remember, I covered this news 'TomTom 'Start' Series Launched In India' few days back. Soon after that I got the chance to test one of the products Start 20 for past 15 days, And even before I start my review, I want to let you all know – It amazed me with more, every time I used it.
TomTom India's Start 20 & Start 25 devices were launched in the entry-level segment, that tried to attract the customers looking for a decent value for money GPS navigation device. But considering the number of premium features this device is equipped with, You wont left with wanting for anything more.
The only difference between these two devices, is its screen size. 'Start 20' has 4.3 inch touchscreen display, where as 'Start 25' has slightly bigger of size 5 inch. So, even if the following review is for the Start 20, It also applies to Start 25 as well.
TomTom Start 20 Hands-on Review
Before I start discussing every bit of good information about Start 20, I already posted following Unboxing & Hardware Tour Video on our YouTube Channel, about two weeks ago. So, please go through it, if you want to see things in action.
Physical Appearance
Right from the first time I handled this device, I was compelled with its solid build quality and tough black rectangular form factor. It's not definitely not an amazing design (if you are looking for aesthetics in it,) but for the kind of work it is going to do for you, it's a perfectly decent looking device.
'Start 20' has a big size,which makes it handy and an impressive weight of 154 grams, that gives it a premium feel. Rugged black colored body is simple and elegant to look at, with a standard TomTom logo on the right side, and literally nothing else on the edges and sides.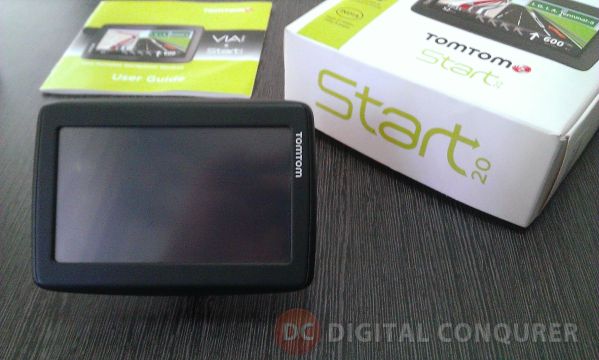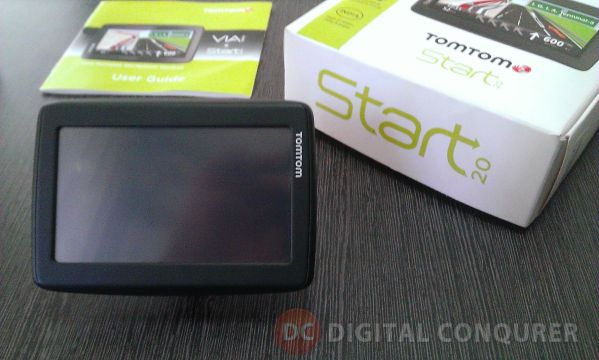 All of the device's controls are packed on the back panel of the device, which also holds the dashboard mount & the suction lock. The dashboard mount is movable, that lets you set the device either on your car's dashboard or the windscreen. The mount's movement from the back is kept hard, which is needed to maintain the angle, even when car is going through the bumpy road.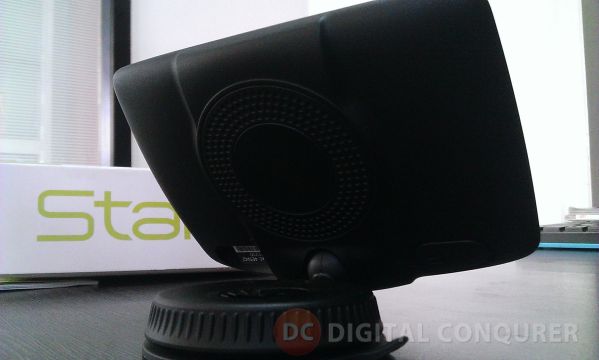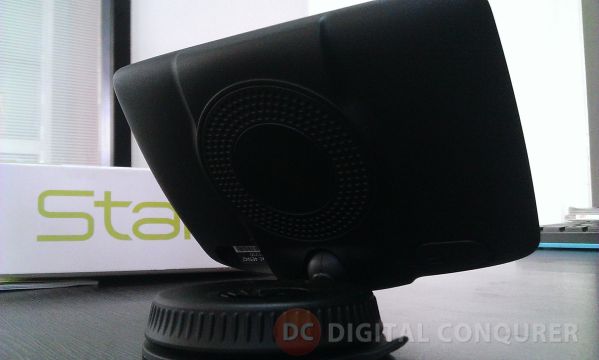 In the above picture, the ring on the base of this dashboard mount is there.When this ring is moved to lock and unlock position, the suction lock is activated to stick it with your dashboard. You can do the reverse and remove the device, if you want to carry it with you after parking.
Also on the back is this power button on the left, and the circular ring in the middle, which actually holds the speaker for voice navigated guidance, when you are on the road.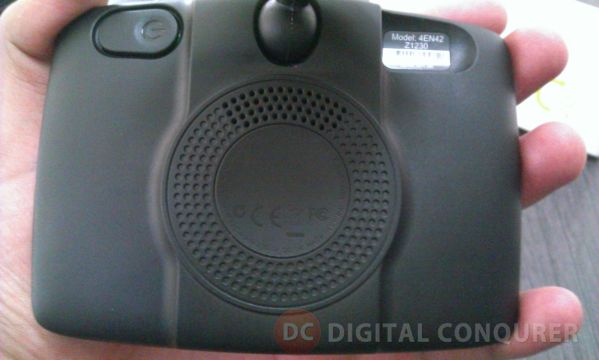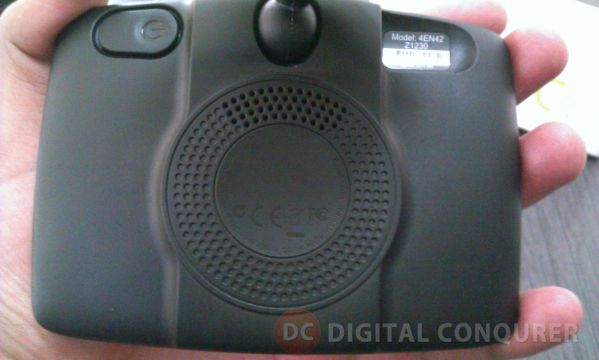 On the right side, there is microUSB charging port, that you are supposed to connect with the Car Charger & the USB Cable already provided in the box. The Memory card slot is provided, for the future scope. But even when I used this device & upgraded it daily, more than 1.5 gigs of memory was always left on the device. So I am pretty sure, you don't have to buy any external memory for using it.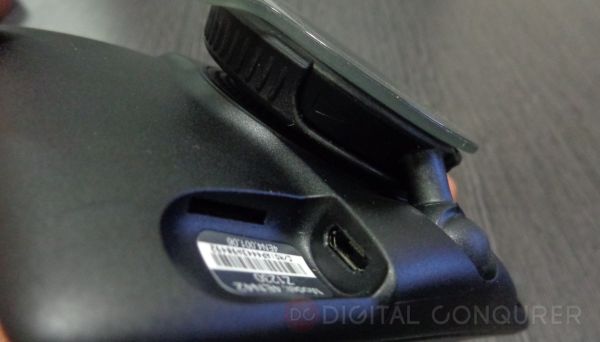 The touch screen of the device has a micro-grainy texture, that helps it stay away from catching any of your fingerprints. This screen looks great from all angles and because of its texture, it does not reflect any light, keeping you away from all the distractions.
Hardware Specifications of Start 20
I believe I've already mentioned most of the important specs of the 'Start 20', but let me give you a quick recap once again.
This device has 4.3 inch (11 cm) resistive touchscreen that has an aspect ration of 16:9. The resolution of the screen is 480 x 272 pixels, which might sound low, considering with what we use on our smartphones. But, in the case of this GPS navigation device, it looks great.
The 'Start 20' device measures exactly -119 x 85 x 19 mm & weighs about 154 grams. It does have a microSD memory card slot for extra storage, and an undisclosed capacity of internal memory (1.5 GB was free on my device.)
There is no bluetooth or TomTom's live service connectivity on any of the Start series device, but you can upgrade your maps, share your correction and more with GPS itself. The batter is capable enough to get you through about 2 hours of run time on a full charge, but if you are planning for longer trips, make sure you carry your car charger with you.
Features of TomTom Start 20
When you start this device for the first time, You can set up preferred languages and favorite locations like your home, office, gym or clinic. You can also do these things later on, but adding your favorite points will give you quick access to plan your travel.
You can plan your travel with quick Navigate to Option, or even before you leave your home, you can find shortest route by going through the route planning options. Find your destination city, then look for the closer landmarks or road names from the available database & dig even further to pin point the exact location you are heading to.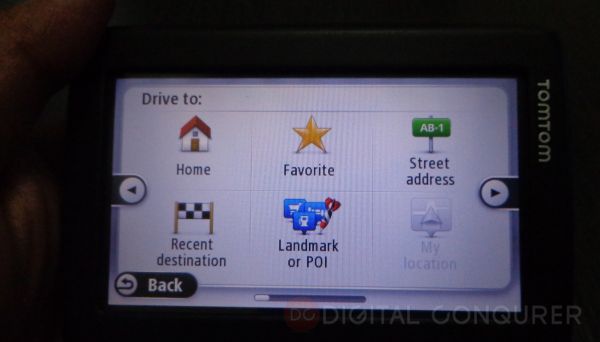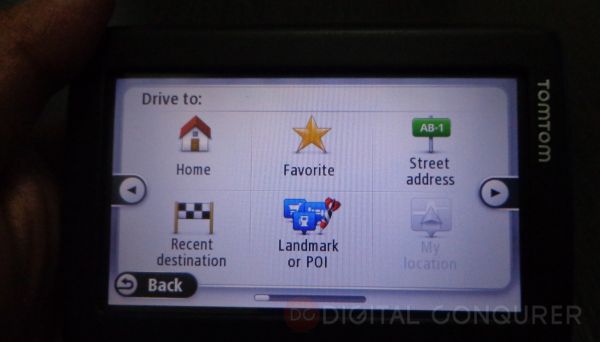 When you are at completely new place, landmark searches will help you reach your destination very quickly. Even if you are lost on roads, this feature will help you find nearby road names and then further find your way out.
Start 20 has most advanced and capable navigation software, that will assist you on more than 7300 cities and towns on India, with more and more details of roads adding almost every day. The very plus point of this whole device, is TomTom's comprehensive software side, that brings features like Map Correction, 3D driving view, Points of Interest (POI) search & more.
Map correction allows you to edit the names, exact positions and roads on existing TomTom maps. There is rich & flourishing community of TomTom's GPS device users, that shares such corrected routes, short alternatives and informative data on the maps, that you naturally become a part of, when you own the 'Start 20' device.
Your corrected maps are shared using Map Share technology, and you can download and adopt user shared maps completely or partially, when you wish. TomTom is nice enough to avail you the map updates literally everyday, which you can download according to your convenience by connecting your device to MyTomTom software using your laptop or PC. The company also provides, Free Lifetime Access to all the map updates, which makes sure you have newest maps even in future.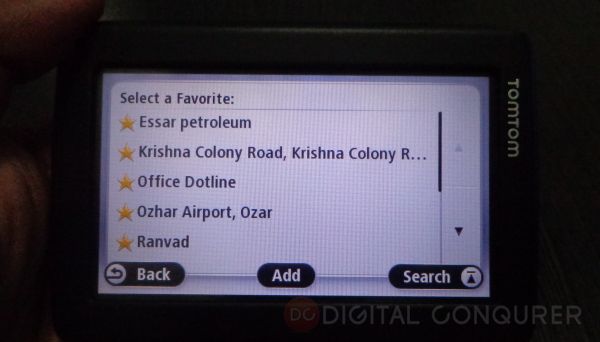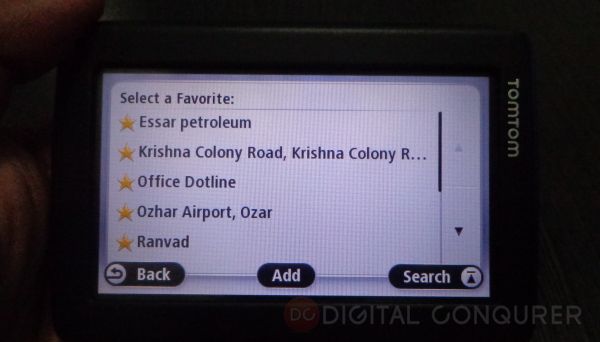 Overall Experience & Performance
When you start your travel with the TomTom Start 20, a big blue arrow, representing your car will appear on the 3D view of your map. As your car moves ahead, turns or stops, this symbol will always marks your activity on the screen perfectly. If you have planned the travel, it will show you red line as your route, and you can watch upcoming turns, crossings and stops few meters ahead when you are driving. If you miss a turn, or know a better road than TomTom's map, the planned route will instantly show you the shortest route again, with the updated road that you are now on.
The voice navigation is impressively accurate, almost keeps your eyes away from the device most of the times, by guiding you in your journey. Apart from the popular international languages, voice guidance is presented in 14 different Indian languages like Marathi, Hindi, Punjabi, Bengali, Bhojpuri etc. Each of these guidance voices are available in Male and Female voices, which increases the number of options you have.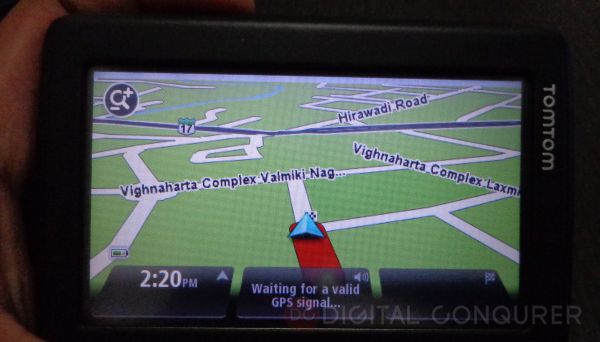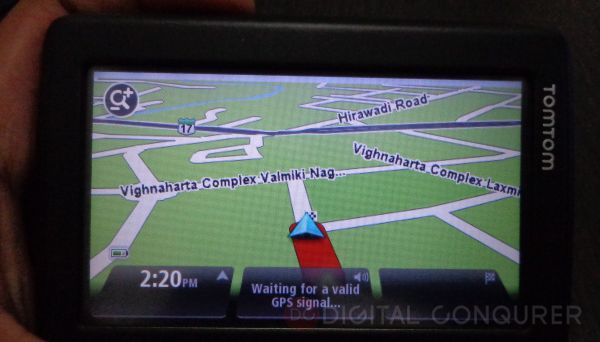 The touch-screen needs a little extra push, considering its a resistive one, but I got used to it after using it for few minutes. Pointy touches are recognized more quickly compared to touching the surface of your finger. The experience is well above average, when you are using it for the first time, but it gets better and better the more you use it. Also, remember like the smartphones, you do not need a super responsive capacitive screen for such devices, as you need to use it hardly 5% of the time you are actually driving your car. So you better not judge it differently.
The performance of the device is very impressive, and it rarely lagged, when I was plying with the loads of customization settings it has provided. You can change map mode from Day to night, Change the complete Menu style including colors of map, what information you want to see on-screen and even the quick access buttons. You can turn the volume and Brightness according to your needs, but the standard values are set perfectly, even if you are in noisy traffic.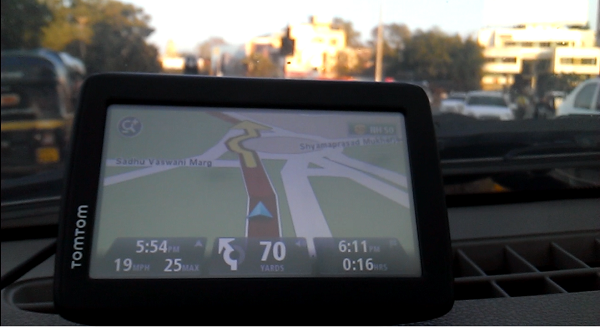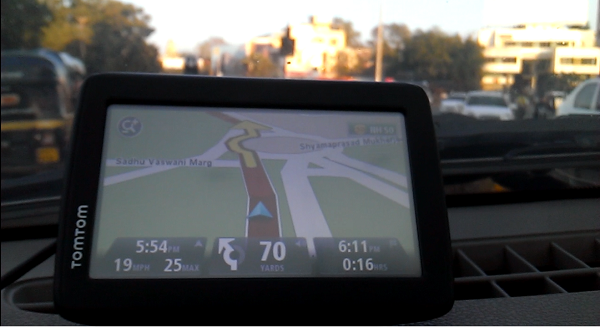 The real experience if this TomTom's feature rich GPS navigation device comes from its precise guidance, that never practically never makes mistake detecting you, guiding you or updating your routes. Even though the GPS navigation systems are still very young in terms of technology, TomTom has not left any effort they can put in Start 20 at such a low price point. This device is made not only for the budget conscious Indian consumers but for the practical ones as well. For the loads of premium features this device has to offer, it's definitely a best super value for money product & I will highly recommend to buy it to every car owner!
Hands-on Video Review of Start 20
Verdict
Even though GPS Navigation devices are at its infancy considering any other technology, TomTom has put every effort they can to make the Start 20 powerful enough to bring advanced maps technology for complex Indian roads. Most importantly, it remains precise on every road, every turn & every crossing. Bringing you the richest experience while driving, with a simple & budget friendly device – Start 20!