RIM Launched BlackBerry Torch 9800 Mobile Phone in India – Price and Features
Research In Motion (RIM) has announced the launch of its first smartphone with slider and Blackberry 6 OS, the BlackBerry Torch 9800 in India. BlackBerry Torch 9800 features both Full touchscreen and QWERTY keyboard.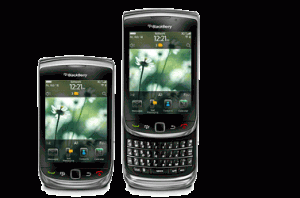 BlackBerry Torch 9800 has a a 3.2 inch capacitive touchscreen display with a resolution of 480x 360 pixels, slide out QWERTY keyad, optical trackpad, 5 megapixel autofocus camera with 2x digital zoom and flash, VGA video recording, 512 MB flash memory, 512 MB RAM and up to 32 GB of expandable memory. The phone comes with 4GB of built-in storage as well as a 4GB microSD card that's included with the phone.
BlackBerry Torch 9800 supports high-speed 3G (UMTS/HSDPA) networks, 802.11b/g/n Wi-Fi, in built GPS, geo tagging, and access to BlackBerry Messenger, Facebook, Twitter, MySpace and various instant messaging applications. Other features include a 3.5mm headphone jack, voice activated dialing, and Bluetooth 2.1.The device comes with 1,300mAh battery is rated for up to 5.8 hours of talk time on 3G (UMTS/HSDPA) networks. The phone works with BlackBerry Desktop Software 6, which provides integrated media sync – even over Wi-Fi.
BlackBerry 6 is RIM's latest operating system. It works both with the touchscreen and the trackpad, and includes more robust messaging capabilities, as well as easy management of social networking and RSS feeds.
The biggest highlight of BlackBerry 6 is its WebKit-based browser that renders HTML websites much better than the previous browser that RIM offered on its BlackBerry devices, which has long been a topic of complaint among reviewers. The new browser even supports the modern HTML5 specification.
Its new text messaging app allows users to reply-all to as many as ten people at once, and messaging platform includes a Locations feature for finding points of interest, your own location, and more, without leaving the messaging application.
BlackBerry Torch 9800 Price in India:- BlackBerry Torch 9800 will be available for Rs. 35000 in India.
Also see full specification here