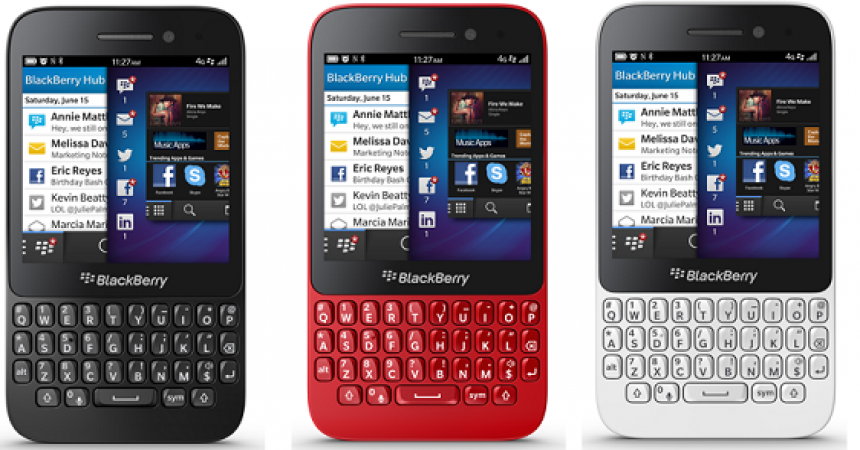 Blackberry Q5 Launched In India, Comparison With Top 5 Smartphones Under Rs. 25000!
Possibly in few of their final attempts to survive in smartphone market, Blackberry has unveiled its affordable QWERTY smartphone Q5 in India. This smartphone running latest BB10 OS, will be available for purchase starting from 20th June 2012 in India.
QWERTY keypads are vanishing from smartphone market these days, and Blackberry Q5 is planning to cash in on this opportunity along with the touch-swype based BB10 UI that looks sleek on this all new gadget.
As far as the performance is concerned, we expect Q5 to run impressively faster thanks to its 1.2 Ghz dual-core processor , 2GB RAM & 8 GB of internal memory. For a phone priced under Rs.25000, 2GB RAM is still rare on Android & Windows Phone devices.
The display of Blackberry Q5 is 3.1 inch 720×720 pixel, that has a pixel density of 328ppi, which will give you an experience of premium quality.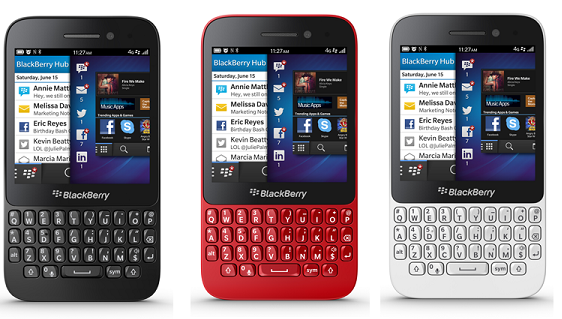 There is 2 Megapixels of front facing camera for video calling and online calls that can record at 720p, where has 8 Megapixels ( 3264 x 2448 pixels, with autofocus, LED flash) of Rear camera will be bit of a downer for most of the photo geeks. Just to compare Samsung Galaxy Grand have 8MP camera which priced almost Rs.7000 less than Blackberry Q5.
This device pretty much is an affordable rip-off of their high-end phone Blackberry Q10, which offers 1,5GHz processor, 16GB internal memory & 8MP rear camera. But Q5 has far inferior quality of material used compared to Q10, because it is made of plastic. It will be available in White, Black & Red options, which is great for someone looking for an colorful BB in budget.
Blackberry Q5 Pricing & Verdict
Even though Blackberry has considered Q5 an budget alternative to its Q10 phone, the pricing of Q5 at Rs.24,999 in India is still considered in budget segment.
Blackberry Q5 Comparison With Top 5 Smartphones (Under Rs.25000)
If you are considering any good smartphone under Rs.25000, then following are the alternatives to Blackberry Q5 available which offers much better features & apps.
1. Galaxy Grand Duos at Rs. 19000 – Offers 8MP Camera, Dual SIM, 1.2 Ghz Processor & Whopping 5 inch touchscreen with Android Jellybean!
2. Nokia Lumia 820 at Rs.20,990: Offers 8MP Camera (best in -class), 4.3-inch AMOLED ClearBlack Touchscreen, 1.5Ghz Dual Core Processor & Powered by Windows Phone 8!
3. Sony Xperia SP at Rs. 23,990: Offers 8MP Camera, 1.7 GHz Qualcomm Snapdragon S4 Processor, 4.6 inch HD Display & Powered by Android Jellybean out of the box.
4. HTC Desire 600 Priced Rs. 25,000 : Offers 8 MP Camera, Quad Core Processor, 4.5inch qHD Display, Dual SIM & Powered by Android Jellybean (Best Performer Alternative to Blackberry Q5)
5. Nexus 4 at Rs.25,000 : 8MP Camera, Premium Build, 4.7 inch TruHD IPS+ display, 1.5 GHz Quad Core Snapdragon S4 Processor, 16GB internal & Android Jellybean
If you are seriously looking for a smartphone that has great features out of the box, huge collection of apps, then above 5 phones are much better compared to Blackberry Q5. The prices may vary based on your location but you can still find best prices online, subjected to proper research.
So what do you think about Blackberry Q5 Comparison with above Top 5 Smartphones? Do let us know in following comments section.