Pearson – world's leading learning company, in association with edX.org, the leading non-profit online learning platform founded by Harvard and MIT, is launching a partnership to provide access to an array of new age programs aimed at helping today's working population to be future ready and equipped with the skill of the future. It includes futuristic courses such as artificial intelligence and robotics from prestigious institutions such as Columbia University and University of Pennsylvania.
EdX programs will be bundled with Pearson services including instructor support, group discussions, career progression services. These programs will be offered through Pearson's enterprise learning suite for Pearson Professional Programs, which includes new manager entry point training, programs in the domain of business and management, new-age skills, and custom learning for senior leaders.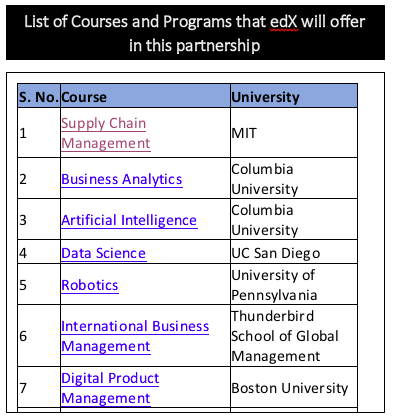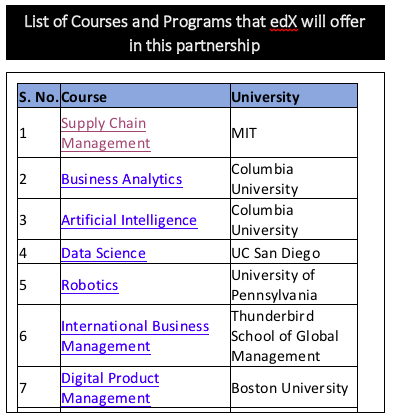 MicroMasters programs are an in-depth and rigorous series of courses, with a path to credit from prestigious universities. The program offers learners valuable knowledge to enhance their careers and offers a path to an accelerated Master's program. Professional Certificate programs are a series of in-demand courses designed to build or advance critical skills for a specific career. Created by industry leaders and top universities, Professional Certificate programs offer a flexible, affordable solution to develop the essential skills and actionable knowledge needed for today's top jobs.
The 'Future of Skills' study conducted by Pearson (with researchers from Nesta and machine learning expert Michael Osborne of the Oxford Martin School) recently predicted that roughly seven in ten people are currently in jobs where we simply cannot know for certain what will happen. However, these findings about skills suggest that occupation redesign coupled with workforce retraining could promote growth in these occupations.
Commenting on the development, Varun Dhamija, VP & Business Head – Pearson Professional Programs said, "The half life of learning has reduced even further and it is extremely important for the current workforce to stay updated to stay ahead. We incessantly deliver effective leaning journeys for individuals & organizations to make them future workforce ready. Besides relevance and applied learning, we are heavily focusing on ensuring flexibility for the working professional. These programs are tailor-made keeping in mind the changing needs of the working professionals and changing workplace."
These blended executive education programs are carefully contextualized and span across a variety of functions and industries. The courses are tailor-made keeping in mind the working professionals offering the much-needed flexibility and relevant, industry-driven topics and themes. The bundled offering is priced for the Indian context and have a high value proposition for today's learner seeking to gain practical perspectives preparing them for the future.
Commenting on the partnership, Amit Goyal, India Head – edX said, "This partnership with Pearson will offer Indian learners a blended learning experience of online courses on the edX platform with personalized instructor support and career progression assistance."