Dropshipping is a fantastic business idea, but it is also really difficult. You are constantly at the mercy of your suppliers; if something goes wrong, it is your responsibility to set things right. You must not just care about fulfilment and customer service, but you must also excel in branding and marketing. This is when Zendrop comes into play. In this Zendrop review, we'll look at what the platform has to offer and whether it can make your life as a dropshipper simpler.
What exactly is Zendrop and how does it function?
Zendrop is an e-commerce platform that offers services such as expedited shipping, private labeling, automated fulfillment, world-class support, and more. Zendrop review that can be trusted with the business processes of organizations that want to reach out to clients all over the world. Furthermore, the programs provide first-rate shipping possibilities inside the dropshipping arena, as well as the ability for users to expedite unique packaging facilities for their products. A world-class support team works around the clock to provide suitable solutions to questions expressed via live chat help. Zendrop enables businesses to customize their winning items in order to differentiate themselves from the competition and increase business sales. Brands can also send customized thank-you notes to their customers to increase client retention.
Furthermore, a precise dashboard provided by the e-commerce marketplace allows owners to accurately monitor their sales performance and make pertinent decisions. To use Zendrop, users must connect their store, import products, fulfill orders, and let the programs handle any shipping-related issues.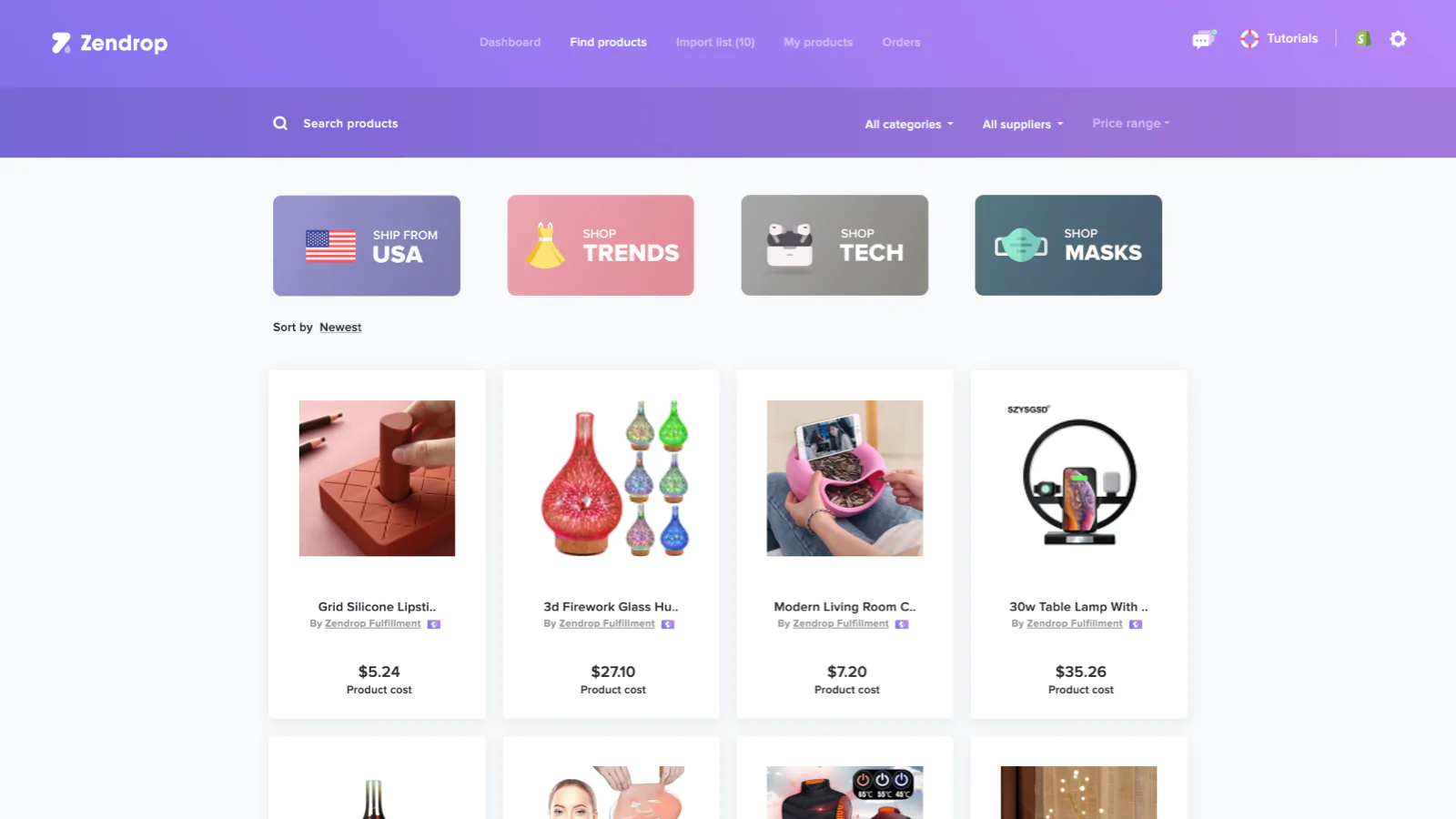 THE DROPSHIPPING MODEL (AND HOW ZENDROP FITS IN): CONTEXT
For those who are unfamiliar with the Zendrop Dropshipping model, it is a sort of e-commerce in which things are sold without holding them in inventory. Meanwhile, you benefit from the price differential between what you charge the consumer and what it costs you to acquire the goods. It's a low-risk, low-investment method to establish an internet business, but keeping track of all the moving elements may be difficult. Here comes Zendrop.
Zendrop has three price tiers: free, pro, and plus.
Zendrop has a good feature in that you may utilise their service for free if you only have one business and less than 50 orders per month. If you want more sophisticated features and the option to link numerous retailers, you'll need to subscribe to the Pro or Plus plan. All options include limitless product sourcing, live chat support, and access to over 1 million goods.
For stores that process more than 50 orders each month, the Pro plan starts at $49 per month. If you want automatic fulfilment, specialised packaging, and express shipping timeframes, you'll need to upgrade to Pro. Given how much time it takes to manually fulfil orders on a regular basis, you will easily recoup your monthly investment in time saved.
Zendrop provides a free Pro trial for people who wish to test out the premium features before purchasing. The free trial is available through your billing dashboard.
The Plus plan grants access to Product Bundles and Subscription Boxes, which have the potential to greatly boost customer lifetime value and profitability. If you've already identified your winning product and are working to optimise and scale your business, the Plus plan is a wise investment. If you haven't yet made your first sale, remain with the Free plan!
HOW DOES ZENDROP WORK EXACTLY?
Zendrop links to your e-commerce business and syncs product information, orders, and customer information.
THE VALUE OF USING ZENDROP
As every seasoned dropshipper knows, having a dependable back-end provider is critical to long-term success. Many of us are skilled marketers, but we can only grow our businesses if we have solid operations (suppliers, customer support, transparent tracking, etc.). After all, if your orders are often late or never arrive, you will lose customers and reputation, not to mention money.
AVOIDING DROPSHIPPING MISTAKES
Assume you've been running advertisements for a week and they're doing admirably. You've gotten a 350% return on your investment, which is fantastic! So you decide to increase the ad rate from $50 to $100 each day.
However, after a week, you begin receiving weird emails from consumers.
"Where is my product?" they enquire. Something is wrong here. When you look at the order status, you see that the orders have tracking numbers.
But then you enter a tracking number onto the tracking website and learn that the orders have yet to be sent! So, what exactly is going on?
You are working with a supplier who is reckless or careless. They ran out of stock to fulfil the orders and are waiting for a new shipment from the manufacturer, but they didn't care to keep you updated! And now you're stuck with irate consumers and squandered advertising dollars.
When you engage with a reputable supplier, it regularly checks inventory levels and tells you when supply runs short, allowing you to avoid situations like the one described above.Furthermore, Zendrop provides you and your customers with 24/7 assistance to help you and your customers overcome any issues that may occur.
HOW TO BEGIN WITH ZENDROP
Create a Zendrop account. First, you must submit basic information about yourself and your company.

Familiarize yourself with the platform once you've logged in. Take some time to investigate the many features and options accessible to you.

The next stage is to locate things to sell. Zendrop provides a diverse assortment of items from a variety of sources. You may explore the catalogue and choose which goods to add to your store.

After you've decided on the items, you must make listings for them in your store. This entails include images, descriptions, and pricing information. When someone places an order in your business, Zendrop will handle the fulfilment and delivery. All you have to do is sit back and watch the money come in!
HOW DOES ZENDROP WORK?
Here's a high-level overview of how Zendrop works for you.
You choose and add goods from the Zendrop catalogue to your store.

Zendrop delivers an order to the supplier when a client places one in your store.

The goods is packaged and shipped straight to your client by the supplier.

Zendrop updates tracking information automatically and tells you and the customer of shipping progress.
What's the best part? This all happens without any human labour, giving you more time to focus on expanding and scaling your business.
Please keep reading to discover more about Zendrop's capabilities (and their significance) below.
FIND PRODUCTS:
Zendrop's product sourcing feature allows you to search for items from numerous vendors and quickly add them to your store.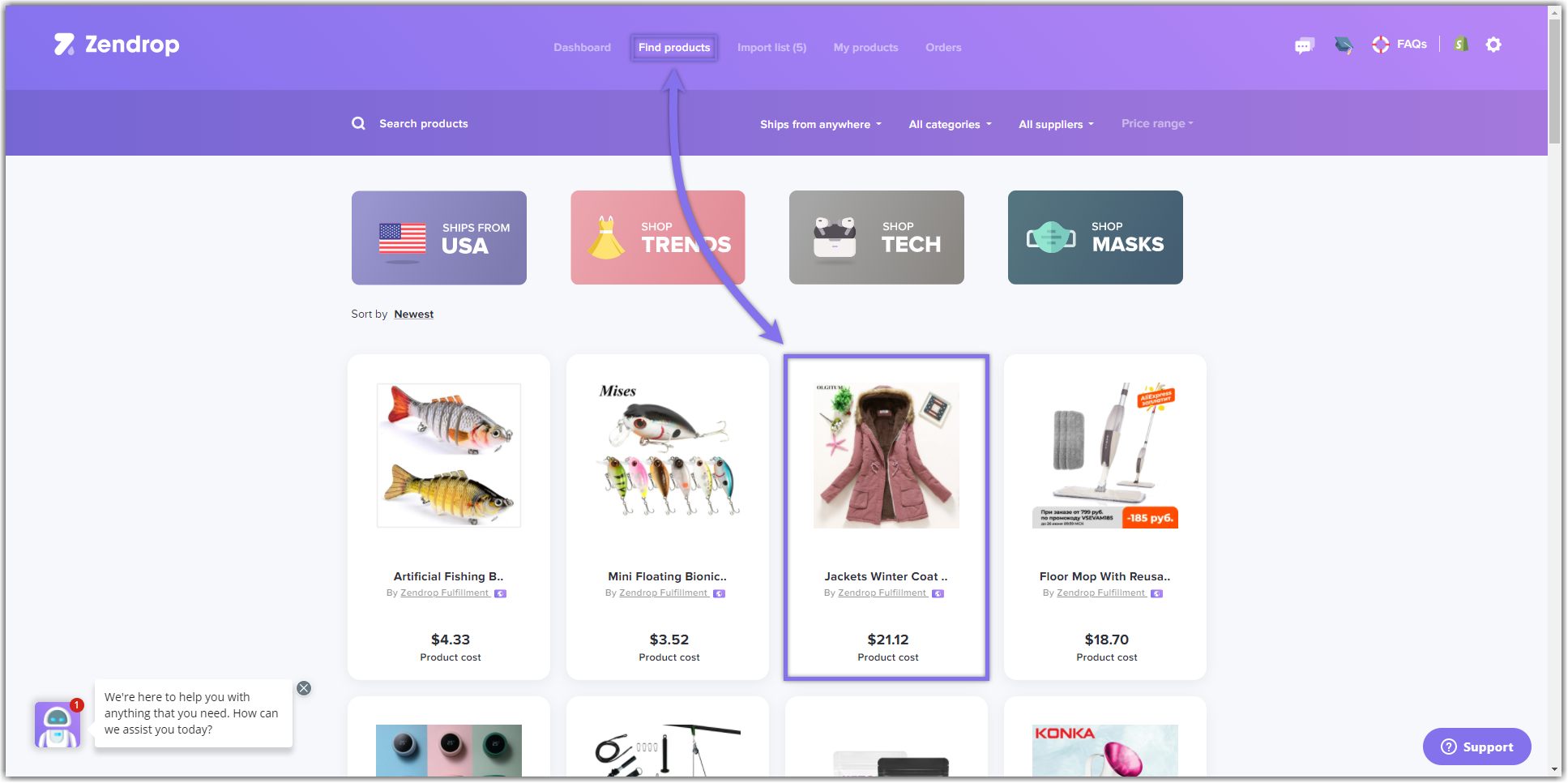 To attach a product to Zendrop, do the following: . Navigate to Zendrop's "Orders" page.

Locate one of the "Unfulfilled" orders imported from Shopify into Zendrop.

Zendrop will automatically find goods that are similar to the one you're seeking to link. Choose the appropriate variation from the list, then press the "Link Product" button.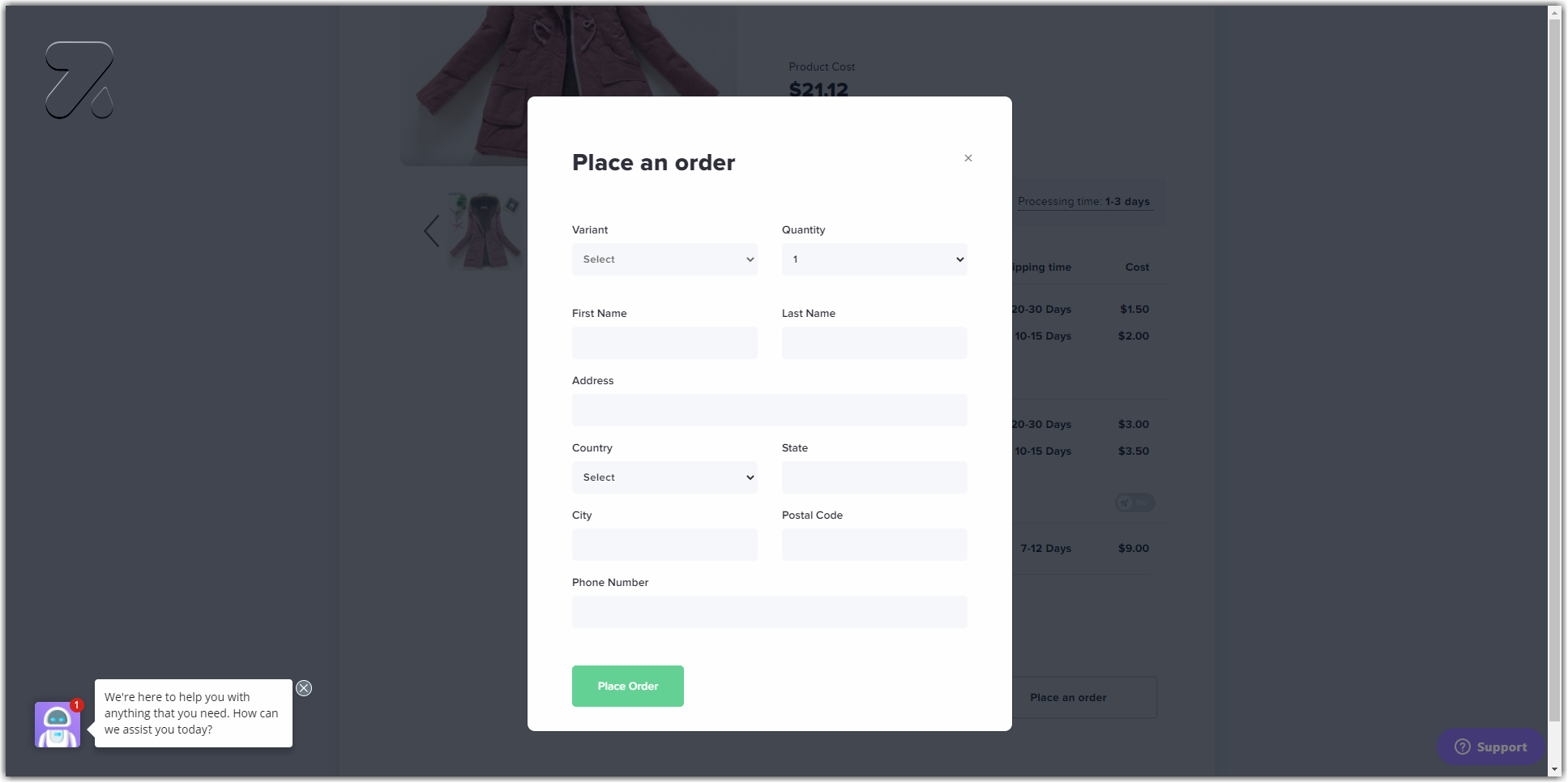 INVENTORY MANAGEMENT
Zendrop monitors and updates inventory levels so you don't have to manually track stock. What does it mean to be familiar with your inventory? This means:
Knowing what you have on hand

What is it and how long will it last?

How to restock it.
It may appear simple, but organisations frequently require more than obsolete or manual inventory tracking systems. This can result in mistakes, out-of-stocks, and dissatisfied consumers. This is insufficient in a dropshipping firm when margins are razor thin and every order matters. That is why a solid inventory management system is essential.
AUTOMATED ORDER COMPLETION
Zendrop will immediately transmit the information to the provider after an order is placed. There is no need to manually manage stock levels or make orders to your supplier.
Auto fulfilment is the difference between spending your days laboriously sifting through orders one by one or even employing a VA fulfilment specialist to do it for you and investing your time on more vital activities, such as marketing or conversion optimization. When a consumer places a purchase through your website, your orders are instantly placed with your supplier. This not only saves you time and money, but it also improves customer satisfaction by guaranteeing that orders are always completed on time and correctly.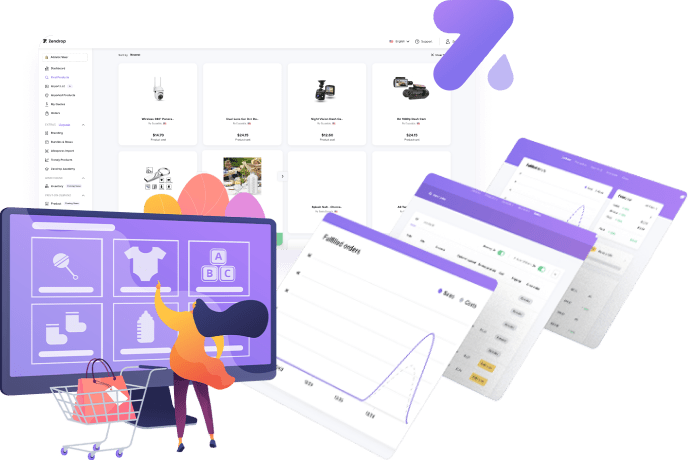 COMMUNICATION WITH CUSTOMERS
Zendrop also automates client contact by providing order confirmations, shipment alerts, and tracking information through email. Customers will receive up-to-date tracking information for their orders as a consequence, increasing the entire customer experience. Again, at scale, when manually sending out all of these emails may be time-consuming and error-prone, this is a life-saver.
ANALYSIS OF SALES PERFORMANCE:
Zendrop's sales dashboard lets you to watch your sales and analyse patterns, allowing you to make educated decisions about which goods to add or delete from your store.
QUICK SHIPPING
Customers have grown to anticipate speedy shipping in the age of Amazon Prime, and they are ready to pay for it. According to a Business Wire survey, 65% of buyers are prepared to pay extra for speedier shipment. Dropshippers rely on suppliers to ship goods directly to clients, which typically results in lengthy delivery periods.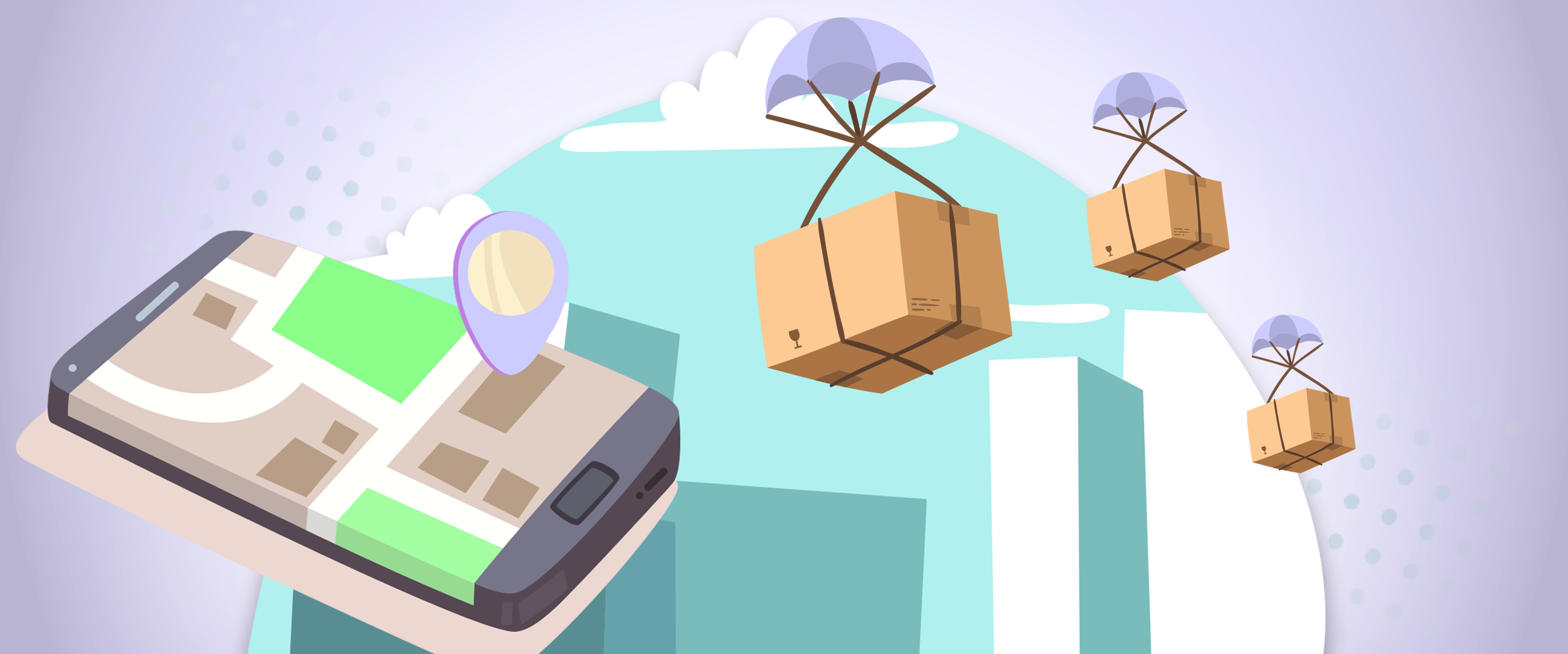 Zendrop offers two of the quickest delivery alternatives in the business; however, bear in mind that you are still delivering from Chinese facilities. Zendrop Dropshipping delivery will never be able to compete with Amazon Prime (unless you hold stock in US warehouses). This not only keeps consumers pleased, but it also reduces chargebacks, cancellations, and refunds. Furthermore, consumers who have a great delivery experience are more inclined to place repeat orders and give favourable reviews. If you reimburse your consumer for a purchase that is more than four days late, they will also refund you!
CUSTOM BRANDING
In today's competitive environment, standing out from the crowd is more vital than ever. This is where customised packaging and branding come into play.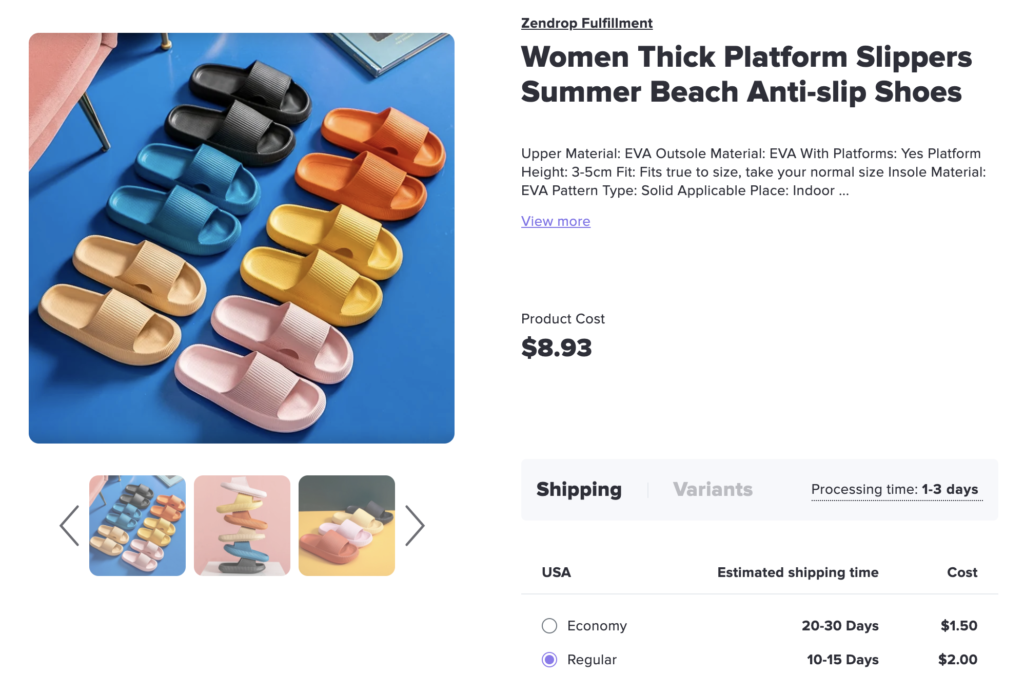 MAKE A MOAT AROUND YOUR COMPANY
By developing a distinct brand identity, you may establish a "moat" around your company, making it more difficult for unscrupulous second movers and impersonators to take your market share.
Chewey, for example, has created a strong brand identity through bespoke packaging and branding. As a result, people are more inclined to buy from businesses they know and trust.
Anyone may offer Chinese dog goods, but Chewey differentiates out with its bespoke packaging and customised remarks.
THE DIFFERENTIATOR IS BRANDING
Zendrop Dropshipping provides bespoke branding services such as customised packaging, inserts, and labels to add a professional touch to your products and build your brand identity.
This is especially beneficial for dropshippers that offer generic items that clients may easily obtain elsewhere.
US COMPLETION
With shipping durations of just 2-5 days, you may significantly impact how your consumers perceive your company.
There is a US Catalog of dropshipping items accessible, which means you can offer rapid shipping without the extra expense and complication of international shipping.
If the product you wish to send does not appear in the US Catalog, a minimum order quantity (MOQ) is necessary, and you must keep stock to use this service. However, if you're currently dropshipping and have a track record of success, the extra risk will most likely be worth it.
PACKAGES & SUBSCRIPTIONS
Bundling and subscription features in Zendrop are an excellent approach to boost each customer's average cart value and lifetime value. Bundling and subscription possibilities are crucial for pet brands trying to increase average cart value and client lifetime value.
Assume you get a customer for $10 and they purchase a dog bed for $50. Because your goods costs $15, your profit is $25. However, if the same consumer purchases a dog bed and a non-spill water dish package costing $75, your overall ROI skyrockets.
Furthermore, if the consumer returns and purchases more things via subscription, the lifetime value increases!
What is a Subscription Box?
1) Go to "Bundles & Boxes."
2) Select "Create a Subscription Box" from the drop-down menu.
3) For the duration of the subscription, add a Bundle to each month. Add Bundle 1 to Month 1, for example. Then add Bundle 2 to Month 2, and so forth.
ZENDROP ACADEMY
Zendrop Academy is an excellent learning resource for dropshippers. It is included as part of Zendrop's Pro package and offers you access to detailed information about running a successful dropshipping business. You'll learn about email marketing, raising conversion rates, the Facebook algorithm, and scaling tactics. You'll also acquire intimate knowledge on testing methodologies and how to choose a great product.
BEST ZENDROP ALTERNATIVES
SOURCINBOX
Sourcinbox is a dropshipping business established in China with high evaluations and speedy, cost-effective, and dependable delivery choices. They can work with Chinese producers to obtain items at wholesale costs that are far cheaper than those listed on AliExpress. This makes it simple to begin selling without breaking the bank. In my experience, they are more concerned with cost-cutting than with things like branding.
DSERS
DSers is a dropshipping tool that makes it easier to place orders, search and import items, and connect with AliExpress suppliers. While it is simple to use, you do not have the benefit of dealing with an agent who purchases in bulk, so you wind up paying more for your items (since you are still purchasing a la carte through Aliexpress). Nonetheless, it's a useful tool if you're just getting started with dropshipping.
OUR OPINION: IS ZENDROP WORTH IT?
In a nutshell, sure. If you're a dropshipper or thinking about starting one, Zendrop can help you streamline and optimise your operations. It may appear to be a luxury to pay for a platform like Zendrop when you can do everything yourself, but trust me when I say that the time and pain saved is worth every money. Furthermore, if Zendrop saves you from just one chargeback or irate client, it will have paid for itself.
The great majority of consumers are pleased with the service, noting its ease of use and extensive choice of product sourcing alternatives. Other clients like the peace of mind that comes with having a trustworthy partner handle their fulfilment tasks.
In conclusion, here are a few simple reasons to use Zendrop:
The regular and express delivery options are the quickest in the market.

Your fulfilment VA is replaced by auto fulfilment.

Value-added bundles and subscriptions raise your average cart value and lifetime customer value.

Zendrop Academy is a fantastic resource for dropshippers trying to grow their business.
The sole disadvantage of Zendrop is the price; nevertheless, when considering the quality of the service, the value outweighs the cost. It's simple to understand why Zendrop has quickly become the preferred dropshipping platform for companies all around the world.
FAQ(Frequently Asked Questions)
Q.1 What is the purpose of Zendrop?
Drop Shipping Software is Zendrop. Zendrop Dropshipping

provides the following features:

Management of Customer Service

Sourcing Administration

Orders for Supplies That Are Automated

Large Orders

Order Tracking in Real Time

Optimization of Pricing

Product Data Administration

Email Abandoned Cart Reporting (Analytics)

Supplier Administration

Order Management Shipping Management
Q.2 What are the best Zendrop alternatives?
Here is a list of the finest Zendrop alternatives:
Oberlo Shopify Plus AutoDS Spocket DSers
Conclusion
Dropshippers that want to test their fulfillment services can use Zendrop's free plan. Their free plan also enables dropshippers to test and find a winner before subscribing for full Zendrop fulfillment services. The free plan lets you place up to 50 orders per month, import limitless products into your Shopify store, have access to US suppliers, and use the majority of their other features. Scroll down to discover the complete list of services available through their free Starter Plan.
I strongly advise serious dropshipping companies to acquire the Zendrop Pro Plan for $49/month. The Pro Plan provides ecommerce firms with a comprehensive set of fulfillment services. Users of the Pro Plan will receive unlimited monthly orders, express shipment in 5 to 7 days, 24/7 express customer support, fully automated order fulfillment, and much more. Apart from rapid shipping, the best feature provided by the pro plan is product sourcing. If you wish to sell a product that isn't already in the Zendrop database, they will identify a trusted supplier and source it for you!