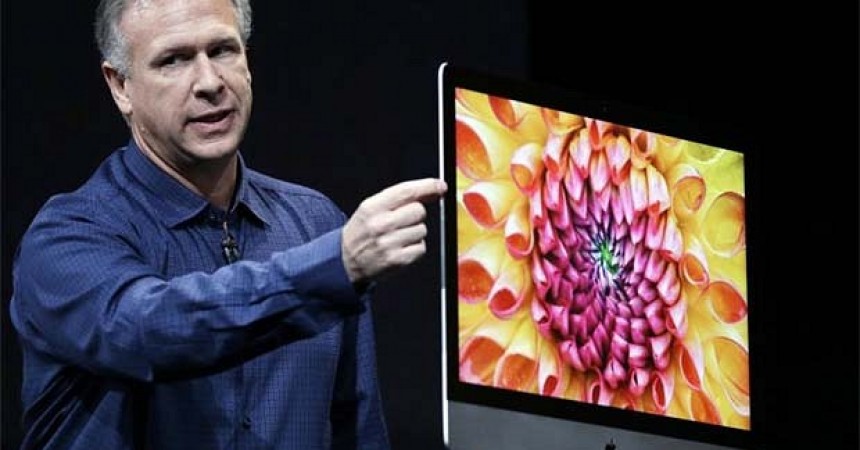 The All New Apple iMac In the Trimmed Look
Well, not body has every thought that the company which struggled in the mid 90s after the exit of founder Steve Jobs will be able to do a kind of charisma in the world of desktop computing. No doubt the magic happens only after the comeback of Steve jobs in the organization and under his perception and imagination Apple has reach to a stage where they are not only pioneer in developing the charismatic devices like iPhone, iPad and MacBook, but they are among the elite in developing the top end machines like iMac.
Image Credit: telegraph.co.uk
After lots many speculation on the redesigned iMac, finally all the rumors has got a full stop when Apple lifted the curtain from the much hyped iMac machines. The new iMac is no doubt beautiful and they are embedded with iterative updates. With the Intel "Ivy Bridge" third-gen Core CPU fusioned with hybrid technology, New iMac are the most powerful personal computing machines with style.
Apple has added the hybrid hard drive technology and also has pair it with the optical drive along with new chassis on the top. Fundamentally Apple has brought many significant changes in the new iMac. Though many believes that the missing element like touch display would affect the market of iMac as Windows 8 based hybrid machines have got touch display and detachable features, but there is also a large community which is not attracted to touch display and loves what Apple offers on their terms.
The new 27-inch iMac is cool and simple and what else you expect for this fast processing machine. The blend of beauty and power is something all what we need in todays world and that's what iMac offers.
Design Aspect
The first thing which will make you fall in love with iMac is the new unlashed design. In the pictures the new design of iMac appears to be completely lat and has got promising panel which is quite thin. Apple has also posted few images on its website which completes shakes you when you have the first look of it. They are thin and highly appealing.
Specs of iMac include:
27-inch, HD display offering the resolution of 2,560×1,440 pixels
2.9GHz Core i5 in base version and 3.4 GHz Core i7 in the review unit
8GB 1,600MHz RAM
512MB Nvidia GeForce GTX 660M in base version and 2GB Nvidia GeForce GTX 680MX in review unit
1TB hard disk
802.11n wireless, Bluetooth 4.0
Performance
Performance wise, Apple iMac machines are fast and it would be unfair deal to compare them with any other systems. However Dell XPS One 27 is something which you can see as an alternative to iMac. In my views, I wont say that they are the ideal machine to have, but looking at the high end all in one performance they are offering they deserve to be the crown winner.
Verdict
You will surely be alarmed with the appealing design of New iMac and it has got the thin bezel which quite appealing. In terms of performance, speed and specs, they are powered with the latest deeds and as far as reliability is concern, Apple is known for offering the best machines and devices in all computing systems. It's a performance driven machines which you will love to drive.
Category Apple
Views

4453