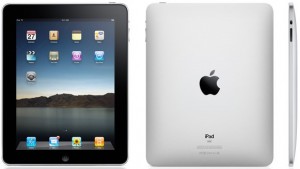 Mr.Steve Jobs & eventually Apple is always trying to innovate the very new technologies in electronics, this time they have unveiled the most rumoured & discussed Apple iPad, The tablet PC from Apple.
Apple iPad have a large 9.7-inch capacitive touchscreen display and is powered by 1GHz processor. Velry slim 0.5-inch of its thickness and is of 0.7kg weight makes it light handy slate to carry for business professionals.
Th whole idea behind it is, when they revealed Apple iphone – It was a blend of iPod & Phone & this time its a perfect mixture of Apple's iPhone & Macbook (i.e laptop)
Apple iPad is very similar to iphone in its UI, some of you might call it like very big iphone. Secondly it can be handily used for Browsing, Photos, Videos, Reading Ebooks, Music, Email & whole lot of other apps from Apple's App stores.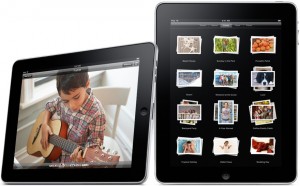 Many of the expert technologist says that Apple's iPad does not got enough features to impress users & there are lot off other netbook variants are available in similar price & too many features. The biggest problem is its storage which ranges from 16Gb,32 Gb & 64GB. Where you can buy a Lenovo touch netbook at same price with 320 of HDD & 2GB ram with new atom processor.
But, as you might have know – everyone thinks differently & if you like this iPad thing then you can get it with Wifi & optional 3G started ranging from $499.
Apple iPad – Technical Specifications
1GHz processor Apple A4 processor
16GB ,32GB,and 64GB storage capacity options
9.7-inch capacitive touchscreen display
0.7kg weight
30-pin Dock connector
Speaker
Microphone
Bluetooth
Assisted GPS
802.11 a/b/g/n WiFi
Optional 3G
Accelerometer
Ambient light sensor
Audio player
Video player
3.5-mm stereo headphone jack
Digital Compass
Built-in 25Whr rechargeable lithium-polymer battery
Up to 10 hours of surfing the web on Wi-Fi, watching video, or listening to music
Charging via power adapter or USB to computer system
Apple iPad – Prices in India
Apple iPad is expected to be available in India by April 2010, & as I discussed before it will be available at price Rs.25000 (approx.) with storage of 16GB & with Wi fi only & no 3G.
If you want all of it with 64 GB, price will be I guess more than 35 to 40,000 Rs. (Or even more : )