E-reader are more and more turning to the Tablet side of the gadget world every day, recently I discussed how great the Kindle Fire looks at its first preview, which is yet to release. And just after their cheaper $199 announcements here comes Amazon's big competitor Barnes & Nobel's Nook Tablet !
Nook tablet is the newer version of Nook Color E reader and trust me if you do liked Nook Color, Nook Tablet offers much more than that featuring mighty 1GHz processor & 1GB of RAM, which is quite amazing to compete as one of the best android tablet available in market today.
Nook has called it tablet explicitly, as they are not much of a tablet maker but an E-book reader ones, But let me tell you that Nook Tablet is an 100% tablet thanks to its features & high performance hardware. definitely, it is an e-reader at its heart and you can still read news papers, magazines & books from B&N store, but now you can also get a taste of powerful Android 2.3 operating system with custom UI.
The user interface is quite fast and responsive but the physical appearance has not changed at all from its previous version. We still get unusable Hook at its bottom left and central 'n' button which is a signature of Barnes & Nobel product. Talking about its exterior design – power & volume control is still at the same places & tablet feels little lighter than previous version.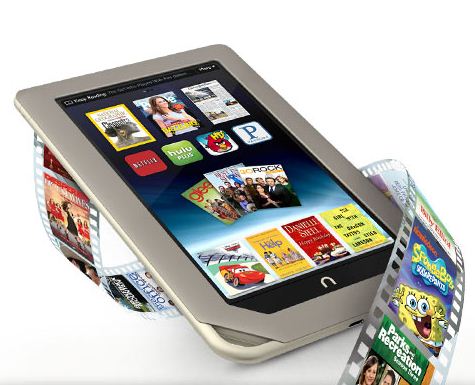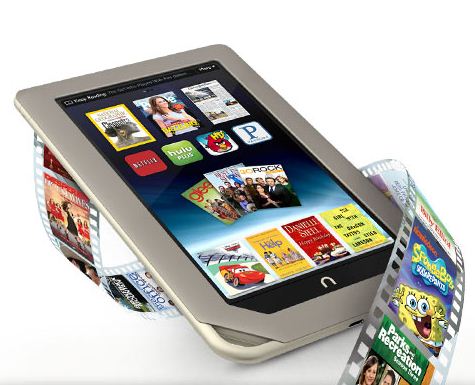 As I previously said, the tablet is sporting the customized version of the Android 2.3 Gingerbread, that looks so different from stock Android. Many of you might get in love with how smooth and well customized the UI works. There is deep Netflix Integration with the Nook tablet to access loads of video content right in to your tablet in 720p Video resolution. Video runs without any lags, no matter they are locally stored or you are accessing online.
Despite of the Netflix video content, there is much of Music, Reading content which can occupy most of your free time. Barnes & Nobel tablet also comes with the long battery life which can go for days, is what they have promised but after its release it can be tested well.
Barnes and Nobel is definitively 'The Contender' considering its poerful Tablet specs + E-reader capabilities, And we expect it to compete with $199 Kindle Fire which is already available for Pre-order. There are lot of great news coming up from tablet market & most exciting one is that pre order for India's Cheapest $35 Aakash Tablet is already started.
Let me know what do you think about this tablet war of prices and specifications & What are you willing to buy this season, in the comments section below !
Don't forget to check out exclusive guest post on How tablets are changing the education system around the world !